All of my sex toy reviews are found below, grouped by generic type categories. First though I have my guide to guides, from toxic sex toy awareness to sex toy beginner guides. If after going through this page, you've got questions or concerns, please feel free to email me! Who knows, your next question could turn into a post that helps hundreds of others.
Sex Toy Safety Information / Toxic Toy Awareness
All articles related to toxic and porous sex toys can be found here. Topics now include issues with lube, known non-toxic but problematic materials, and myth-busting about common misconceptions about sex toy materials like condoms on sex toys and storing silicone together.
Safe Sex Toy Materials
General Information & Sex Toy Newbies Guides

My Best (&Worst) Pick Lists
For comparative reference on the "Intensity" scale (according to my opinion and use, subject to change):
10 = Hitachi Magic Wand high, Fairy Wand (full size & electric) top speed, Wahl 2-speed electric on High, Doxy Wand & Die Cast & Skittle (high)
9.5 = Lelo Smart Wand Large, Bodywand Rechargeable on High
9= Fairy Wand Rechargeable, L'amourose Rosa/Denia (internal arm), We-Vibe Tango on high(4/4)
8.5 = Mystic Wand on high, Halo Wand on high
8= Harmony or Black Magic Bullets on high, We-Vibe Tango on Medium (3/4), WeVibe Touch (New), Jopen Envy 3
7= Eroscillator Deluxe (the one with more intensity) on high, Lelo Mona 2, Je Joue Uma,  Je Joue Mimi Soft, Leaf Fresh+, Lelo Ina 2
6= Wahl on Low, Lelo Mona original, Lelo Smart Wand Medium, Minna Limon, Lelo Mia 2, We-Vibe Tango on Medium-Low (2/4)
5= Layaspot, Lelo Gigi, Lelo Gigi 2, Leaf Spirit, We-Vibe Touch (old), Pikobong Moka, Minna Ola, Tenga Iroha Midori
4= G-Ki, We Vibe 3, Extase Zenith, Zini Roae, Tantus 1-speed bullets, RO-80mm bullets
3= Lelo Mia (original), Lelo Insignia Isla, We Vibe 2/Original, Lovelife Smile, We-Vibe Thrill
2= Picobong Honi, Funtoys G-Vibe, Fixsation, JimmyJane Hello Touch, Dame Eva
1=Extase Liberte, Lelo Tiani original, Shiri Zinn Cupcake, Ooh Je Joue Classic
Intensity isn't the only factor in the end result of giving you an orgasm. Some people respond very differently to rumbly/thuddy/deep vibrations as opposed to buzzy/surface vibrations. This factor can result in a varying perception in vibration intensity (sensitivity of the user aside). Since a vibrator with a rumbly/thuddy sensation will be felt deeper past the surface nerve endings it can feel much more powerful to many. Some manufacturers will list RPM or even Hz as some sort of guide to their vibration power – but it has nothing to do with it. It might play a big role though in determining if a vibrator will be buzzy or rumbly, to a degree. Lower RPM will feel rumbly. Combine that with a good power boost and we have a winner. 
Sex Toy Reviews
Wand Vibrators
O Wand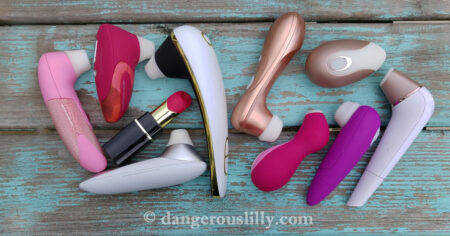 External/Clitoral  Vibrators
Remote Controlled Vibrators
Internal/Classic/G-Spot/A-Spot Vibrators

Dual-Stimulation/Rabbit Vibrators
Dildos
Accessories
Sexual Health Items
Penis/Prostate Toys
Sex Toy Storage
Butt Plugs
There are none! I know a lot about butt plugs, but they're not something I can review. If you're looking for reviews, I can direct you elsewhere. I can't use them anymore because of my IBS, it makes anal play of all kinds very uncomfortable / painful.
Other pages in this section are my current list of the best toys (in my opinion only!); my Ask Lilly column of more in-depth recommendations on toys and my sex toy care and maintenance page where you can read about all the various sex toy materials and how best to clean the toys.