Quickie Review: Lelo Mia 2
Sometimes I never get around to writing up a review; time passes and it's no longer truly relevant but yet I feel the need to write the review anyway. Especially in the case of Lelo, I'm not going to go in depth since not too much as changed from their original versions. The Lelo Mia 2 was first introduced in 2012.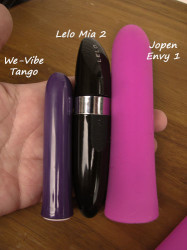 I first reviewed the Lelo Mia back in 2008. It was one of the first USB-charging sex toys, and to a geek like me that alone made it awesome. So I really wanted to like it. But it just could not get me off. The vibrations were surface-buzzy and not powerful enough.
Fast forward 4+ years and Lelo decided to re-do the Mia. It was offered (finally) in black and they boasted a "100% power boost". They also changed the motor, so that the vibrations are more on the rumbly side. While I have my overall minor gripes about design, I'm finally happy enough with the vibrations. They're not to the level of the We-Vibe Tango but I have found that in a pinch1 the Mia 2 can get me off. It's not quick. The orgasm isn't as powerful as it is from the Tango. But if it can get ME off, chances are fairly good it'll get you off. It's not super quiet, but it's not rattling and noisy nor does it sound like a small blender.
There are 5 patterns and approximately 6 power levels. Sometimes I can't tell the difference between power settings, and sometimes it seems like there are more discernible ones when decreasing than when increasing. You have to press and hold the "+" button to get to the patterns. I pretty much use this only on high, and never use the patterns. To turn it off, you have to press the "-" button until it slows down and then shuts off, or just press and hold. You can lock this for travel by pressing and holding both buttons for a few seconds. The buttons were not changed from the original design, which is a shame. They're easy to press, but not easy to use if you're not looking at it.
After being spoiled by the sleek design of the We-Vibe Tango, the buttons and grooves in the Mia were a killjoy. I have a hard time getting Mia pristine because fluids get trapped around the soft, silicone buttons. Only very occasionally have I had the cap pop off during use2. While Mia is quite a bit bigger than the average lipstick and bigger than the Tango, it still has a mostly discrete design that could be disguised when mixed in with other femme accoutrements.  It's now 100% waterproof, so it can join you in the bath or shower.
The Mia 2 on Shevibe.com is about the same as the Tango, right around $65 (slightly more at GoodVibes.com, listed at $69).  Unless it comes down to a color preference, I'm still going to recommend the We-Vibe Tango for its unmatched ultra-powerful rumbling vibrations BUT for those who do not need ultra-powerful, the Mia 2 does a nice job.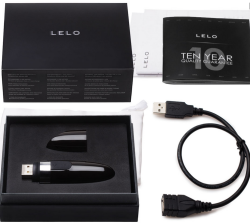 Measurements: length: 4 1/4″, insertable length: 1 1/2″, diameter: 7/8″
FDA-Approved Materials: ABS Plastic w Silicone Buttons  |  Finish: Glossy ABS Plastic
Battery: Li-lon 70mAh 3.7V  |  Charging: 1 hour at 5.0V 100mA User Time: Up to 1.5 hours
Standby: 90 days  |  Frequency: 120Hz, Max Noise Level: <50dB
Included: Charging cable, storage pouch, 1 yr warranty | Available Colors: Black, Deep Rose, Pale Pink