An Updated Review of the Lelo Luna Beads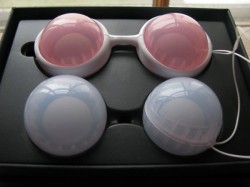 It's a bit of a long story regarding how I came to be reviewing the Lelo Luna Beads for a second time, but basically I lost the bead holster of my original set of Luna Beads that I reviewed way back in 2008 and I just happened to put them on my Wishlist. I put them on the wishlist more as a personal reminder that I wanted to replace them but I ended up getting them to review, along with the updated version of the Lelo Mia. By now I'm sure you've read tons of reviews on the Luna Beads so I'm going to start out this review with a few facts and dispelling of myths; things you've probably not read much about.
1. The "retrieval leash" on the Luna Beads has come under fire by many reviewers who don't understand the overall design. It kind of looks like a tampon string, sure. But it's not exactly absorbent. It's made of nylon and is a very hygienic material. More importantly, this material is compatible with the way the Luna Beads are made which leads me to point #2…..
2. Luna Beads are not held together with glue. They are sealed together with an ultra-sonic welding technology, and the nylon cord was one of the only materials compatible with this technique. This method of securing the two halves of the outer ABS plastic balls leads me to point #3….
3. You can boil the Luna Beads for easy cleaning and sanitizing. YES. You can BOIL the Luna Beads.The beads, the holder, everything. Toss it all in and have some Luna soup. **Please note that you should not boil the beads for longer than 5 minutes. You should not place them in a metal pot directly; either place a silicone colander inside the pot OR place the beads in a bowl and pour boiling water over them. If the beads touch the bottom of the pot, there is a chance they could deform, as the pot bottom is hotter than boiling water**
Luna Beads – Why the Nylon Cord?
I talked to Lelo and found out that they spent years working on the design of the Luna Beads and that they were delayed the most with the retrieval leash. They tried many things but finally settled on nylon. The combination of the material and the way Lelo Luna Beads are made means that it's going to take a LOT of force to break these or have that nylon retrieval leash come apart from the bead. You'll probably never need to use that kind of force to remove them from your vagina. Some people have almost vilified this retrieval cord in their reviews, saying that it ruins the material safety issues but really….who are you going to be sharing these with?? These are meant to be a Kegel/PC muscle exerciser (not a sex toy) and they were never intended to be used anally. I recently reviewed one of the only other sets of Kegel balls that come in a varied-size set similar to the Lune Bead system, the Bedroom Kandi Hold On To Me, and at first it seemed like they were trying to improve upon the Lelo design. With the HOTM beads, the retrieval leash is part of the bead holster (which means you need 2 holsters…1 for using a single bead and 1 for using the double bead set). AND it's incredibly stretchy, turning it into a rubber-band weapon dangling from your vagina, just waiting for slippery fingers to let go so that it can snap your bits like the 4th grade bully who sat behind you. The Luna Beads nylon cord is not stretchy at all, and it is a loop design, making it easy to grasp and pull out.

Body-Safe Materials
The Beads themselves are made from ABS plastic1, which is a body-safe material free of phthalates, latex or other bad softening agents.  ABS plastic is non-porous. The bead weights are color-coded (pink beads are 28 grams each, blue beads are 37 grams), rather than a stupid painted-on design which rubs off after the second use. The plastic beads have actually changed slightly since I first got mine in 2008. I had noticed that more recent product photos showed that the beads were a little more "fancy" looking than mine – mine were pink and blue, sure, but had a very slight yellowish cast to the color and the plastic was slightly frosted. The newer beads have a truer pink and blue hue (more noticeable to me with the pink) and the plastic is more clear. All in all it's a slight design change but it makes the beads look a bit less clinical. They are not, however, as shiny and color-saturated as some of the product photos floating around retailer sites.

The bead holster is easier to use than the Bedroom Kandi set; the silicone is matte finish with a slight texture and isn't very stretchy at all – just stretchy and soft enough to slide the beads in. If lined up just so, the holster will completely cover the hatch-like markings where the bead halves are welded together. Of course for use purposes it's not exactly necessary, especially for the bead without the retrieval leash. And yes, the holster IS silicone; it passed the silicone flame test. Babeland has listed that the girdle/bead holder is medical-grade silicone but the Lelo site says "FDA approved" and I've been told by them that all of their silicone is food-grade. Food-grade silicone isn't any less body-safe than medical-grade for sex toy purposes.
Cleaning (and boiling) the Luna Beads
I'd never heard before that you could boil the Luna Beads for a better clean. I think I'd just assumed that they would fall apart. Well, they won't, because glue is not used. And water will not get inside. With my first set of Luna Beads, I did not clean the retrieval leash very well and it ended up yellowing slightly. I talked to Lelo about this and was told that a simple wash with your favorite anti-bacterial toy cleaner followed by a quick 5-minute boil would ensure that there is no staining and every part of the design will be sanitized. Just remove the beads from the holster to ensure that everything gets cleaned.
ETA Oct 17 2012: A reader contact me to tell me that she boiled her Luna beads, and they became disfigured. Lelo is replacing them for her, and it was emphasized that you should not boil these for any longer than 5 minutes. I think that I was told before about a 5-minute boil but it was not emphasized that it should not be any longer than 5 minutes at max. I was also told this time that when boiling, do so in a large pot….where there is enough water so that the Luna Beads don't touch the pot or each other.
Pleasure? Beads?
Lelo calls these "Pleasure Beads". When I first experimented with sex toys and saw those cheap, metal "Ben Wa" balls in the sex toy catalog I wasn't sure exactly how to use them but I'd heard they were for sex. I couldn't imagine having sex with some balls stuffed in my vagina! Let me assure you that the Luna Beads are not meant for use during sex. They're not even really meant to give you an orgasm. What they are meant to do though is strengthen the Kegel/PC muscles (without any effort on your part) and in turn that will give you stronger orgasms and more pleasurable PIV sex. It will also contribute to a healthier bladder and fewer accidents when you sneeze (if you're young enough that you don't know what I mean by that last statement, then STFU and I hate you).
Believe me, these work, and you don't even have to do anything. I know because once, after being away from the Luna Beads for too long, I thought I'd just go ahead and step right on up to  2 blue balls at once. Not only did I skip ahead a few steps but I probably wore them for a few hours longer than I should have. The next day my PC muscles were sore – just like any other muscle would be if I exercised too much. I can never remember to do active Kegel exercises, so these things are great for me.
I've heard from some women that they can feel them moving easily, some cannot feel them, and some are bothered by the movement. It's actually not so much the large Luna Bead moving around inside of you, but the smaller weighted bead rattling around and pinging off the sides of the plastic ball. Whenever the weighted bead taps your vaginal wall, your PC muscles automatically contract just a tiny bit. The muscle contraction is not something I've ever felt. But this is how they work those muscles without requiring you to clench and release yourself. Over the course of a few hours you'll have achieved the same level of Kegel exercise as if you'd done 4 or 5 "sets" of active exercises throughout the day. These only work if you're mobile, however, not if you're sedentary. It's best to insert them before you go for a walk, run errands, or anything slightly active. The more active you are, the more these weighted beads will rattle around inside the plastic shell and the more your muscles will be tapped.
A lot of women find that wearing the Luna Beads will increase vaginal secretion (during use) and the mere presence of something subtly moving can increase natural arousal. But, please, don't call these a "sex toy".
Some reviews I've read have claimed that these are "noisy". Rest assured, there is no discernible noise whatsoever to anyone other than you. You are simply "hearing"/feeling an internal activity. To you it seems noticeable but it definitely is not to anyone else. The metal Ben Wa balls I once owned had a bizarre musical tinkling sound whenever they moved. Lelo Luna Beads have a rubber-coated weight which is virtually silent when they're in your body.
And the Winner is…
I've owned and worn exactly once a set of Fun Factory Smart Balls which did absolutely nothing for me – I hated the size, the design, and the inability to change out the weights. As I already mentioned, the Bedroom Kandi Hold on to Me balls had visual appeal but lacked in common sense or material safety. Another set of sort-of progressive weighted kegel beads is the Je Joue Ami set; I've not tried them but Epiphora has and I agree with her assessment: Bizarre design and what is UP with this stretchy retrieval cord again??
Babeland says that the beads are made from a blend of Polycarbonate and ABS plastic, but the Lelo site simply says ABS plastic ↩