For quite some time I regarded the Womanizer with a healthy dose of side-eye; I was quite sure that it wouldn't work for me. I remained skeptical of the many glowing reviews. When you've been reviewing sex toys for 8 years, you can often get a really good feel for the facts just by reading a handful of reviews. But the Womanizer shocked me – in fact, it left me speechless. It took me months to write my first Womanizer review because I felt like I couldn't explain why I liked it or who else might like it (or hate it). I also was having a really hard time admitting I liked something THAT ugly with THAT bad of a name and that high of a price tag1. The Womanizer W100 makes the original copper Eroscillator look damn good.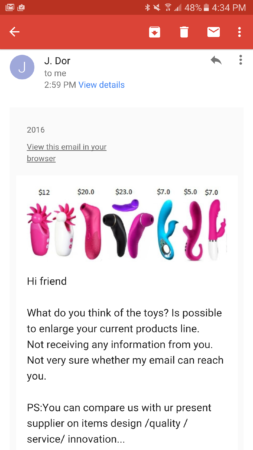 Like anything popular, counterfeit / copycat products quickly flooded Amazon, AliExpress, eBay, etc.  It never takes long after "white label"2 versions of popular brands are available for the emails about them to start hitting my inbox3.  As you can see in this email screenshot there's a knock-off of the Womanizer tech in a different body with a wholesale price of $20.
When I saw the Satisfyer brand, it was really clear that they're going after the Womanizer market with this non-vibrating air-pulsation technology – they went the cheap route though with the motor and design, allowing the retail price to be so much lower than the Womanizer that they were guaranteed to steal a large chunk of the Womanizer's potential customers. The company behind the Satisfyer has denied that they've outright copied the Womanizer tech; Womanizer responded by slapping them with patent infringement but it won't hold water outside of Germany.  At first glance, Satisfyer seemed to have fixed the primary complaints about Womanizer: design, name, price and waterproof abilities.  But when you use the Satisfyer Pro 2 side-by-side with any Womanizer it's glaringly obvious that the price increase with the Womanizer will get you a product that seems to be better made. I also just have a really hard time supporting a product that is such an obvious rip-off – maybe you don't agree, and you need to have the most affordable option which I respect. **After this post went live** two folks commented via Facebook about their interactions with Satifyer reps at SHE NYC. One said: "True story, at this years SHE Expo in Brooklyn the Satisfyer representative said flat out to my wife and I that they took the "poorly designed Womanizer and made it better" then proceeded to essentially brag about how they got away with it adding how they considered a powerful patent lawyer part of the cost of bringing the Satisfyer to market. I mean, the guy was chuckling about it." You know, this is not how a decent company behaves. At all. Jesus fuck.
Womanizer PRO40

Until recently, Womanizer remained an overpriced, luxury item. When you get it in your hands it doesn't feel quite as well-made as some brands. It lacks the pretty, "classic", refined beauty that has drawn people to Lelo, L'amourose, etc. And while $99 for the new Womanizer PRO40 still is considered luxury, out-of-reach pricing to many, it's a bit more attainable than $159.  The Womanizer PRO40 is clearly epi24's answer to the sales lost to the $59 Satisfyer Pro 2 – and unlike the W100 or W500, the more affordable Womanizer PRO40 is waterproof, with a plain design that is a welcome change. The PRO40 is not overtly feminine, thank god, and is in fact pretty damn plain. Somehow the PRO40 gained a feature (it's now waterproof, like the Satisfyer) AND is priced much less. How is this possible? Well the motor is a little louder; they've gone with a cheaper motor that still performs well, but is less refined, I guess.  It may still be more expensive, but the PRO40 has the features that keep me coming back to Womanizer – the low settings and better navigation buttons. The PRO40 combines the best of the W100 (body, button placement) with the best of the W500 (extra power for those who need it, and up/down level navigation buttons), adds in waterproofing and takes away cost. I'm happy to have a slightly louder motor in exchange.
The lowest two settings on the Womanizers are subtle and arousing. They feel really good, and aren't necessarily trying to yank an orgasm out of you. In fact the lower settings on the Womanizers are really great warm-up toys, and can build arousal in me in ways that the Fiera never could. Have I mentioned the buttons? Oh the buttons. You can easily toggle between lower and higher settings. I like to draw things out with the Womanizer (usually) because it feels so nice; so I don't want to rush, I want to keep edging my orgasm. I can start out at 1 until I find some good porn; increase to 2 when I'm more aroused; tip it up to 3 to get the ball rolling; back down to 2 for a minute to keep things going. Up to 4 to pick up the pace; 3 then 2 then back up to 4 and maybe 5 if I need a boost and want to come. It's the sex toy version of Monica's ergoneous zones playlist.  I cannot do that with the Satisfyer Pro 2. With all Womanizer models I can quickly return to the lowest setting; perfect for just after orgasm. It's just tolerably intense in those sensitive moments, but allows me to actually keep going and have multiple orgasms. I can't do that with the Satisfyer because I'd have to turn it off completely to get back down to the gentle first setting (new model; old model has nothing "gentle" about it). These features are crucially important to me.
Even though the Womanizer Pro 40 is a little louder vs W100 or W500, it's now my top recommendation over every brand and model.
Womanizer vs Satisfyer – Comparison Chart *
| | | | | | |
| --- | --- | --- | --- | --- | --- |
|   | Womanizer PRO40 | Womanizer W100 | Womanizer W500 | Satisfyer Pro 2 (old) | Satisfyer Pro 2 (new) |
| Power button brings you back to level 1 | Y | Y | Y | N | N |
| Easy-to-hold Design  | Y | Y |  — | Y | Y |
| Multiple color offerings | Y | Y | Y | N | N |
| Gender-neutral colors/designs | Y | N | N | Y | Y |
| Motor decibels | 50-74 | 50-62 | 50-72 | 72-75 | 63-75 |
| # of intensity levels | 8 | 6 | 8 | 11 | 11 |
| Plus & minus level navigation | Y | N | Y | N | N |
| Multiple sized nozzle heads | Y | Y | Y | N | N |
| Waterproof | Y | N | N | Y | Y |
| Perceived Intensity, scale of 1-10 | 9 | 8 | 9 | 10 | 10 |
| Price | $99 | $159 | $219 | $59 | $59 |
| Warranty | 2 yrs | ?* | ?* | N | N |
| Use Time | 240 mins | 90 mins | 240 mins | ?* | ?* |
| Charge Time | 2 hours | 4 hours | 2 hours | 2 hours | 2 hours |
| Storage | N | Case | Pouch | Pouch | Pouch |
Womanizer W100

It's ugly, but it works – One thing that the Womanizer W100 has that the others lack is a really nice storage case. Sure, it's baby-pink and has "Womanizer" emblazoned on it, but it's really nice to keep the extra head, and charging accessories, all together.  The W100 is the quietest model because it lacks the more intense levels. I feel that when the Womanizer W100 is pressed against your vulva, it's nearly silent. Even when you break contact, it's not that loud – 62 decibels. The Womanizer W100 has only one button but the power button can be tapped during use to bring you back down to the first intensity level. And of course the W100 line is the most gaudy, with a big faux-rhinestone button to boot. Shevibe carries it in Pink Croc, Black Leopard and Red Roses; for a little more money Lovehoney carries it in Black "Tattoo" or Pink Leopard.
Womanizer W500

One word: Awkward – For as much as I loved the Womanizer W100, I thought I'd love the W500 even more. Sure, it introduced the necessary plus and minus buttons to easily navigate the increased levels, but the power button was harder to press. The buttons are now located on the back side of the body, facing away from you, and are located in a place that is very awkward for me during use. The short, fat stature also makes it harder for me to hold.  The designs of the Womanizer W500 are a little more classy, but still very femme with the exception White Chrome design – but even that has a Swarovski crystal "element" as the power button.  The W500 is priced way, way too high at $219. It's absolutely ridiculous and I can't recommend this model with the other choices available. The W500 comes in the aforementioned White Chrome; Black Leopard, Red Roses, and Magenta Lace.
Satisfyer Pro 2 – The Old and The New

Affordable? Nah, Cheap – Rather than rename the Satisfyer Pro 2, the company made two changes and kept the name and design the same. This means that with most retailers you won't know which model you're buying, because they're priced the same, too. You'd only know to see it in person – the new version has "Satisfyer" in raised lettering along the handle (shown below). Satisfyer boasted that the new Pro 2 was "90% more quiet" than before. Where do these companies come up with this stuff? Using my amateur decibel meter the difference is only 9 points – the loudest rating on the lowest setting is 63dB on the new model vs 72dB on the old. It's definitely noticeable, but not 90%. And the high levels? Identical when not pressed against the vulva – when pressed against the vulva, the new Pro 2 is a bit more quiet.  While Satisfyer does have a few more models and designs, most retailers don't carry them right now.  If I test them, info on those will be updated here.  The Satisfyer Pro 2 comes in one color that is very gender-neutral, even if the packaging isn't4.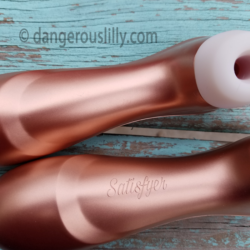 *  A few things to note about this comparison chart:
As new similar products are available to retailers, and I try them, I'll add them to the chart. By similar I mean no vibrations, just this air pulsing whoosiewhatsit.
Womanizer W100 and W500 previously had warranties, but things have changed and now I'm not sure. On Shevibe the "warranty" icon is not displayed for these two products. I'm waiting on confirmation.
The decibels were tested with my phone and a sound meter. Due to the idling-engine type sound that the motors make on low, the sound meter jumped around a lot. The lower numbers then represent the loudest that the first settings will get. Also, I tested the sound levels without the nozzle being completely covered, like it would be in use. When the nozzle is completely covered the sound is dampened a lot.
Charge and use time reports are varying from retailer info to manufacturer website / product manual info.  One reports the Satisfyer has 120 minutes of use, while their web-version user manual reports only 30 minutes. When I can get an accurate number, I'll add it.
I feel that the fat & short design of the Womanizer W500 is awkward to hold and more awkward to press buttons. Womanizer boasts it being more comfortable to hold. We'll agree to disagree, I guess.
~   ~   ~   ~   ~   ~   ~   ~   ~   ~ 
While some folks are so turned off by the Womanizer name that that alone will make them buy the Satisfyer, if you didn't know the names then you'd see that the Womanizer is the best. They pioneered this new type of sensation and while they've started off with designs that make most folks cringe and a name that you are loathe to utter, the Womanizer motor is superior. If Womanizer would lower the price on the Pro40 to $79, I feel they'd have the market cornered again. But for now my vote is with Womanizer Pro40 and Shevibe is naturally the retailer I'll direct you to.