Review: Devine Satchel
I haven't purchased a "toy storage" item in a long time….Couple years ago was my first and only purchase of one…Back when we didn't know much about sextoys (read: next to nothing) and didn't have many. It was smaller than I expected, but served it's purpose until I soon outgrew it with my restraints.
So one of the things I was excited about with sextoy.com is their toy storage section. They currently carry, amongst other brands, stuff from Devine and For Your Nymphomation. When I chose this case to review, I did so based purely on the size and what was available in their inventory at the time. I wanted something that could fit the Hitachi. It locks, too, which is always a plus. Since there is only one view of this case available on the site, or really any site for that matter that carries it, I've taken some lovely photos for you.
Description from the site:
Secure larger than life toys, titillating DVDs and provocative lingerie with confidence in DevineToys spacious locking case. Created of trendy faux crocodile skin, accented with internal loops for oils, batteries and condoms, and boasting a water resistant lining and supported base. So fabulous it doubles as a chic purse or proactive overnight bag. 14.5 x 5.5 x 5.5
Pros:
It's roomy. I put in there the toys I might use the most, should I have an excursion outside my bedroom. I have the Hitachi AND the Miracle Massager, with the Attachment. Njoy Pure Wand, Gigi, a bullet vibe, the Feeldoe, the large blue VinylVengence dildo, a travel pack of toywipes, a sample pack or two of lube, my suede flogger and my leather slapper. There was still room, so I got out my restraints and packed in there my wrist and ankle cuffs which were able to lay out flat, the collar, metal connectors and a small blindfold and my 16-ft length of rope. Fucking thing is HEAVY, but it all fit in there without strain to the zipper.
It does look cool. Shinyish faux croc leather. No one would guess immediately that it's full of sextoys.
Cons:
Ok sure it all fit in there – but it's akin to just throwing it all in a tote. There's no separation. It claims there's a separation thingiemabobber in the middle, but it's only attached at the sides…separation? ehhh, not so much.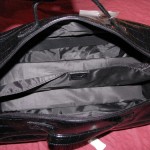 It says there are loops for "lube, condoms, batteries"….there's 2 elastic loops, but they really wouldn't hold squat.
The lock leaves something to be desired. It took me a minute or two to figure out how to put the zipper pulls together to lock it – and it's a very cheap lock with a bad "skeleton" key. One of mine keeps getting jammed in there and I eventually gave up on getting it out. (Also, it was wrapped up in tissue paper, and I had to HUNT for it, almost didn't find it)
It doesn't hold it's shape as well as I personally would like. When it arrived via UPS, I almost didn't think it was in the package because it was flat, in a bubble mailer. It says there's a "supported base", but it's really just a covered sturdy piece of …. something, that sets in the bottom and isn't even secured.
Conclusion: For the price, it holds a heck of a lot. And if you're handy like that and have pouches/bags for your toys so they're all separate and safe, and don't care about having to remove 6 to get to ones at the bottom – it's great. If you want more organization and better layout/accessibility…..upgrade to the FYN XL Toybox (update 2014: sorry….FYN went out of business!).