L'amourose Rosa Rouge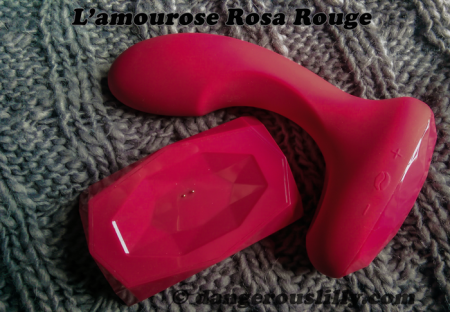 I read somewhere that the L'amourose Rosa Rouge was not only powerful, but seriously rumbly which meant I had to have it, immediately. Luckily for me the lovely French company obliged. Let me set the tone early: I loved the L'Amourose Rosa Rouge so much that within 10 minutes of my first orgasm (which was within 15 minutes of opening the box) from this vibe I was emailing my favorite retailer and telling them to stock this line, stat. And now, I need to spend the rest of my review convincing you that the price of $195 is worth every penny.  It's very infrequent that I rave so highly about such a pricey sex toy; often I find that they're not worth their price tag. This has been the exception to the rule. If you're on the fence feel free to grill me and we'll figure out together if this amazing thing will work for you.
Pros:
Seriously amazing vibrations
Easy to hold & great for those with reach issues
Anal safe
Warming aspect really does work!
Versatile
Charging base works like a champ, every time
Will suitably impress from package to toy, as a gift
Waterproof
Gimmick-free!
Charge lasts about 1.5 hours of use on high
18 month warranty
Cons:
The price
Controls might be difficult for lefties
No "quick shut down" button
Won't provide super firm pressure to the g-spot or prostate due to flex at the base of the shaft
Wherein I Fall in Love
When I got  my L'amourose products in the mail, I was really drawn to the packaging. For such a jaded reviewer, this is significant. The outside design and photo of the toy looked different than we're used to. Like a perfume ad. L'amourose is what sex toys would look like if Chanel made sex toys. It's all packaged very carefully inside, with attention to detail. The shape of the Rosa intrigued me before I even had it in my hands.  It can be a dual stimulator, but in a more subtle way than the Denia. I expected to be able to just ignore that aspect, and enjoy it for what intrigued me: a base to grasp onto, that is angled more towards me rather than a straight handle that would point away from me combined with the drastic curve of the shaft. I was able to achieve this because my g-spot is fairly shallow. If yours is located farther back then the base will press against your vulva. 
It's been a long ass time since I've been so immediately impressed with a vibrator in the first minute. I quickly wiped it clean and tried it out. I first tried to use it as a dual stimulator and it was seriously good, enough that maybe I could have come that way. But I decided to just try using the shaft as an external vibe you know, just to see, curiosity killed the cat and all, and then it felt so nice that I didn't want to stop and then whoops….I was coming. It really was just "okay wow, that feels awesome, just another few seconds and I'll switch back….OH! HELL-O!". I went into this meet-n-greet "cold" – no arousal, no build-up, no porn. I wasn't angling for an orgasm, I just wanted to see how it felt. This was by far the easiest orgasm from a sex toy since the We-Vibe Tango. There was no reaching for it or wiggling it around to get the right fit or any other sort of acrobatics to coax out a nearly-there orgasm. I had also let the warming feature come up to temperature (it takes 3-5 minutes) so I had that aspect going as well. Did that provide the tipping point? More investigation was definitely necessary because this sex toy does have a big price tag, and part of that price is the warming feature. The regular Rosa is considerably less money, but still more costly than most Lelo vibes at $169. It comes in a gorgeous green, though!
Amazing Things that have happened since I got the Rosa Rouge:
Had an accidental orgasm
Have yet to find any real flaws that bother me
Have forgotten about the Tango 5 times
Gushed like a fan girl to the company rep
Set a record for how quickly I've begged SheVibe to stock something
Why Would I Want a Sex Toy That Heats Up?
We don't see many vibrators with intentional heating (vs unintentional overheating that feels scary). The point of a warming sex toy, similar to all these warming/arousal lubes on the market (most of which don't work), is that increased blood flood to the genitals = arousal. When you are naturally already aroused, there is a lot more blood pumping through your entire genital region. Things are alive, awake and biology is at work folks. The vagina expands and lengthens with arousal, and self-lubricates. You can use the L'Amourose Rosa Rouge as a warming vibrator or a warming dildo because you can turn on the warming function without the vibrations (or use this feature to simply bring the Rosa up to temperature before using the vibrations).  The warming aspect is even nice for the butt. Many moons ago one of my early sex toy purchases was a hard plastic vibe that was "infrared". My partner ended up hijacking it and found that he really, really liked the warming feature for anal play. The shape of the Rosa Rouge is definitely butt play friendly, by the way.  The Rosa Rouge warms to a specific target temp that is warm enough to encourage increased bloodflow to the genitals but not so warm that it's uncomfortable. I really got the most benefit from the warming feature when I used it as an external vibe. I think that, instead of gimmicky warming lubes, using the Rosa Rouge on the lowest setting + heat would make for an excellent warm-up toy for those who need the help getting their body to catch up to their mind.
Note: You can still have the same powerful vibrations with a bit smaller of a price tag by getting the Rosa sans "Rouge". It's listed at $148 at Shevibe.
So would I love the Rosa without the Rouge? I would, yes, but not quite as much – I really feel like the warming adds something great. Rosa is  very powerful with very rumbling vibrations. It wins the title of Strongest G-Spot Vibrator, besting my previously-crowned Vanity VR6 or Lelo Smart Wand + Attachment because the shape and fit is so much better and more versatile. The Vanity VR6 was never quite right for me because it's a true dual-stimulator of the "rabbit" variety and the clitoral arm wasn't perfect. But it has the vibrations I needed and for me, it's all about that bass. Rosa delivers that bass with nothing getting in the way (in case you want to use something else for clitoral stimulation) and is designed so that all but those who require pinpoint stimulation will love this as an external vibe. The curve of the Rosa Rouge can provide g-spot stimulation, prostate stimulation, clitoral stimulation or all-over vulva stimulation. It's pretty much going to win Hardest Working Vibrator this year.  I  love using the L'amourose Rosa Rouge as a g-spot vibrator with other means of  clitoral stimulation but I really love using the Rosa as a clitoral vibrator the best. L'amourose does make a clitoral vibrator, the Vera, but it's not a style that will work with my labia and buried clit. And as for colors? The plain Rosa comes in black, hot pink and emerald green while the Rouge is only red.
Other Notables
The only aspect I've not covered that L'Amourose advertises is their "Flex and Shift Technology" which sounds fancy, but it really just means that there's some flexibility to the shaft. That's it.  There's quite a bit, really, but I don't actually see that as a plus. I'd ideally like to see less flex. Too much and the dual motors can go into dissonance. But it's still not a big enough flaw for me personally to give a shit.  I was able to get enough pressure to my g-spot but some people might consider the flex a deal-breaker.
If you make one major sex toy purchase this year, it's gotta be the L'Amourose Rosa Rouge. No question. There's a broad range of vibration intensity, and many patterns on the L'amourose Rosa Rouge.  It's great as a clitoral vibrator, it's wonderful for anybody with grip and/or reach issues, it's decent as a dual-stimulator (would work better for those with minimal labia and an easily accessible clitoris), it's pretty awesome as a prostate vibrator (I have that on good authority), it's a wonderful g-spot vibrator, it's a great vulva stimulating vibrator – in short IT'S PRETTY DAMN AMAZING.
I'm in love. I think about this vibrator when it's not around. I crave it. I've chosen it over my beloved Tango multiple times. It's THAT good, people.  If you need power, this is it. If you hate buzzy, itchy vibrations, this is your jam. If you have difficulties grasping and holding a tiny vibrator like the Tango, this is the answer to your prayers. If you need power in your vagina but not your arm, THIS IS IT. And if you can't justify the cost of the Rosa Rouge, you should at least consider the regular Rosa.
Great for:
Those who need strong vibrations
Those who don't need pinpoint clitoral vibrations
Those who don't need very firm pressure on the g-spot or prostate as long as the vibrations rock
Those who are looking for something different
 Thanks to L'amourose for sending me the Rosa Rouge in exchange for my honest review, and thanks to Shevibe for stocking it