A Comparative Review: Electric Massager Attachments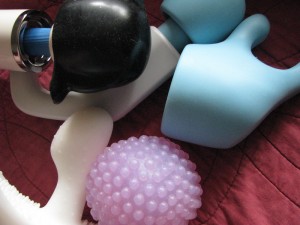 UPDATE:  I've just noticed that this post is being linked to and I wanted to point out that this review is VERY old. If I'd known in advance, I would have had more time to update this review (like I plan to do with many other old reviews). For more Magic Wand and other wand attachments, check them out here. Many attachments that are listed to fit the Magic Wand electric will fit the Magic Wand Rechargeable, as the heads are very similar. The Doxy head is slightly different but the attachments still work fairly well.

If you have any questions, please email me and I will help you out! I answer all emails!

Sex toy manufacturers have come to realize that electric massagers like the Hitachi are here to stay – so they'd better get their piece of that pie. These types of vibrators aren't always meant to be used as a sex toy, so additions are needed to better achieve that naughty purpose. There are a good number of these out there, most of them are Hitachi attachments because it is recognized as the most popular of the electric massagers.
Since the heads are different on all of these massagers, what works on one won't necessarily work on the other. In the charts that I did up for both the plug-in style and the rechargeable style, you can see the size differences as well as notations on which ones have attachments made for (or that will fit) them and about how many.
In this post I'm going to discuss the ones that EdenFantasys carries (which is a good number of them). There are other attachments and sleeves on the market and there are a number that are NOT silicone. Why bother with these things if it's not a safe material? Anyways, I'll touch on the basics of ones I haven't tried and give detailed information on the ones I do own. I had done up a video showing me putting these on the various massagers, turning them on with the attachment on, but editing the video to flow better and figuring out I needed to re-shoot a couple of things made me just give up on it. In fact the video part is what delayed this post by a week. So, screw it. You get photos for now and my expert opinion ;)
The Pleasure Dome by Downunder Toys
EdenFantasys calls the color "purple"; it appears pink in their photos and in daylight it appears to be a pinkish-lilac hue. With sparkles embedded. If you hate anything sparkly and pinkish, then you might hate this on principle alone (I can think of at least 2 other reviewers who qualify there, hehe). Downunder Toys does make this in other colors that rock; however, EF only carries the one. At the time of this writing I am inquiring why they only offer one color and if/when they plan to update their offerings. I'll update this post when I find out.
Anyways. It's pure silicone which means its easy to clean. From the photos you can see that its covered in large nubs – these are soft and unlike the G-pod, not painful under high-powered vibration. You can also turn this sleeve inside out to experience the smooth side. It's a bit stretchy, it can be rolled over the Hitachi head sort of like a condom or just stretched out wider a bit (careful!) so therefore it's pretty simple to get this on. You will experience a little dampening of the intensity of the Hitachi by using this attachment. Most importantly though is that it offers a simple and easy cleaning option for your Hitachi whether you share it or not. If you tend to share you can get more than one sleeve for easier and faster swapping.
This sleeve was intended to be used on the Hitachi but will fit the Acuvibe original and the Ideal.
UPDATE: This topper is no longer in production, as far as I know.
Off With Their Head Hitachi Cap by Vixen Creations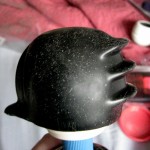 Unlike the Pleasure Dome, this isn't a sleeve or an addition – it's a replacement. I bet you didn't know that you can remove the white head of the Hitachi! You can indeed – but boy it isn't as easy as the directions included with the cap claim it is! I struggled with it for a good 5 minutes until I finally ignored their method and used my own. To get the Off With Their Head cap on, and the Hitachi head off, you need to start prying up the edges of the Hitach head until the edges of the head cover are up above the lip. It's hard to explain, so just view these photos below to give you a better idea of how to remove the Hitachi head.
The cap is then much easier to get off and on. However, it's made of that slighty-tacky silicone that will attract dust/lint/fur like an MRI magnet (as you can clearly see in the first photo). You must clean it before use because there's no way to store it to keep it spotless. It's silicone as well so its easy to disinfect and share. There is two side of this cap – a few ridges on one, and this odd soft pointy thing. It's supposed to mimic oral sex – a vibrating tongue that no human could compare to. Well once you apply any sort of pressure to your clit with that "tongue", its no longer a flappy hummingbird tongue – its just another piece of vibrating silicone. The ridges didn't really do a whole lot for me.
This cap was manufactured for the Hitachi and *only* the Hitachi has a removable head.
G-plus Massager Attachment by Natural Contours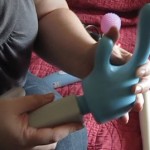 This attachment is made by the same company that makes the Ideal. This was made specifically for the Ideal. Hell even the color of the attachment is identical to the head of the Ideal.  It fits on the Hitachi but it must not be a perfect match because it makes the Hitachi louder. It does *not* work with the Acuvibe or Miracle Massager because their heads are a little too skinny for it. When I put the G-plus Attachment on the Acuvibe and turned it on, it rattled and spun around.
While the G-plus is Phthalates free / Latex free, it isn't silicone. It's TPR rubber. So it can't be fully disinfected. Because of the shape, you can't very well put a condom over it, either.
The G-plus is very flexible. And by flexible I mean kinda floppy. Like a raw hot dog, perhaps. Therefore all this does is provide intense vibration to your G-spot's general vicinity- there's no way to apply pressure because it's so floppy. And that, my friends, doesn't make my g-spot happy. Also, using this on the Ideal does nothing to dampen its loud rattle. The insertable portion of this is also fairly slender – about 1″.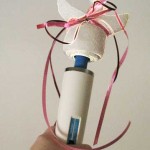 I've reviewed this here already, and I hated it. The design appears to be on the right track, but all in all those tiny little raised nubs were murder on my sensitive bits. Unfortunately this has been reproduced by Wand Essentials, if you think that itchy vibrating nubs are your thing.
Jollies Attachments – Straight and Gonzo, er I mean Curved.
These are in the line of Hitachi attachments that are single-purpose: To turn Hitachi from a clitoral stimulator to an insertable stimulator. The curved version is for g-spot stimulation, and the straight one is well….I guess if you like straight dildos that vibrate?
From what I can gather from others that reviewed these, they're flexible but firmer than the G-spot for Ideal. Once inserted, they can be manuevered so that the cap presses against your clit while the insertable portion is well, inserted. That statement however likely depends on the way your cunt is built. For me, this wouldn't work. These are available in a few others colors than what I have shown here.
These are, of course, silicone.
Gee Whiz and Gee Whizzard by Vixen Creations
Vixen does pretty oh so well. These are awesome marbled-dyed silicone attachments in blue and green. Again, Vixen manufactured these specifically to fit the Hitachi. It might work on the Ideal and Acuvibe, or it might be a tiny bit loose – I can't tell because I don't own one and I don't know if they need to stretch out over the Hitachi head or if they slide on easily. Very hygienic, sterillizable and sharable.
The Gee Whiz (the blue one shown above) is about on the average side at 1 3/8″. It's smooth with no special textures or ridges – just a g-spot curve.
The Gee Whizzard (the teal version) seems to be the better choice between the two. Fun bumps/ridges on the opposite side of the cap, and a bumpy/ridgey texture to the insertable part. It's more slender at 1″, according to the specs on EF's site, but in photos it appears to be the same width as the Gee Whiz. There are more glowing reviews of the Gee Whizzard than the Whiz and no complaints that it is ill-fitting like the Gee Whiz.
UPDATE: I do own these, and love them. They work even better with the Lelo Smart Wand Large than they do with the Hitachi.
My recommendations
If you're looking for an insertable attachment, I'd suggest the Gee Whizard.
Unfortunately I can't recommend any dual stimulation attachments, because I just haven't found one that is decent.
I welcome comments from other reviewers on this if you have constructive opinions on any of these that you have used, or if you recommend one I didn't mention.