Ask Lilly: How to Choose Your First Dildo (Updated!)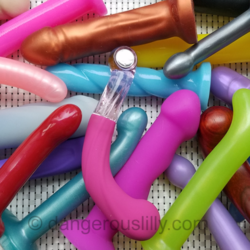 If you're buying your first dildo, you're probably unsure where to even begin. Look at any given sex toy retailer site that offers a half-decent selection and you are bound to be overwhelmed by the sheer number of dildos to choose from. Dildos that look like penises, rockets, or nothing at all. And of course then there are the factors of size and shape and affordability. After all, you don't really want to drop more than $50 on your first dildo, since you may end up disliking the shape or growing out of it.  If you're starting out with extremely slender dildos there's a better chance you will grow out of them and end up preferring larger items; if you're starting out anywhere around 1.25″ or wider, then you may very well end up keeping it as a "warm-up" dildo.
My first dildo and vibrator were chosen in the Time Before Silicone, but were also not chosen by me. What I ended up receiving from my then-boyfriend were items I definitely wouldn't have chosen for myself. They had realistic styling in clear, non-realistic TPR or PVC coloring.  If you're buying for someone else, make sure you can answer these important questions about them, with certainty. If you can't then you need to buy with them, and not for them. If you're buying for yourself then make sure you're choosing a color and design that appeal to you vs something you think your partner would prefer, or, feel "less threatened" by.
Size
Choosing the size of your dildo should depend upon what has already been in your vagina/ass. Think about your most pleasurable sexual experience (solo or partnered) and what felt so good – was it the sensation of fullness, being stretched by something larger? Was it more about the zing of pleasure that came from the head of it stroking your g-spot (or prostate)? Take a look at a ruler. Actually look at how wide 1″, 1.5″, 2″ is on the ruler. It probably doesn't yet mean much, right? Now, measure your carrots, cucumbers, or zucchini to get a good idea of how that linear width translates to circumference (but please don't use them as a dildo). If you liked the feeling of fullness, then I'd suggest starting with a 1.5″ at the most. If your focus was on the object/cock hitting a certain feel-good spot, and especially if you'd not had experience with dildos/cocks, go for 1″ or 1.25″ diameter.
If you're just starting out with penetration OR have medical issues that prevent penetration (or make penetration painful), consider getting a silicone dilator set to ease into things. SheVibe carries a Sinclair Institute set and individual ones from Fuze and Come As You Are has a full set of individual dilator dildos. However, a number of the dildos below come in small sizes with no texture and a uniform width (or at most, slightly tapered at the tip).
Material
For the love of Pete if you're going to take any advice it's this: no jelly, no rubber, no PVC, no cyberskin or UR3 or Futorotic or anything like that used in mid-range ultra-realistic dildos (they're usually painted). They smell funny, they're not very well made, some of those will have phthalates in them, and they're porous so they can't ever be shared or fully sanitized.  I'd really like emphasize silicone. You can find cheaper options that are (usually) non-toxic if you choose TPR/TPE/Elastomer, but these are porous. Why should you care about non-porous vs porous? Why should you spend the money on silicone? Why should you care about the brand? In short, silicone can last a lifetime with minimal care; porous materials can harbor bacteria, mildew/mold, etc. Porous materials cannot ever be completely clean. They can actually make you sick if enough bad crap is making a home in the pores of the material. If you stick with brands that I and other reviewers trust, you'll be sure to have a silicone dildo that is actually, truly, pure silicone.
Silicone comes in various densities and can be somewhat soft, very firm, or squishy. If you decide that the more common, firm silicone isn't for you, then you'll want to consider spending the money on a Tantus O2 style or Vixen Vixskin style. Vixskin is a little more plush, but Tantus O2 is a little more affordable. Even more affordable – introduced in 2015 – is Doc Johnson's Truskyn silicone which I find to be a really nice dual-density. There's also Blush Novelties with their Real Nude line.
If you decide you absolutely can't get silicone right now, go for glass (while understanding the issues with cheap glass) or cover the dildo with a polyurethane condom. Porous materials like TPE/TPR are non-toxic but they are softened with mineral oil-based ingredients most of the time. Oil, as we know, isn't compatible with a latex condom. And, if you do choose a porous material please keep an eye on it for discoloration, odd odors, and black dots. I recommend tossing it after 6 months use to be safe.
Shape and Features
For some reason, a lot of people split off into two very different camps when purchasing their first toys. One side runs to the cutesy child-toy-like items or "incognito" items. The other side will pick the most realistic dildos.  It's hard to get a very realistic dildo in something super small, but a few do exist like the Vixen Vixskin Spur.
Many people love the idea of a suction-cup base. This post lists out pretty much every silicone suction-cup dildo I've found.
Purchasing
I generally advise people to avoid Amazon and Ebay; counterfeit sex toys are definitely a thing, and you could get something that you think is silicone but is not. Some people have had good experiences buying from Amazon, but the risk of getting a fake sex toy is high enough that I advise you to avoid it. Stick with well-known sex toy retailers like Shevibe, Early to Bed, Smitten Kitten, or Come As You Are for Canadians1, and buying direct from manufacturers like indie silicone pourers. I'm working on expanding my list of retailers I trust for folks outside the US, as I've had to remove Lovehoney and Lovedreamer from my list.
Price – this likely won't be your last dildo so I don't recommend spending more than $50, if possible (this is easier to stick within the US).
Recommendations from smallest to largest: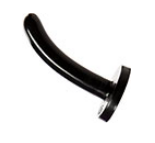 Tantus Silk – The Small is 0.8″ wide and the Medium is 1″ wide so both are great for just starting out with penetration. Both are made from a fairly firm silicone but due to their diminutive size, they're flexible. You can find them at Shevibe where they're currently all priced under $50. Early To Bed carries them, too.  In Canada, try Come As You Are.

My Little Heaven – Definitely a strange shape, but I've read a few positive reviews which convinced me to list it here. Combined with the under-$20 price, it's hard to avoid recommending this. At 5″ long and only 1″ wide it could be a great way to stimulate your G-spot without requiring a girth you can't handle yet. Due to the low price you can afford to give this strange shape a go! You can find it at Shevibe, currently priced at $18.

Tantus Starter – Another very small dildo choice, this has a slight head and maxes out at 1.1″ wide; it's also under 5″ long. Similar to the Silks, this Tantus silicone is fairly firm but will have flexibility due to the size. Also like the Silks this is made from the Tantus hand-poured silicone – it's shiny and attracts dust and fur like crazy. It will require a little more lube than anything with a matte, silky finish. You can find it at Shevibe for $30. I can't locate it on most other sites, strangely, so this may be discontinued.

Vixen Small Realistic Bent – Vixen's single-density silicone is slightly squishier than Tantus silicone but is just as much of a magnet for dust and fur. The Small Realistic Bent comes in Black or Purple (which is one of the most amazing purples I've seen – blue opalized flashes and swirls), and is 4.7″ long by 1.2″ wide. Again, this will be pretty flexible due to the small size and slightly softer silicone.

Vixen Vixskin Spur – This is the same design as the Vixen Small Realistic Bent, but comes in their signature dual-density Vixskin. Vixskin is often thought to feel the most realistic of the available dual-density silicone brands. It's the only dildo here above $50, because some may really want a soft, realistic dildo. Shevibe has it for $68, and Canadians can get it from Come As You Are.

Fuze Rebel – With a base designed for harness play, the Rebel has a nice matte, silky finish that'll resist dust and fur more than shiny silicone. Rebel is 5.5″ long and 1.25″ wide, and comes with a hole at the bottom for sliding in a small bullet vibe. As with the others, the slender size means it'll be flexible but it isn't a squishy silicone either. You can find it at Shevibe, or Come As You Are.

Dr Berman Marilyn Pelvic Exerciser – Let's forget about the supposed "orgasm balls" (ugh). I picked this because it's a hard acrylic resin. It's solid and slippery like glass, but unlike the affordable, slender glass items that are maybe not made in the best way for glass, resin won't require such babying and care. It's 1.25″ wide and slightly tapered. Under $30 at Shevibe. This is one of the few here that is not anal safe.

Blush Ruse Hypnotize – At 6.5″ long and 1.3″ wide it's heavily versatile. The suction cup base will work in many harnesses. The raised veins will add texture; if you don't want that texture you can try the Ruse Juicy which is the same size and price, but more smooth. Both are very affordable at under-$25 at Shevibe. I haven't tried these but have been assured by Ducky Doolittle, person-extraordinaire whom I trust completely, that these are silicone through and through, no foam cores or anything.

Blush Real Nude Ergo Mini – The Real Nude line is Blush's dual-density silicone. The Ergo Mini is 5″ long and 1.3″ wide, with a matte satin finish. It also has a suction-cup base, because Blush seems to be realizing that if they maximize the versatility of a dildo, it'll sell well. The base is also harness-compatible. At $30 for a dual-density suction-cup base silicone dildo, I'm thrilled to see these on the market. Also consider the larger Real Nude Helio which is 1.5″ wide and still under $40.

Tantus Curve – A Classic Tantus design, and often copied, Curve lives up to its name with a dramatic curved shape. It has a large base that won't slide out of a harness, and is 6″ long and 1.37″ wide. It's made from Tantus' firm, shiny silicone. The tapered tip would also make it great for anal play. The Curve is similar to the Acute which has a little less dramatic curve and is slightly smaller at 1.25″ wide.

Tantus Sport – Sport has a more pronounced, bulbous head which many people like for precision fullness at the g-spot, allowing for a little less girth at the vaginal entrance or sphincter. Sport is priced a little better than Curve, at $40, and is 5.5″ long by 1.4″ at the widest part of the head. Sport is also available in a dark purple, and for $10 more you can get the matching starter harness.

Blush Luxe Purity 2 –  The Purity 2 is $24 at Shevibe, which may mean that it is not silicone through-and-through – which is fine, because you shouldn't ever see the inside core. This is a guess, and not a fact, but I'm basing my educated guess on the style (matte silky silicone) combined with similarities to other also-very-affordable silicone dildos that I found had a non-silicone core. I'm not concerned either way but I plan to find out. Similarly the Mio is a whopping 1.8″ wide and only $27. It can't be solid silicone at that price.  The Luxe Purity 2 is 5.35″ long and 1.43″ at the widest portion.

Split Peaches Small Unicorn Horn – This thing is too cute to leave out. It's tapered, gathering itself to be 1.5″ at the widest insertable portion. The original horn is pearly white, but also comes in a rainbow design and pastel design. The small size is part of a trio – each style also comes in a "medium" and "large" which are both pretty wide at the base. I'll see if I can find out what size they all start at, at the tip.

Wet For Her Five Jules Medium – This style comes in 3 sizes, ranging from 1.1″ wide (small) to 1.5″ wide (medium) to 1.75″ wide (large) and each size offers three colors – black, pale pink, and pale purple. Anal safe and designed for harnesses, these look like they have a silky, matte finish. The silicone is probably quite firm. All sizes are under $50, with the Medium coming in at $44 from Shevibe.
Save
Save
Again please check the material – they do still sell jelly items and other materials I don't agree with ↩