Sex Toy Safety Information / Toxic Sex Toy Awareness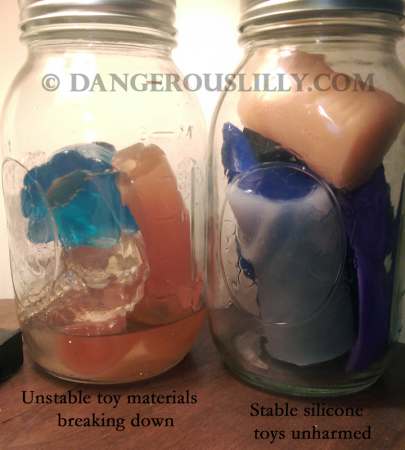 The point of this page is basically to have a landing spot with an easy address. A one-stop shopping point, if you will, of all content that relates to sex toy materials, their safety (or dangers) and the industry as it relates to this topic. Some posts are quite old and while I've updated when I can, the information we get changes. We understand material nuances better as the years go on. It wasn't all that long ago that most people didn't care about their sex toy material or thought they were the problem. It's only been 10 years that we've had increasingly more access to silicone sex toys.
We've seen some sex toy lab tests over the years and boy have things changed. In the mid-2000's the Danish EPA tested many sex toys, with poor results where toxicity is concerned – the same could be said for the first tests run by Smitten Kitten / Badvibes.org done in 2006; but the sex toy industry has come a long way since then. In September of 2014, Smitten Kitten again sent out a bunch of sex toys to be tested, the results are found here. Surprise! All were considered phthalate-free. Does this mean they're no longer toxic? We don't know. A recent Swedish study showed that hazardous chemicals were also declining. These recent test results fail to explain why so many people still get chemical burns from use, especially with Doc Johnson sil-a-gel-added products. Here's a link to the PDF of the study.  Please note that clicking on the link for the PDF will likely download it to your computer/phone.
You will find information here on toxic toys and "non-toxic but not body-safe" toys. There are shades of grey when it comes to the dangers and yes, some people will experience no ovbious side effects. This page also will provide links to DIY home sex toy "tests" and will aim to dispel some myths about silicone sex toys.
We have still have sex toys that contain phthalates, but phthalates aren't the only harmful chemical being used. Companies can lie about their "phthalates-free" claim, so ultimately we're left 100% in the dark about the true safety of a sex toy unless we buy only materials from the approved list or sex toys only from the approved manufacturer list. And then, we have sex toy materials that have never been proven toxic yet are still softened with oil (grades and types unknown), the material still breaks down and is unstable, and the material is still porous enough to harbor bacteria and mold.Even if the material is non-toxic when you first buy it, that may change as you own it and the material breaks down. Chemical changes will occur, oils will release along with new VOCs, and more.
——————————————————————-
Want to keep up on the latest climate of the Melted Jar of Sex Toys?
How can you look at these images and still want to put sex toys made of materials that break down over time and possibly contain dangerous chemicals inside your body? How is this safe?
Original Photos (September 2013) — November 2013 — February 2014 — November 2014 — June 2015 – 2016: An update and Retrospective
——————————————————————-
Toxic Toy Talk – Articles about Unsafe Materials
Yes, Jelly Sex Toys can be Dangerous 
Using Jelly products for oral, vaginal, or anal stimulation is going to introduce phthalates and other toxic solvent absorption into the mucous membranes of the body. … Headaches, cramps, and nausea are some of the side effects that result from exposure at the levels found in the study. … Regardless of whether you sheath the thing in condoms every time you take it out of its box, it's still going to degrade and fragment, off-gas so that it leaves an oily stain behind, fuse to its packaging and stink like an old car tire. Is any part of that sexy?
Bringing Toxic Sex Toy Facts Out of the Attic
A company could have the manufacturing plant in China put "silicone" on the label when it's far from silicone. Nothing and no one can stop them. Nothing on that packaging has to hold a grain of truth. NO REGULATION.
Are Toxic Sex Toys Still a Problem?
In late 2014, another official lab test was done on a bunch of suspicious, porous sex toys. We take a look at what the results mean and where we should go from here.
How Do I Know if a Sex Toy has Phthalates in it?
You don't. The better question would be: How do I make sure I don't buy a sex toy with phthalates in it?
Doc Johnson 'Sil-a-gel' Products are Burning People
Sil-a-gel isn't a material, it's an additive. They claim it is anti-bacterial, mixed in with very porous PVC to inhibit bacterial growth in the pores. But the extreme reactions people have is cause for great concern and complete boycotting of any Doc Johnson product containing this additive.
Non-Toxic But Still Not "Body-Safe"?
How Porous is Your Sex Toy and Why it Matters
Bacteria, mildew, fungus etc can enter the pores of these materials and make a home. The more porous the material is, the easier this will happen. No studies have been done on the effects of using a sex toy that mildewed.
Is Your Glass Sex Toy Truly Safe?
Cheap glass dildos are a dime a dozen in the industry, but are they safe? They're more sturdy than the uninitiated may first thing but cheap dildos cut out an important safety step. We also talk about safety in colored glass and painted glass.
How Porous Sex Toys and Bad Lube can Affect Vaginal Health
So I've told you that not all porous sex toys are toxic, like TPR. But so many folks have had reoccuring yeast infections, bacterial vaginosis and more and the answer came to me when I was researching how oil-based lubes can affect the vagina.
DIY Sex Toy Safety
Deciphering The Results of a Flame Test
There are many variances in sex toy materials, and your results when doing a burn can vary. In fact, results we used to think meant one thing now mean another. The good news is that I feel more confident that I've got a lock on what's going to happen if your material is silicone or not silicone. I've documented most of the results achieved on known-content materials to show the array of results and what you can expect.
Is Your Glass Sex Toy Truly Safe?
This article gets listed twice because it talks about the problems you can encounter in cheap glass sex toys, but also shows you how to easily test your glass dildo at home to make sure it's annealed and more.

Soothing the Genital Burn – Tips for Dealing with the Burn of Bad Sex or Bad Lube
Whatever the cause, the pain is real. Until you can get to your doctor these home remedies should help abate the feeling that fire ants have devoured your genitals.
Sex Toy Industry and Material Myth Busting
Silicone vs Silicon vs Silica Gel
Thanks to shady sites that shouldn't be selling sex toys, and the "lost in translation" issue, we're seeing some weird claims in sex toy materials. Spoiler alert: Sex toys are never made from silica gel.
Dismantling the "Silicone Touching Silicone Melts" Myth
For years, we believed this because many things were called silicone that were not. I did another Jar test to prove that nothing happens when you store your silicone sex toys touching in storage.
Should You Really Cover It With a Condom?
For years this advice made the rounds: Using an unsafe material? Cover it with a condom! Simple! I'm delving into this advice to see if it's worth anything. Hint: It's complicated.
"For Novelty Use Only" Part 1
The "For Novelty Use Only" disclaimer is likely more for exporting reasons than anything else, for most companies – if it's not "novelty", then the FDA thinks it is medical and they will require formal approval, photos, and a 3-page paper written on the subject.
"For Novelty Use Only" Part 2
"I honestly don't think it has anything to do with the quality, or lack thereof, of a sex toy. I think it has to do with history. Small manufacturers are less likely to use this terminology." In the second part I interview manufacturers and dig deeper.
If It Stinks It Can't Be Silicone, Right? WRONG
Silicone is like tofu – tasteless on its own but it soaks up the flavors of the dish. There are many valid reasons a true silicone sex toy could stink when you first get it, so give this a read before you worry that it's not silicone.
Is There Such a Thing as Clear Silicone?
Yep! But often the thing they're calling silicone is actually TPR. This post talks about clear silicone and how you can tell the difference really quickly without a flame test!
——————————————————————-
Tip: To get the best chance at a quality, safe sex toy avoid buying from Amazon and Ebay. Chances are high for counterfeit sex toys and problems galore. Want to know who I recommend for a safe shopping experience? View the list here.
——————————————————————-
List of Reputable Sex Toy Manufacturers
This section used to contain a long, hard-to-update list of reputable sex toy manufacturers, brands that only made non-toxic sex toys. But the problem with this list, well, there are multiple problems:
I can't tell you for 100% sure without testing myself, and I can't do that with every brand
Brands come and go at increasingly more rapid speeds
In short, it's complicated.
And I would get endless emails about every little obscure brand on the market. I don't have those answers.
So now what? Now I tell you how to decide for yourself.
Amazon-only – There are a number of sex toy brands that only sell on Amazon or their own site. While this doesn't automatically make them bad, I do have grave reservations. I tested one such brand with disastrous results. At this time I simply don't trust 90% of them.
Retail Store Brand – A number of retailers do "white label" sex toys, which they don't necessarily design. They just pick from a manufacturing plant's catalog and slap their brand on it. With regards to Lovehoney, anything they have said is silicone seems to be silicone. Their glass is not annealed. A retailer on my Blacklist, MEO, I am more suspicious of especially when it comes to their branded lubes.
Check Trusted Retailers – If you can find the brand for sale at any of the retailers I trust, then you can trust that their silicone products are silicone. I have yet to find a case that defies this rule. Look at Shevibe, Smitten Kitten, Early to Bed, Come As You Are, Self Serve, SheBop, Babeland, and Good For Her.
Which Sex Toy Materials Are Safe?
–> 100% pure silicone. You'll also see this called Platinum silicone, which refers to the curing agent. You'll sometimes see medical-grade, but usually it's food-grade (which is still very body-safe). When a brand pulls out the "medical grade" wording, I would be a little suspect because medical-grade silicone is much more expensive and isn't necessary. There are also regulations on brands using that terminology. Even if it just says "silicone" and you're buying from a trusted retail website, I give my blessing. If they try to call it a "blend", though, run away.
–> Wood sex toys can be very safe, if the finish is medical grade. So far, only Nobessence makes wood sex toys with a lab-tested body-safe coating. Lumberjill also seems to have a body-safe coating, it just wasn't lab-tested.
–> Medical grade stainless steel is very safe. Njoy is the premier company for this.
–> Aluminum is safe; most aluminum toys are powder-coated with body safe coloring. Crowned Jewels UK is a great brand.
–> Glass as a material is safe; you'll mostly see borosillicate glass. Fucking Sculptures is soda-lime glass. Cheap manufacturers won't state the type, but leaded glass is expensive and super heavy, so it's not likely to be used. Cheap brands also will not anneal, which is a long process that makes the glass extremely tough. Un-annealed glass won't be a fragile bubble but it needs to be handled with care. Cheaper brands may also paint glass which should be avoided at all costs.
–> Ceramic is safe, so long as it is glazed and kiln-fired. The glaze keeps it non-porous.
–> Natural stone is mostly safe. Most natural stone sex toys cannot be sealed, they can only be polished. We're unclear on the porosity and safety levels of putting these minerals and rocks inside the body for longer periods of time. I can't seem to get a straight answer from brands nor scientists.
–> ABS plastic is considered non-toxic, but is somewhat porous.
Which Sex Toy Materials Should I Avoid?
–> Jelly / Jellee / Gel and other various spellings
–>Rubber / "skin safe" rubber merely means that the retailer is saying what the manufacturer claims, which is that the rubber is latex-free and phthalates-free, but this may not be true.
–>Cyberskin / UR3 / Futorotic / Fanta Flesh / Neoskin / FauxFlesh/ etc – if it's not pure silicone, and it looks super realistic (and it's not Fleshlight) then avoid it.
–>Vinyl and PVC
–> TPE, TPR, Elastomer, TPR-silicone, SEBS, "silicone blends" – These should be approached with caution. They are non-toxic, but are nearly always porous enough to harbor mold and bacteria. These materials are also softened with mineral oil, and might contain harmful chemicals besides phthalates. The material is highly unstable, and will begin to break down over time (a few months). Sex toys made from these materials should be examined closely before every use for material tears, black spots, foul odors. Sex toys made from these materials should be replaced every 8-10 months.
Toxic Sex Toys with Jennifer Pritchett from Smitten Kitten on Vimeo.
Posts from around the 'net, written by others
Bloggers are asked to self-submit, but the links will be moderated to ensure that there's no spam, or mis-information. For "name" you MUST include the title of the article. You are limited to 50 characters. You are welcome to submit any article you have written that relates to the toxic toy awareness theme. I'm also on the lookout for older articles that may not be from bloggers, but contain up-to-date factual information. Examples of this can be seen below, in the first few linked articles.
Save
Save