Toxic Toys – The Definite Guide to Toxic Sex Toy Awareness
Sex Toy Safety Information / Toxic Sex Toy Awareness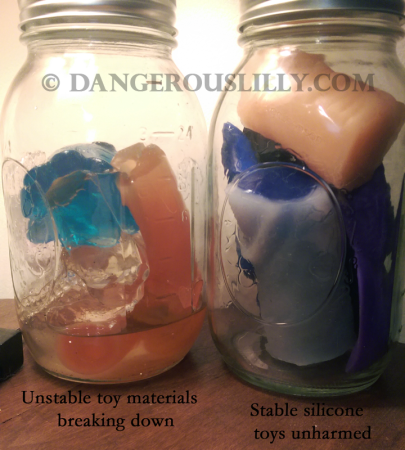 The point of this page is basically to have a landing spot with an easy address. A one-stop shopping point, if you will, of all Toxic Sex Toy content. While everything of mine is already linked over at the Toybox Page, I want to use this page to also link to stuff others have written. I can talk til I'm blue in the face, but I'm just one person. When you show someone the staggering evidence of the Boycott Toxic Toys Brigade, how can they not see the light?

You will find information here on toxic toys and "potentially hazardous" toys. There are shades of grey. We have still have sex toys that contain phthalates, but phthalates aren't the only harmful chemical being used. And the companies can lie about their "phthalates-free" claim, so ultimately we're left 100% in the dark about the true safety of a sex toy unless we buy only materials from the approved list or sex toys only from the approved manufacturer list. And then, we have sex toy materials that have never been proven toxic yet are still softened with mineral oil, the material still breaks down and is unstable, and the material is still porous enough to harbor bacteria and mold.
In the last year, some lab testing has happened. The first tests run by Smitten Kitten / Badvibes.org were done in 2006 and the sex toy industry has come a long way since then. But in September of 2014, they again sent out a bunch of sex toys to be tested, the results are found here. Surprise! All were considered phthalate-free. Does this mean they're no longer toxic? We don't know.
——————————————————————-
Want to keep up on the latest climate of the Melted Jar of Sex Toys?
Original Photos (September 2013) — November 2013 — February 2014 — November 2014 — June 2015 – 2016: An update and Retrospective
——————————————————————-
Toxic Sex Toy Educational Articles from Dangerous Lilly
Yes, Jelly Sex Toys can be Dangerous 
Using Jelly products for oral, vaginal, or anal stimulation is going to introduce phthalates and other toxic solvent absorption into the mucous membranes of the body. … Headaches, cramps, and nausea are some of the side effects that result from exposure at the levels found in the study. … Regardless of whether you sheath the thing in condoms every time you take it out of its box, it's still going to degrade and fragment, off-gas so that it leaves an oily stain behind, fuse to its packaging and stink like an old car tire. Is any part of that sexy?
Bringing Toxic Sex Toy Facts Out of the Attic
A company could have the manufacturing plant in China put "silicone" on the label when it's far from silicone. Nothing and no one can stop them. Nothing on that packaging has to hold a grain of truth. NO REGULATION.
Are Toxic Sex Toys Still a Problem?
In late 2014, another official lab test was done on a bunch of suspicious, porous sex toys. We take a look at what the results mean and where we should go from here.
Dismantling the "Silicone Touching Silicone Melts" Myth
For years, we believed this because many things were called silicone, but were not. I did another Jar test to prove that nothing happens when you store your silicone sex toys touching in storage.
How Porous is Your Sex Toy and Why it Matters
Bacteria, mildew, fungus etc can enter the pores of these materials and make a home. The more porous the material is, the easier this will happen. No studies have been done on the effects of using a sex toy that mildewed.
Melted Sex Toys
How can you look at these images and still want to put sex toys made of materials that break down over time and possibly contain dangerous chemicals inside your body? How is this safe?
How Do I Know if a Sex Toy has phthalates in it?
You don't. The better question would be: How do I make sure I don't buy a sex toy with phthalates in it?
"For Novelty Use Only" Part 1
The "For Novelty Use Only" disclaimer is likely more for exporting reasons than anything else, for most companies – if it's not "novelty", then the FDA thinks it is medical and they will require formal approval, photos, and a 3-page paper written on the subject.
"For Novelty Use Only" Part 2
"I honestly don't think it has anything to do with the quality, or lack thereof, of a sex toy. I think it has to do with history. Small manufacturers are less likely to use this terminology."
Flame Testing Silicone Sex Toys for material purity
If a material is not silicone, it will not produce any grey ash. Cheaper materials are often softened with mineral oil – prior burnings have shown that when burned, the material caught flame; the entire thing engulfed and continued to burn like an oil lamp.
Deciphering The Results of a Flame Test
There are many variances in sex toy materials, and your results when doing a burn can vary. I've document most of the results achieved on known-content materials to show the array of results and what you can expect.
My Sex Toy Stinks – What Should I Do?
"My vibrator has a lingering rubbery smell to it, how can I get rid of that? What should I wash it with?" THROW IT OUT! A lingering bad odor is a sure sign of unsafe chemicals.
Silicone vs Silicon vs Silica Gel
Thanks to shady sites that shouldn't be selling sex toys, and the "lost in translation" issue, we're seeing some weird claims in sex toy materials.
Should You Really Cover It With a Condom?
For years this advice made the rounds: Using an unsafe material? Cover it with a condom! Simple! I'm delving into this advice to see if it's worth anything. Hint: It's complicated.
——————————————————————-
Tip: To get the best chance at a quality, safe sex toy avoid buying from Amazon and Ebay. Chances are high for counterfeit sex toys and problems galore. Want to know who I recommend for a safe shopping experience? View the list here.
——————————————————————-
List of Reputable Sex Toy Manufacturers
The following manufacturers are "innocent until proven guilty" and do not produce toxic sex toys. Some of these manufacturers (noted with *) also make sex toys from porous materials like TPR and Elastomer. I include these manufacturers because I've found their silicone items are indeed pure silicone. A few others, like Tenga and Fleshight, primarily make porous sex toys but they are non-toxic and are some of the only truly non-toxic "male masturbator" products on the market. If anyone can prove that a company on this list is making a toxic sex toy, or their silicone sex toys are incorrectly advertised and are not pure silicone, please advise and I will remove them from the list.
Aslan
Aneros
Babes-n-Horny
Bad Dragon
BS Atelier
BSwish
BMS Factory*
Crystal Delights
Crave
Divine Interventions
Doxy
Damn Average
Exotic Erotics
Eroscillator*
Evolved Novelties*
Frisky Beast
Fleshlight
Fucking Sculptures
Fuze
Fun Factory
Godemiche
Hole Punch Toys
Happy Valley Silicone
Hot Octopuss
Jopen**
Incoqnito
Jollies LLC (now Chavez Dezignz)
Je Joue
JimmyJane
Joyful Pleasure
Luxotiq
Laid
Leaf**
Kiiroo
Lelo
L'Amourose
Maia
Minna Life
Magic Banana
Marc Dorcel
Nobessence
Nexus
Njoy
OVO 
Nomi Tang
New York Toy Collective
OhMiBod
Primal Hardwere
Papaya Toys
PyreXions
Picobong
PleasureWorks
Rianne S
Rocks-Off LTD
Swan**
Sensuelle 
Tenga* 
Tails & Portholes (Etsy)
Tenga Iroha
Toyfriend
Tantus
Vamp Silicone
Velv'or
Vibratex*
Vixen Creations
We-Vibe
Whipspider Rubberworks
Wet For Her
 ** Swan and Leaf are lines from BMS Factories, and have been shown to be 100% pure silicone. Jopen started off as a way to sell Swan brand in the US, but it is owned by CalExotics–further Jopen lines have thus far passed flame tests. 
I have people asking about Lovehoney branded items. Lovehoney has many lines, not all show up as the Lovehoney brand – Tracey Cox, Fifty Shades of Grey, Annabelle Knight, etc.  I will say that so far, anything they've labeled as silicone has shown to actually be silicone.
Which Sex Toy Materials Are Safe?
–> 100% pure silicone. You'll also see this called Platinum silicone, which refers to the curing agent. You'll sometimes see medical-grade, but often it's food-grade (which is still very body-safe). This grading refers to the purity of the silicone in a different way, and doesn't mean that if you do not see this term you should avoid it or assume it is a "blend" (because that's not a thing).
–> Wood sex toys can be very safe, if the finish is medical grade. So far, only Nobessence makes truly safe wooden sex toys.
–> Medical grade stainless steel is very safe. Njoy is the premier company for this.
–> Aluminum is safe; most aluminum toys are powder-coated with body safe coloring. Crowned Jewels UK is a great brand.
–> Glass is safe; you'll mostly see borosillicate glass. Fucking Sculptures is soda-lime glass. Cheap manufacturers won't state the type, but leaded glass is expensive and super heavy, so it's not likely to be used.
–> Ceramic is safe, so long as it is glazed and kiln-fired. The glaze keeps it non-porous.
–> Natural stone is mostly safe. Most natural stone sex toys cannot be sealed, they can only be polished. We're unclear on the porosity and safety levels of putting these minerals and rocks inside the body for longer periods of time.
–> ABS plastic is safe. It's pretty much non-porous, as far as bacteria and mold are concerned. Non-toxic.
Which Sex Toy Materials Should I Avoid?
–> Jelly / Jellee / Gel and other various spellings
–>Rubber / "skin safe" rubber merely means that the retailer is saying what the manufacturer claims, which is that the rubber is latex-free and phthalates-free, but this may not be true.
–>Cyberskin / UR3 / Futorotic / Fanta Flesh / Neoskin / FauxFlesh/ etc – if it's not pure silicone, and it looks super realistic (and it's not Fleshlight) then avoid it.
–>Vinyl and PVC
–> TPE, TPR, Elastomer, TPR-silicone, SEBS, "silicone blends" – These should be approached with caution. They are usually non-toxic, but are nearly always porous enough to harbor mold and bacteria. These materials are also softened with mineral oil, and might contain harmful chemicals besides phthalates. The material is highly unstable, and will begin to break down over time (a few months). Sex toys made from these materials should be examined closely before every use for material tears, black spots, foul odors. Sex toys made from these materials should be replaced every 8-10 months.
Toxic Sex Toys with Jennifer Pritchett from Smitten Kitten on Vimeo.
Posts from around the 'net, written by others
Bloggers are asked to self-submit, but the links will be moderated to ensure that there's no spam, or mis-information. For "name" you MUST include the title of the article. You are limited to 50 characters. You are welcome to submit any article you have written that relates to the toxic toy awareness theme. I'm also on the lookout for older articles that may not be from bloggers, but contain up-to-date factual information. Examples of this can be seen below, in the first few linked articles.