The Best (and worst) Sex Toys of 2013
Welcome to the 2013 "Best Sex Toys" list from The Pickiest Sex Toy Reviewer, Ever.  And because I really want to make sure you always get your dose of reality, we have a list of the Worst Sex Toys. If the sex toy is on this list, then I have some Very Strong Feelings about it. Be it good or bad!
This year's list was a little harder to make; I had to take a hiatus and my reviewing was cut back all around this year. I wrote a mere 22 reviews this year; about 2/3 of those reviews were for products that debuted this year. That's it! Add in the fact that I truly disliked half of what I did review and I was honestly thinking that I would have a tiny list this year, with no vibrators. Thankfully for all, a few newbies snuck in at the 11th hour.  In order to keep things fresh and up to date, I like to restrict my list to sex toys that hit the market this calendar year. For the "Best" picks, I've restricted the items to things that I've used and honestly liked a lot.  I don't want to steer anyone wrong, so I always need to be sure that my recommendations are true.
Best Sex Toys of 2013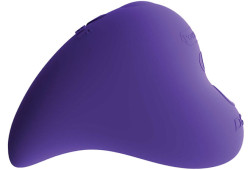 Best Vibrator: Leaf Fresh+  – I'm surprised at this choice since I wasn't a fan of the first Leaf line; but with the new Leaf+ line, the power and rumbly upgrades tipped the scales for me.  The Fresh+ shape also means that it's less susceptible to vibration dampening just from holding it (so many tiny vibes have that problem).  It's small, but doesn't give me hand cramps. It's truly travel-friendly, has a non-aggravating charging method and clocks in under $100 at SheVibe. Sure, it's now a baffling purple but I'm going to do my best to overlook that fact because I like the vibrations. If power is your thing, stick with the Fresh+. While all the vibes in the purple Leaf+ line are more powerful and more rumbly than their green counterparts, Fresh+ is the tops.
Get the Leaf Fresh+ from SheVibe!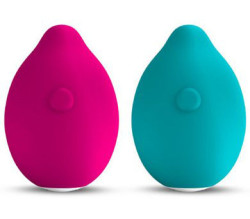 Honorable Mention: Minna Limon – Limon didn't make the top choice because it wasn't perfect for me due to the shape, but the very deep and rumbling vibrations make this vibrator stand out. The air-filled squeezy pockets and ability to record your own perfect pattern are technologies that, while not something I personally need, would be awesome for so many people. It's marketed as a couples' toy (even though we're used to couples' toys providing simultaneous stimulation to both parties) but is great for solo and couple time. If Limon didn't possess the vibrations it does, though, it wouldn't have made my list. More sex toy companies need to utilize these deep vibrations.
You can pick up the Limon in Teal or Pink from Good Vibrations or SheVibe!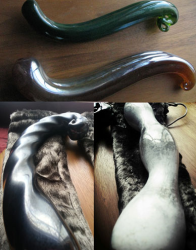 Best Dildo: Anything from Fucking Sculptures – I usually don't like putting something so high ticket on this list, but the glass dildos from Fucking Sculptures blew me away this year. They truly are the most beautiful creations I've seen. I was given two to review, I bought one, and I gave away one. All were well-made and gorgeous to look at with unique shapes and stylings. Sometimes the glass is sparkling, sometimes it is metallic; it can be opaque or translucent and the colors are things we don't normally see in sex toys.
SheVibe is selling them and is selling specific models; they will tell you the exact sizes of the ones they have in stock (which are also on sale until 12-31 while supplies last). You can also purchase directly from Fucking Sculptures; you can tell them some size guidelines that they can follow or just give up control and give only narrow choices. Since each work of art is handmade, each one is slightly different and won't look like the photos on the site.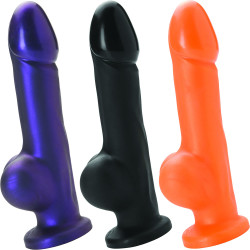 Honorable Mention: Tantus RaptorXL – While the RaptorXL was a great dildo for me, I know that a lot of folks won't be able to handle the size. It's a firm, silicone dildo with a few stylings on the head that make for great g-spot stimulation despite the shaft being straight. For those who would need something smaller, the Raptor standard delivers all the same bullet points, just not as girthy.  The Raptors are harness-compatible in a bit of a unique way; normally when balls are present it is more difficult to utilize a harness but by moving the ball up, non-harness users still get a "handle" of sorts, but harness users aren't aggravated. And, the Raptors are available in Tantus Orange! Yay for different colors!
(discontinued)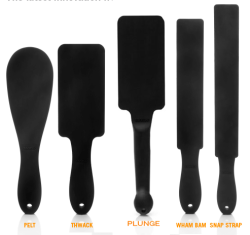 Best Kink Item: Tantus Silicone Paddles – I don't identify as kinky anymore and frankly these days consider myself to be fairly vanilla. However, the paddles were too good not to award. Do I personally like them? In theory. I can't stand to receive pain and I'm not in a kink relationship where I can deliver the pain. However, the concept is fucking brilliant and it's well executed.  For anyone who is actually in to spanking/paddling and can tolerate pain, I highly recommend these. For newbies just starting out? Nope.  The original 4 paddles have various sensations (various levels and types of pain, I should say) and flat handles. The Plunge has a dildo-shaped handle that is more ergonomic and doubles as a teasing dildo. Why silicone? It delivers a sensation unlike rigid paddles, yet is nonporous and can easily be cleaned and sanitized. 
Get the Tantus Paddles from Tantus directly, or Shevibe!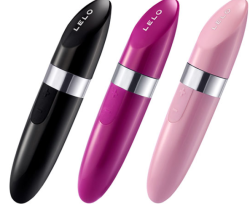 Best I-Missed-It-Last-Year Item: Lelo Mia 2 – Yes, technically, the Lelo Mia 2 debuted in 2012 but I didn't get to try it until 2013. I never ended up writing the review for it, which is something I really should do. As much as I wanted to like the original Mia back in 2008, it wasn't quite enough oomph for me. The world of USB rechargeable vibrators was pretty new in 2008; now it's nothing special. And while these days I tend to dislike a vibrator that has a magnetic cradle and charges only via USB, somehow the Mia 2 can get away with it for me. I guess because it's small and doesn't require a flat surface (rarely seen in my work area). While I would still recommend the We-Vibe Tango to the Mia 2, and the Mia 2 has quirks that I don't like (the removeable cap and the silicone buttons create crevices that are a bit of a bitch to clean), Mia 2 can finally get me off. The motor employs just enough extra intensity and shift from buzzy to more rumbly necessary to please me. If you're someone who really likes the method of charging, no cables, and the fact that it comes in black? Go for it. You'll likely enjoy Mia 2.
 Worst Sex Toys of 2013
I don't even know where to begin! There were so many items that I hated! So many "meh" toys, too, but I'll try to stick to the ones with no redeeming qualities.
Missed Opportunities of 2013
There were items this year that I really wish I'd gotten a chance to actually try. It doesn't mean I'm endorsing them, it just means that I optimistically think there's a chance they could be decent.
~ While I did feel up the Fun Factory Stronic 1 at Catalyst in the spring, I never actually used one. Part of me thinks that it wouldn't work for me. Fun Factory did try to offer me the Stronic 2, but it was being marketed as a prostate version for men – a very large prostate vibrator. Too large for my guy. I've sadly figured out much later that it could possibly be great for the g-spot, too.
~ Last year, I panned the original Crave Duet after listening to Epiphora. They've since updated the Duet, and come out with a few other vibes too. I'd like to at least be able to hold them in my hand and figure out if they vibrations are strong enough for me, but Crave doesn't seem to like me very much. Are they afraid of me & my notorious negative reviews? Maybe I'll try to find a NYC store that carries them, if I ever make it out there anytime soon.
~ Despite how much I disliked the Jopen Envy One and Three, I wish I'd been able to try out the Envy Five.  It's supposedly wider (their measurements on the One and Three were WAY off) but has the angled curve that might make it serviceable. And who knows, maybe with the newer models they were able to fix the DOA and overheating issues. Maybe. I'm a glutton for punishment, I know.
Tell me what you think! Are you surprised by any of my choices, or absences?