Fun Factory Amorino or Is That a Rubberband??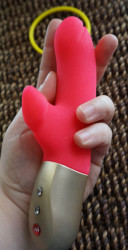 First, let me admit that I skim over things often, and can miss a detail the first time around. When I was looking at the Fun Factory Amorino, I kept wondering how it would work, having that band on it while being inside the vagina. I wondered even further when I got the thing in my hands. It wasn't until I pulled out what passes for a Fun Factory manual that I saw the warning: "Do not leave the band on during vaginal or anal insertion!" Ok anal insertion, absolutely I understand that. But then I'm not the sort to use a "rabbit" styled vibe anally.  So if you're not supposed to leave the band on for insertion…….?
There were bizarre diagrams of it, but none made sense. According to the FF website: "The gently taut silicone stimulation band is placed between the softly rounded tip and the side bud for clitoral arousal. It externally stimulates the Venus mound and the vaginal lips – this little detail ensures levels of excitement of a special kind."  Like, a very special Blossom episode, kind of special? Special how, exactly?
And still I said to myself, "I don't fucking GET it".
Seemingly unrelated factoid: Threading is an ancient hair removal method. "In threading, a thin (cotton or polyester) thread is doubled, then twisted. It is then rolled over areas of unwanted hair, plucking the hair at the follicle level. Unlike tweezing, where single hairs are pulled out one at a time, threading can remove short lines of hair."
I think I know what threading feels like, now, and I do not like it. Not one bit. I attempted to clumsily utilize a design (rabbit) meant to be inserted vaginally as a external-only labia massager, because they told me to. With the band. IT DIDN'T GO WELL. AT ALL. In fact, I'm never going to use that yellow band again. NEVER NEVER NEVER. I would really love to talk to the person who thought it was a good idea. I have a drawer in my sex toy dresser that has a picture of Grumpy Cat pasted on the front. The yellow band is going in the Grumpy Cat drawer. I experienced the most discomfort using it in the crossed position. I didn't think this shit up on my own, the box told me to try it. Rather, the best position for the band is off, and sitting far away.
Amorino marks my 5th Fun Factory vibrator, I think. I've had the Ellove, the now-defunct Babeland-only Boss Lady, the G4 Patchy Paul and G4 Big Boss. Since all are marketed as internal vibrators, I wasn't blown away. I personally need a very strong and rumbly vibrator for my g-spot to even show up for the party. Not even with the G4's could deliver. There was just too much pliable silicone for those rumbly vibrations to get through to still remain powerful. But I wouldn't call them weak, either. Just….not what I expected/was hoping for. And while I hadn't really expected to be blown away by the Fun Factory Amorino since it is a "mini" vibe, this line from their site had me wondering: "new, powerful, long-lasting motor".  Amorino certainly *sounds* powerful, but the bark is worse than the bite. In use, the vibrations are terribly surface-buzzy and I just don't have time for that. If the vibrations in the Amorino had been satisfactory, I would be able to recommend this to be used sans yellow band. None of the other mini vibes that are recently launched have a clitoral arm that looks to be in a decent enough position. 
This is a dual stimulator that doesn't have a ton of bells and whistles; you can't separately control the internal and external portions and nothing rotates/churns/strokes. Some people don't want the bells and whistles, they just want the luxury of being able to kill two birds with one stone so for those, this type of "rabbit" vibe might be sufficient. The silicone is decent (it's not the worst offender in attracting dust and fur, but it's no Lelo, either), there are no animal faces, and the lack of bells and whistles means that it is pretty easy to operate. Fun Factory Amorino is waterproof, as most Fun Factory vibes are. You can turn it off in a flash, the buttons lock for travel, and it comes in this garish, neon pink but also a color they call "petrol", oddly, which just seems to be a shade of teal that I quite like. The charging is probably the best version of magnetic charging that I've come across. It looks like the metal dots are barely touching, but no matter what position I laid the vibe in for charging, the magnets kept their connection and it kept on charging. This is the first Fun Factory item I've had with this new Click n Charge, and I have to say I like it. A lot.

The vibrations are meant for those who don't like/don't need deeply-felt rumbling sensations….or who don't really need much vibration, period. I need them, and I need them to be strong and deep, but I do recognize that not everyone does. However….I really really dislike the vibrations on this thing and find a hard time imagining it being good enough for most. There doesn't seem to be a motor in the clitoral arm, nor does the motor in the shaft go much past the midway point, so that also tells you that this isn't for vibration enthusiasts. The silicone has a decent amount of give to it – it's nothing like jelly, but it's softer than the Jopen Vanity/Picobong/Lelo dual stimulators. Operation begins by pressing and holding the "Fun" button for a pause, and then there's only a plus a minus. Easy operation, sure, but it's also easy to flip past the highest power level and get into the patterns. Annoying.
Basically…..the band is a gimmick, as many of us reviewers likely assumed. I do not feel it adds anything positive to the vibrator. It doesn't achieve anything special. It's something that will, instead, irritate you or get eaten by your dog/cat and later freak you out.  If you have a really thick head of hair, maybe it could be a hair tie1.
Next!
(and thanks to Shevibe.com for supplying the Fun Factory Amorino and wanting my typical Lilly impression on this)
I attempted for a moment to be "witty" and think up a few other hysterical "uses" for it, but I'm bored already with this thing ↩