Ask Lilly: My First Sex Toy edition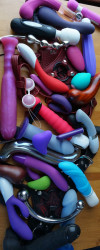 Over at Reddit I've been getting a lot of questions along the lines of "I/we want to try out sex toys, but have no idea where to start". It can be hard sometimes to recommend things for someone's first sex toy, since not even they really know what they want. And of course, they often are young or just reluctant to spend much money on the whole endeavor, since they have no clue how it'll work out. Too often, people recommend cheap and *unsafe* sex toys, or cheap and half-ass quality sex toys, for a sex toy newbie. I've been there, and that's mostly what filled my meager toy bag my first two years. It led me to wasting a decent chunk of money, but it also ultimately led to me creating this blog. I try to avoid recommending shoddy toys to the first-timers. So difficult, so very very difficult. They're cheap for a reason! I do have a complete guide to under-$35 sex toys right here, and there's now a bonus section for sex toys under $50, but for this topic we're going to up the budget to $80 because it's where the better sex toys are. Not that you need to start off pricey but I don't recommend always going super cheap, especially with vibrators.
Top Three Tips Before You Start
Understand safe sex toy materials. You want to avoid anything porous. Stick with silicone from trusted brands, hard (ABS) plastic, glass, metal and wood.
Discuss it together, first. Go get your partner and look at the items I'm recommending. What you think your partner would like and what they actually would like can be two very different things. Make sure you can answer these seven things before you buy a surprise gift for a partner.
If you're buying a sex toy for someone with a clitoris who has never orgasmed from penetrative sex, then don't get an internal vibe. Get an external vibe and a stronger one at that but don't feel like you have to jump right to the Magic Wand.
Where to shop
Please, don't go to Amazon. The first place I recommend you shop at if you're in the US is Shevibe. They have great prices and are a trustworthy company. You'll get great customer service, too. They've been around for awhile and I adore them. For silicone dildos and butt toys, plus some harnesses and paddles, you can also go directly to the manufacturer I adore most – Tantus. They often have great sales. If you're in Canada Come As You Are is good.  A few smaller, feminist sex shops I support are Smitten Kitten and Early to Bed.  Now, you may notice a lack of UK and Canadian shops. I've stopped supporting Lovehoney and Lovedreamer, two I had previously listed here. Lovedreamer would hold onto my affiliate earnings for ages and be unreachable. This doesn't give me enough trust in them treating you, the customer, properly. I'm working on finding new shops in other countries that I can support fully and trust. *Apparently this paragraph is not sufficient for some people. If you want the details on why I recommend these shops, read my long-winded comment below. Also read this post.

Deciding on sex toy size
Base the size of your first sex toy, if it's meant for insertion, on what has already been inserted into said orifice. Nothing? A finger? Two fingers? A cock? Not all people seeking their first sex toy need something tiny and/or wimpy on vibrations. If you've never had anything inserted, ever, you're going to have to purchase two sizes – the warm-up and then the step-up. I realize it sounds like a waste of money, but you can't just jump head first into these things. Starting with a warm-up can be key to the whole experience going well.  I have a complete guide to choosing your first dildo that you should check out. Also, consider the material. A very firm silicone, or other hard material, is going to feel bigger than the same size bio cock. There are a lot of under-$50 dildos listed here, too.
Introducing the clitoris to a vibrator
The first sex toy you use on a clitoris is very dependent on the sensitivity level of that clitoris. Again, not everyone will need a subtle vibrator, but not everyone needs a Hitachi Magic Wand, either. If the clitoris owner in question has difficulty reaching orgasm from fingers and tongues, then you're looking for something powerful and rumbly. If you think that pinpoint but really strong stimulation is your best bet, you can't go wrong with the We-Vibe Tango. It's the most powerful bullet vibe on the market and very rumbly. Another strong option that isn't quite the level of the Tango (but very very close) is the Jopen Lust L2.5; tiny but powerful it has deep, penetrating rumbling vibrations (it also comes in pink). There's also a $9.99 option to consider if you are really concerned about price for now and that's the Blush Novelties Gaia Eco; the vibrations are actually fairly strong and rumbly so I wouldn't recommend it for more sensitive clits. Yes, it's a long slimline vibrator but that doesn't mean it's prescribed only for internal use.
For those who can orgasm anywhere from somewhat easily to rarely, to unsure about owning a vibrator I have one that I recommend across the board: Doc Johnson's Black Magic bullet. It's affordable, it has vibrations that are more rumbly than buzzy, and with 4 levels it can work for a large variety of people. It's versatile – can be used solo, together, and on any body part that might like some vibrations (external only, though please – I don't feel that most corded bullets are meant for vaginal insertion and I wouldn't trust them for anal insertion). I feel that the vibration range of the Black Magic allows for slightly less intense vibrations on the lower end of the scale when compared to the Gaia Eco mentioned above. A cute and tiny option is the OVO T2. It doesn't pack the punch of the Black Magic Bullet, but it's small and unobtrusive while still having pretty decent vibrations. The same can be said for the OVO D2. It's similar in size to the Lelo Mia 2, has pretty decent vibrations and is quiet. The Lelo Mia 2 is more powerful than the OVO D2 and less powerful than the Jopen Lust L2.5 and much less powerful than the We-Vibe Tango.
If you've heard a lot about these new pressure-wave suction-but-not-suction sex toys like the Womanizer and Satisfyer, check out my mega-guide. The only affordable one that I can recommend for now is the Satisfyer Pro 2, at $69, but the Womanizer brand is far superior to date (updated 2017). These work best if you know you like pinpoint stimulation of the clitoris, but expect different results than pinpoint vibrators.
G-spot for beginners
A number of the dildos in the choosing your first dildo guide are great for g-spot play, but some people are understandably curious about vibration for their first sex toy. There's a number of better (over $50) options like the L'amourose Prism V or the Je Joue Uma, but to see if you even like vibrations on your g-spot, start out with something more affordable like the Aria Hue G, or Picobong's Zizo or Moka. The ultra-affordable Aria Hue G won't knock your socks off but it's no slouch. The new OVO E3, a very affordable rechargeable, has a large flat head like the Lelo Mona with pretty good, moderately-rumbly vibrations.  The oddly-shaped very-versatile Blush Nude Impressions 01 is powerful, rumbly and awesome with a suction cup, silky silicone, and a rechargeable battery. It's even waterproof.
A Vibrator to use during sex?
Often I hear from couples who want a vibrator that can maybe be used during PIV sex to help achieve clitoral orgasm. I find myself recommending the Fun Factory Layaspot for it's small size and curve. I'd prefer to recommend the We-Vibe Touch for it's small size and nice silicone, but that wouldn't fit in the $80 price limit unless you nab a seriously good sale; however the Tango does fit in the price rage, barely. Another sort-of decent toy is the Tula 2.0. It's cheap, it runs on AAA batteries, and it's got decent vibrations. They're not rumbly but they're not seriously surface-buzzy either. With a little effort, it's even enough to get me off. It can be loud, though. But the "tilted egg on a stick" style is pretty versatile. It can be used for the g-spot, but also it's great to use during PIV sex because the long handle keeps your hands out of the way of bumping pelvises (pelvi?). Many copies of this style exist, but most have poor vibrations that are surface-buzzy.
The We-Vibe Sync is designed to be used during sex, but the fit can be finicky (even with the improved customizable fit) and the vibrations don't blow my mind but are vastly improved over earlier We-Vibe models. I usually prefer to recommend that you find new ways to work your sex and foreplay around a nice vibrator, rather than expecting your vibrator to blend in seamless with your sex. Other vibrators made specifically for this like the Dame Eva or Dame Fin fail on many other levels because they're trying too hard to achieve one purpose. I don't think that a person's very first sex toy should be used in a high-pressure situation like PIV sex (often the vibrator is expected to help get you both to orgasms at the same time), though.
I don't want something that looks like a sex toy
This is a common theme; whether the idea of your first sex toy fills you with anxiety or you live with other people and need something discrete, avoiding the garish designs or penis-replicas can be a good avenue. Wand massagers like the Mystic Wand are quiet and discreet looking.  You've seen these recommended before: For pinpoint stimulation the We-Vibe Tango and Lelo Mia 2 both fit the "tiny & quiet" bill. Often you can find a glass sex toy that looks more like art than a dildo, however please read up on glass before you go buy something super cheap.
Butts (and prostates!) need love, too
Let's not ignore the other holes for your first sex toy! If you're looking for plugs and dildos to prepare a butt for eventual butt sex, you should start out small and buy a few in graduating sizes, as I recommend in the beginner's guide to anal sex toys. If you decide you like the sensation, consider the Tantus Neo, Lux LX1 or Fun Factory Booty for something under $50 or spend a little more to try the Njoy Pure Plug which is seriously highly rated. These are all plugs that are made to stay in one spot and provide the sensation of something being in there, or fullness if you get the bigger sizes.
If you're looking for something to stimulate the prostate, start out with the Tantus Pro Touch from their Grab Bag for something affordable – it has the tip and curve that tends to target the prostate. Another option that has a little more oomph in the vibrations department is the Renegade Massager. You can also try out the non-vibrating Doc Johnson Mood Naughty 2 to see if you like the blobby-shaped prostate-targeting style of the Aneros line. If you decide you like the sensation but need more vibration, consider the Lust L12 for something a little over $50 or L'amourose Rosa Rouge for a big splurge. 
Sensations for butt toys vary – some people like the feeling of thrusting versus stationary plugs. That's when you would try out a dildo.  The first few suggestions in the list of dildos for beginners guide are all slender and perfect for introductory anal play.
Going beyond a hand job
The world of sex toys for the penis is just so damn difficult to navigate for someone like me – I'm loathe to recommend very porous or toxic toys, yet 95% of the masturbator sleeves out there are porous. Very few are silicone – the ones that are, are very expensive or not awesome. I'm not against Fleshlight and Tenga brands, though, despite them being porous because I at least know that they're not toxic. I've not heard reports about people getting skin irritations. You do have to be super vigilant with cleaning them. A Tenga product that I really love, and a material that more companies should embrace, is their line of 3D sleeves. It's a porous TPR material infused with silver for its anti-microbial properties which would be a great place to start for your first sex toy that isn't a one-time-use onacup. They're extremely soft with a texture; they're open-ended too so it won't create vacuum suction (which also often is very noisy). Since there is no hard plastic shell around it, you can use your hand to increase pressure; you can also use your other hand to grip the open end shut to create some suction.
I read that "50 Shades" book…..
So you read one of those damn 50 Shades books and want to "spice things up". When people say this, they can mean anything from "let's use a sex toy" to "I have a secret kink I've held back on for years".  I'm not to be considered an expert on anything serious for BDSM/kink, but I can get you started.  Pretty much the whole entire "position aids" section at Shevibe will be enough to "spice-ify" the most vanilla of sex lives, or at least get you on your way to being able to communicate deeper kinks and desires. For a little restraint and blindfold experimenting, the Liberator Bed Buckler kit is nice, sturdy and has the best blindfold I've ever tried on. You can also consider things like sex slings and other under the bed style restraint systems – this one fits any bed, while this more basic one will only work up to a Queen size bed.
Want to experiment with a little pain? Start with paddles and floggers, and start affordable in case you don't like it. Avoid silicone paddles and pain implements – they hurt and it would be too much for a newbie to start with.
But what about!
You'll see I don't mention vibrating cock rings or rabbit vibes here. That's because I think these are the equivalent to when a real estate agent tries to call a house "cozy" when it's really 700 square feet, or a "fixer upper" when it barely has a floor and a roof. I don't think that most cock rings are worth it or work well for couples, and rabbit vibes are SO hit-or-miss. In my years of  reviewing I've found ONE that fits me perfectly and it's really expensive.  I didn't get into things like harnesses because I don't think I've tried enough, plus my size limits my ability to really judge the less expensive ones (my favorite of all time is the Aslan Minx or Jaguar, not something most newbies want to drop the money on). This starter kit is going to be decent for most people though.  I don't get into gender expression items because that's totally outside my area of expertise. There are a few harnesses too on my budget-minded list.
 Final tips
Some quick tips to keep in mind include gems like: don't forget the lube; don't cross-contaminate anal and vaginal toys; make sure you clean all of your sex toys properly; and finally – go slow. Try different positions. Be patient. Sex toys aren't meant to replace a person, and they can't. Sex toys are about enhancing the pleasure. Vibrators aren't dangerous or addictive, nor will a large dildo "stretch out" a vagina. Have fun and check your ego.
While this guide certainly won't cover ever aspect, it should hopefully get you started from point A. If there's anything I haven't covered, please ask below!
Save