Sex Toy Snopes: Myth or Fact?
I often wish there was a sex toy / sexuality version of snopes.com. There are so many myths, uncorroborated theories and flat-out wrong ideas. This will have to do! Comment with your own myths or ask if one you've heard is myth or fact. 
You can test a vibrator in-store by putting it on the tip of your nose.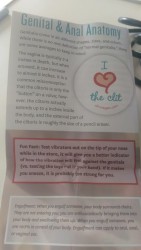 This isn't really myth or fact, it's just subjective. The theory is that if it "makes you sneeze" it is probably too powerful for your clitoris. I actually saw this tidbit in a brochure for the Center for Sexual Pleasure and Health in my Woodhull Sexual Freedom Summit 15 swag bag and it saddened me1. I love this organization and have supported them, but this "fun fact" worries me that those who need something strong will feel shamed or will not get the vibrator they really need. My clitoris (and I know I'm not alone) is not very sensitive. I require strong, rumbly vibrations. If the vibrations are particularly rumbly, then it doesn't have to be super-strong (hello, Tango, I love you even on level 1). Every vibrator that will work for me bothers my nose. Hell even vibrators that will never be enough for me can make me sneeze, particularly surface-buzzy ones. 
You won't know if a vibration type or strength is good for you until you try it. You can start with cheap vibrators and one that I like recommending for external play is the Doc Johnson Black Magic Bullet. It's not high quality and might not last you more than a couple months. But it'll give you a really good idea of where you stand especially if the last vibrator you tried was too mild. Maybe the Black Magic isn't enough, maybe it's pretty good but not quite enough for some days, etc. Whatever the case may be, you now have a barometer. Put THAT to your nose (or drop your jaw and put it in the hollow of your cheek – see how far the vibrations spread) and or your hand and memorize how that feels. Did it make you sneeze? Ok, so what. It's what you need, so it's fine.
If there were such a thing as "too powerful" then the Magic Wand wouldn't have gained a cult following as a genital vibrator for masturbation.
Toy Cleaner is all you need to keep that PVC dildo perfectly safe
Myth until the end of time. The whole thing is porous (but not absorbent) so you can only clean the surface. Since the material breaks down over time and things are living in the pores, the community in your dildo will come out to play. And you definitely don't wanna hang with that crowd. This goes for rubber, TPR, jelly, "realistic materials" of unknown origin, etc. "Toy cleaner" for non-porous is just kinda pointless unless you're traveling and plan to share with non-fluid-bonded partners because there are other easier and cheaper ways to clean/sanitize your sex toys. 
Covering a sketchy sex toy with a condom will solve all your worries
Unproven. This might (and boy do I stress might) help for a little while with TPE/TPR dildos if it's a polyurethane condom. TPE/TPR seems to be the only porous material that doesn't give a chemical burn (I could be wrong, FYI, and they could be lying) but it is porous and unstable (hence using polyurethane condom because the instability means its leaches oils and oils ruin other condoms). The condom might buy you some time with regards to keeping bacteria out of the pores, or to keep fungi in the pores from coming at you during use, BUT you need to cover 100% of the sex toy surface. I don't mean the surface going in you or on you. I mean the whole. damn. thing. Handle too.
Silicone sex toys will "melt" or deform if you let them touch in storage.
I have covered this to death but I couldn't leave it out of this round-up, simply because I hear it so often. Even when I make a post specifically showing that it's not a thing.
Large girth sex toys will "ruin" a vagina or make your butt incontinent
For most people and in most circumstances, the body is really damn elastic. Vaginas can birth a 10 pound baby and not have the cavernous qualities of a small garbage bag afterwards.
Can the PC muscles lose their tone and affect things like tightness and bladder control? Yes, but they can be toned and exercised and brought back to full strength – without necessarily needing surgery. 
Wood sex toys will splinter, glass sex toys will shatter
I've already covered the wood thing in great detail. Glass sex toys, even if they're not annealed or even made from tempered glass, are very unlikely to shatter in use into tiny pieces as is suggested here. It could crack, yes, if it's a cheap glass item. But unless you're shoving something like a lightbulb inside of you (btw….don't do that) you're using something that is solid, not flimsy and hollow. More details on glass sex toys and their quality/strength to come shortly, by the way – I plan to do testing and research that will educate you and yes concern you but I will  not use scare tactics based on dramatized situations.  Straight dope, y'all.
If you want something soft, you HAVE to buy jelly or "realistic" mystery materials
After Woodhull I can personally assure you this is wrong. I squeezed so many super-duper soft silicone items from Lunabelle's treasure trove. I was shocked that someone could even use something so soft. These aren't mainstream brands (yet) but it is out there. Damn Average, Frisky Beast, Bad Dragon, and so many more. Even the Vixen Vixskin and Tantus O2 is very soft and squishy – they have solid cores to make it easier to use, but it's still soft. Yes, many silicone toys are very firm but not all. Don't let that deter you. 
Vibrators will desensitize you and make it so that you cannot orgasm without them
I will not disagree that certain vibrators (for me, it's the Magic Wand and similar) can give you a very temporary numb feeling. I am not a doctor (not that most doctors know a damn thing about sex toys and pleasure) but I feel pretty confident in saying that this is a myth. In fact, over my time with sex toys, I've been able to orgasm with less vibration strength than I used to need. I've had more instances of hands-only orgasms since I started using vibrators and those orgasms used to be about as rare as a brown spider monkey2 but are probably at African Penguin3 level now.
Sex toys are only for single people (who aren't having partnered sex)
This is like saying that now that you're in a relationship, you never masturbate anymore, in any way. Masturbation is healthy. It's not something you necessarily do because you're not attracted to your partner. Masturbation/orgasm can be very relaxing, can help you sleep, can help you focus, can ease anxiety, and so on. Sex toys are merely a tool. That's it.
Sex toys can be used in partnered sex and to great results. Again, they're a tool to enhance sex. It's not like a sex toy says "You, the person I care about, are not attractive enough / good enough sexually for me". Do you wear lingerie for your partner? Do you light candles? Yes? So how is a sex toy really any different? The notion that only your partner's body should/can provide you with pleasure is very antiquated, and very damaging.
Does your partner like a hand job (penis)? Do you enjoy seeing them receive that kind of pleasure? So a masturbator sleeve is going to feel even nicer than your hand – this you can surely understand, yes? It's softer. It might have nubs. So why wouldn't you want to use this on your partner and watch them experience even MORE pleasure? Now think about this in relation to every other body part and every sex toy on the market. When my partner uses a sex toy on me, or watches me use it, it is just as (if not moreso) intimate than applying the body part to the body part. If you love giving your partner pleasure then why wouldn't you want to give them even MORE pleasure? 
Sex toys made specifically for partnered sex are The Thing and need to be Hands-Free
Every "couples" toy I've tried has not worked for me. The idea behind these specific things is that the vulva-owner wears them for PIV sex; they're supposed to be unobtrusive, and require little effort once they are in place. But when you combine friction and slippery stuff, the chance something could really stay hands-free is fairly slim. Plus they usually rely on your body being built the exact way that the toy makers demo vulva/body is, and if not may not fit just right.  The We-Vibe can work for some and I hear good feedback. But I also hear just as many disappointed people who experienced all fails. In my opinion that's a lot of money to spend for a maybe, when you could just re-work your foreplay and sex positions to include your toys. Would you rework those things if one of you became injured or disabled? There's your answer.
Hands-free is very hard to achieve, so maybe let's let that one go? Or consider the toys with suction cups, or the Liberator toy mount pieces.  And there's no need to look for a specific "sex toy for couples". If you're using it together, during partnered sex….guess what? It's now a "sex toy for couples". You're welcome.
I got a man! (What's your man got to do with me?)
FYI someone needs to remake a video for this song and have a dildo be the dude in the song.
To the cis men saying their "girl" doesn't need a "rubber penis" because: cis dude exists: Your penis is not a god. Let me ask you something, cis dude: You have consensual access to a vagina/butt/whatever now that you have a partner. Are you really trying to tell me you're never gonna jerk off? Ever? That is some bullshit. Ever stick your dick into something other than another human, and had it feel good? Yes. Why should your partner be punished because you have a god complex? Try using that dildo you're so afraid of on your partner, with your partner. It's sexy to watch. You can get a view you normally wouldn't during sex. And you're still participating in giving them pleasure.
For those who think that because they "have a man" they don't need a silicone dick, well, that's your choice I guess. You're the receiver, so you choose what you want. You can angle a dildo in a way that the attached penis probably can't move. You can twirl and twist the dildo, and an attached penis cannot (should not) do that (unless the body attached to the penis is rigged to the ceiling like a Cirque du Soleil gymnast and there's a whole lot of complicated…stuff…going on). That's neither bad nor good, it's just a thing and if it feels good then do it. Maybe you have tried dildos and do not like them. Maybe you tried dildos that weren't right for you (been there, done that, so keep going and maybe try a Pure Wand) but hey maybe you just don't like dildos. THAT'S COOL. I'm not saying you have to like a dildo. If you have zero trouble getting off clitorally with your hand or your partners fingers/tongue? Bravo. You're lucky. Carry on and don't experiment with pleasure if you don't want to. BUT YOU CAN, ok? And if you cannot orgasm at all or with any frequency/reliability from your partner's fingers/tongue/penis? You are not broken. There is no shame in using a sex toy to help. 
Cis men who enjoy anal/prostate play must be gay/queer
It's not about the things you like having done to you during sex, it's who is doing them.  The prostate is often called the "male" g-spot (starting to hate that term but, whatever, if it helps the cis men I talk to, then fine) and it feels fucking awesome for most people to have it stimulated. The ass also has a ton of nerve endings – these are there regardless of gender. We all have the same nerve endings. Every butt, regardless of gender or sexuality, has the ability to really fuckin love the sensation of beads, penis, dildo, plug, or vibrations in and around this sensitive zone. Don't like it? Fine. But it has nothing to do with your gender or sexuality. 
Calling it: Myth now and forevermore.  Wanna read more? Start here. 
Anything can be a sex toy if you're brave enough
That should be changed to actually read "dumb enough". Just the other day I found someone selling anal beads on Etsy that consisted of sead beads and larger round beads strung onto jewelry-making beading wire with other wire involved. The beads? No. They are glass and those can break off. Plus cleaning between them??? OH NO. No. And then, the wire?? It could puncture you internally. It could be fatal. The seller doesn't seem to agree with me and others, it seems. Primary email interaction isn't getting my point conveyed and they seem to feel their stuff is safe. Kinda like the person who made those clay and wax dildos, but he got super angry with me. 
See also: carrots/vegetables/food, markers, salami, syrup bottles and cold cream jars – not a dildo. 
Sex toys are amazing tools and you should try one or 24 at some point in your life
Fact. Or I wouldn't be here right now on this blog, doing all the things I love. Granted, not all sex toys are amazing but speaking in generalities? Magical stuff, people.
Thanks to Artemisia, Girly Juice and Reenie for reminding me on a few of these.