Non-Monogamy and Sex Toys – Safe Sharing Tips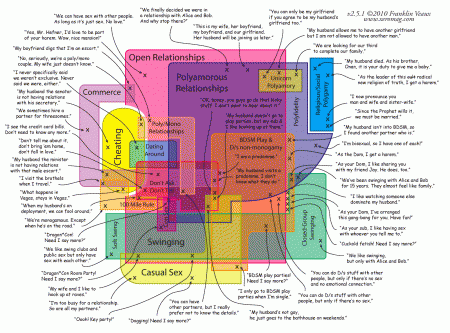 Non-Monogamy encompasses a whole host of various situations: Swingers, couples in open relationships, people who identify as polyamorous or even just those who are not in committed relationships and are dating numerous people. Most of these non-monogamous people are (hopefully) well aware of safe sex practices and use them every time.
While I doubt that the majority of people bring their vibes to sex parties & clubs and pass em around like a drinking game, there are other situations outside of the realm of monogamy where sharing sex toys may come into play. Even 1-on-1 or threesomes should be treated with care if you aren't fluid-bonded.
Cock Rings
More than half of you out there still probably own sex toys made from materials that would cause me premature grey hair, try as I might to dissuade you. But many people, even if they've switched to silicone vibrators and glass dildos, pull out a cock ring from their arsenal now and then and I'm betting it's not silicone.  Most cock rings are inexpensive and made from various soft and stretchy materials: Jelly/Rubber, Elastomer/TPR (less porous than jelly and usually non-toxic, but still porous) or silicone blends (which seems to be an industry lie). You'll see these so-called "silicone blends" show up in sneaky ways; they'll be labeled "SEBS" which Screaming O has claimed stands for silicone-elastomer blend (a lie, SEBS stands for something else entirely), or they'll just merely be labeled a quiet, solitary "silicone" depending on how well the retailer does their homework. As I've mentioned in the past, these sex toy companies can outright lie. The previous myth of "if it contains 10% silicone, they can call it silicone" is false – they can call it whatever they want, regardless of the material composition. Of course, you can whip out your trusty sex-geek-detective lighter and perform a flame test. I flame-tested a Screaming O "SEBS" cock ring, and it burned hotter and brighter than your average oil lamp. Silicone? I think not. Another quick test is visual – if the material is crystal clear, then it is not silicone. Clear silicone is a cloudy clear.
So, what's the big deal, you ask? Unless you're buying the truly disposable one-and-done vibrating cock rings1, then your little gummy, (possibly) buzzy ring of fun is quite porous – and can't be sanitized nor therefore shared. Yes, this also means the ones that you purchase in the condom aisle. Unlike most vibrators and dildos, a vibrating cock ring can't be covered by a condom for barrier protection so the cock ring could be exposed to vaginal and/or seminal fluids. If you are using a simple non-vibrating cock ring, one that goes around just the base of the cock, you may be able to get away with covering it with a condom, but keep an eye on it.  Since I've never tried to do that I can't say if the condom would keep it covered or not.  There are also some silicone cock rings but again the norm seems to be jelly or TPR.
Also, don't let a luxury price tag on the vibrating versions fool you into submission.The Lelo Bo, Tor 1, and the Bedroom Kandi Rise and Shine are all higher-end cock rings that are rechargeable but they are made from Elastomer or TPR. Soft, stretchy and free from phthalates and latex, they're certainly better for your body than the cheap jelly versions but they're still porous and should never be shared beyond fluid-bonded partners. The Lelo Tor II, the Tantus C-Ring, Je Joue Mio, some BMS brand rings and the Tenga cock ring are all made from true silicone. However, even though many of these are waterproof they're still vibrators and should never be boiled or tossed in the dishwasher. You'll be able to get a safe clean by a simple handwash.
Penis Extenders and Sleeves
The vast majority of these are not silicone – and they're highly porous to boot so they're definitely not for you if you're sharing sex toys. Vixen makes a few, like the Ride On, but the price is so high that it will deter most buyers. I see a lot that have "silicone" in the name, but these are all going to be TPR labeled sometimes as that liar term "TPR silicone" – therefore, porous. Many extenders/sleeves and cuffs are designed to be really stretchy and soft – that's not a common attribute in pure silicone items.  From what I've seen, a company called Oxballs  makes a couple extenders that appear at first glance to be pure silicone but most are TPR. So please keep these porous models limited to a single partner, and keep in mind the fact that these are all porous – this means it will never get truly clean and sanitized, the softer ones could mildew if stored while still wet from cleaning, and they may retain stains and/or odors after an extended time of use. SheVibe allows you to limit your searches of extenders and cages to see only those made of silicone, but the choices for extenders are slim.
Harnesses and Dildos
Moving on from cock-centric toys, I want to talk about dildos. Especially harness-compatible dildos. The guidelines are pretty damn simple: Get silicone dildos. Covering it with a condom will work IF you use the right kind of condom (and you probably aren't) and it's not silicone or covering it with the right kind of condom if it IS silicone and you're sharing between non-fluid-bonded partners without a wash in between. Even if you're using a silicone dildo, if the dildo is used primarily for butt play then it can retain some Eau de Fart. I have some tips to help combat this, but you may find times when that silicone dildo you used for butt play is not suitable for a harness blow-job.  There are plenty of affordable silicone dildos out there, plus Tantus is always having a sale (and often their sales can be combined with my coupon code, LILLY, which takes 15% off your order).
Most harnesses are made from leather or a fabric (even just strap webbing is fabric). These are porous, and should be considered a one-partner item unless they are washable, in which case please wash in between partners.
Metal, Wood and Glass Toys
Provided that the toys are free from defects2, these should be safe to share between partners and anal-to-vaginal if they are washed thoroughly in between partners and uses. Take careful note if the toy is highly textured – really make sure to scrub all around the nubs, ridges, etc to be sure you've removed any traces of fluids. A non-textured seamless item made from any of these materials though will be super easy to clean in between partners; you could even just keep a pack of Afterglow Wipes on hand if you're in situations (like at a swinger's club) where departing to a sink in the middle of multi-person fun would kill your mood. They do have anti-bacterial properties and are body safe to all but the extremely sensitive folks – I don't know though if I'd recommend using them on a toy, using the toy on a woman, and then after that move to oral sex, I can't imagine that Bergomot oil tastes very good with all the other chemicals but I'm ultra sensitive to that sort of thing, your mileage may vary. Please note: If you're using a wood sex toy, the only company who makes truly safely-coated ones able to withstand alcohol and bleach solutions for sanitization is Nobessence. If you bought any other brand, I would not advise sharing it.
Vibrators
Again, stick to only silicone (or condom-covered TPR) and make sure to thoroughly wash it in between partners. Be sure to get down in the cracks and crevices if the toy has, say, a hard plastic handle (Like Lelo vibes). For more immediate use, if you're able, cover with a condom. If the only sex toys you own are made from porous materials, then you should always cover with a condom even if you're the only user. For vibrators that are entirely made of hard ABS plastic, these can just be wiped down with a little soap and water, rinsed or again cover with a condom if there's no immediate availability to get to a sink in between partners. ABS plastic is non-porous, but you do have to watch out for nubs and crevices. Pocket rockets are the worst offenders at keeping clean. The Hitachi Magic Wand (or a similar wand vibrator) has porous material on the head; not all wand vibrators are like this, but certainly the ones originally marketed for actual back massaging. Newer wand vibrators that are made by sex toy companies are sometimes made with a silicone head like the Mystic Wand or the Lelo Smart Wand, but also keep in mind that many wand makers like to add texture and ridges to the head – those spots are harder to clean on the fly so covering it with a condom if immediate sharing is likely is a safe bet. There are more and more silicone-covered wands being made these days and some, like the Dorr Avond or Doxy 3 are excellent for their ease of cleaning.  If you're not 100% certain though, cover the head with a condom. It's also a good idea to continue the condom down past the exposed metal portion and onto the plastic handle if you're going to be in a group situation with people who are copious squirters. A note about the condom: Make sure you're buying the right kind of condoms for your wand. Chances are good you don't have the right kind on hand.
Kink and Leather
I'm not talking about kink to those that frequently visit BDSM clubs; they are all pretty aware of safety precautions but those that just play casually in the bedroom won't be aware about certain things. Any item that breaks/scratches the skin or causes welts that can bleed (if you get that rough) should be kept only to one person.
Gags that have leather straps would also need to be kept to one person. Cock rings can be leather. Paddles can be leather. The shiny side is water resistant but the rough parts aren't, and none of it is non-porous.
Rope: If you tie anybody up and the rope comes into contact with saliva or other bodily fluids, wash the rope before using it on another person.
 ~ ~ ~ ~ ~ ~ ~ ~ ~ ~ ~ ~ ~ ~ ~ ~ ~ ~ ~ ~ ~
At the end of the day, sex toys can and should be used to enhance any sexual encounter if it's something that you and/or your partner(s) enjoys. But when you step outside the relative safety3 of a fluid-bonded monogamous couple, things can muddy up in ways that many people don't think of. Why yes, actually, I have witnessed amateur porn where the sex toys were shared copiously with little regard to safety. It happens. The sex-positive bubble is small in comparison to the rest of the world; that much is obvious since jelly/rubber/icky toys are still such a hot commodity. The most conscientious person will always bring their own sex toy if they already own some great ones, that way there's no worry about sharing if everyone has their own. The perfect kit would likely contain a few different types of lube (be sure to have an all-natural one like Sliquid for those who have sensitive skin issues), a few different types of condoms for both sex and sex toys, nitrile gloves, and toy cleansing wipes.  If you only ever purchase your sex toys online, like me, finding affordable sample sizes of lube can be pretty damn difficult. I only have some because of my attendance over the years at places like the NYC Sex Bloggers Calendar parties, Momentum, etc. but they are perfect little things to have when you don't want to worry about the lube bottle spilling out in your purse or you don't have the room for a few bottles. The sex toy retailers used to all have lube samplers; I really liked the one GoodVibes used to offer, but for some reason nobody  carries these anymore. You can find them on places like Amazon or at condom-centric online places, but many will not include the better brands like Sliquid or any all-natural lubes. They will, however, give you a full buffet of flavored samples if that happens to be your thing (it shouldn't be though, the ingredients list on those is not palatable). You can also buy up a cube of Sliquid "sachets" of lube, but they're not exactly affordable for frequent use, it looks like they run around $1 each plus shipping.
But think about it: if you always had easy access to a little case containing an awesome little vibe (ahem: Tango), 2 gloves, half a dozen condoms and lube samples plus a few single packets of Afterglow wipes4? Not only would you be the most awesome person at the sex party, but your individual random encounters would be safer and fun, always.
A note on choosing condoms for use as toy covers:
After a lot of research and at-home tests, I've found that latex condoms are horrible for sex toys made from jelly, PVC, TPR, rubber, etc. Also, most condoms (of all kinds) use cheap silicone lube. And if they do use water-based lube, the ingredients look like they may be toxic or highly irritating to some. Make sure you're using the right condom material and type for your situation – more about this is found here.
Thanks to Lorax of Sex for their help!