Should You Really Cover Your Sex Toy with a Condom?
For as long as I've known about porous and toxic sex toys I've heard the old "cover it with a condom and you're fine" mantra1. It's an oft-used phrase to make buying a toxic or porous toy seem more "safe" than it is and I am starting to get really cranky about how easily this is bandied about. I can understand how someone came up with this idea – a condom is a great barrier against STI's and pregnancy, so shouldn't it work in this situation? Well, that depends on a number of factors, like the situation and the condom material. It's true, not all condoms are created equal for these purposes – and bad news: the condoms that are right for these situations are probably not the condoms you already have in your drawer. So if you're going to use, or recommend to others the use of, a condom on a sex toy please make sure that it's the right condom otherwise you'll end up with sad toys or mad genitals. At the end of the day I'd really like to see this band-aid "solution" recommended a lot less, but I think that most educators and reviewers say it as a last-ditch attempt to keep others safe; those who insist on using porous sex toys. We want you to be safe and would rather you avoid porous insertable sex toys2 but we know that some of you are going to use these materials anyway.
A note for those new around here: I talk about toxic and porous toys separately. Not all porous toys are toxic. TPR/TPE is non-toxic, but still porous and still breaks down and sweats oil.
Using A Condom to Protect Yourself from Toxic Chemicals
Absolutely no research has been done to prove that this is true. Of course, no official research as been done to prove it's not true, either. I've heard from numerous people that they still experienced a burning sensation despite covering a toxic sex toy with a condom. One person confirmed that the condoms they'd tried were latex and polyisoprene and they still felt the burn; neither of those condom types play well with oil. Why does that matter? All porous sex toys have oils in them. This jar is proof of that! When the toys sweat/break down, even just a little, there's a constant sheen of oil on them. This oil will render latex condoms so porous that it's useless against the fight. You might be able to succeed with using polyurethane condoms or nitrile condoms but again this is a theory and not proven. Polyurethane and nitrile are safe with oils but I don't know if they're a barrier against the toxic chemicals in some sex toys. If you're going to take the risk on sil-a-gel, sex toys with phthalates, "jelly" sex toys and more, at least use the right condom to have a shot at this theory working. 
For the photos I put a Trojan Magnum condom on this disgusting jelly dildo3 I have; I left it on there for maybe 5 minutes while I took some photos. Then I decided to try and cover the whole sex toy with the latex condom – after all they're stretchy enough to cover a large fist and go up to the elbow, surely it could cover the whole jelly dildo, right? Wrong. The condom broke about 30 seconds after this pic was snapped when I tried to stretch it a little farther – the ring came off and the condom tore lengthwise a little. Then I put a Magnum over the Tantus dildo in the photo and was able to stretch it over the balls, the base and have more room leftover to theoretically tie it off like a balloon if I had more nimble fingers – Also, I was very careful with the condoms when stretching them over the dildos, but then I stopped being careful with the condom over the silicone Tantus. I stretched it out more at the opening, and even held the dildo up by the part of the condom I was grasping in my fingers in the photo. The condom that spent a little time on the oily dildo tore easily. The condom over the silicone dildo remained tough and intact.

tl;dr: No latex condoms. Only polyurethane or nitrile. Or just stop buying potentially toxic materials, and if you must must must buy cheap porous toys, then buy TPE/TPR if you can't have silicone. I mean I'd rather you avoid all porous materials but I realize I can't have it all.

Using a Condom to Extend the Life4 of Porous Sex Toys
Again we have the wrong-condom issue: most condoms that people buy are the kind that are useless in the face of any oils5; but to really protect the toy (and yourself) you would have to cover the entirety of the sex toy to really really be safe. Even if you cover most of the dildo, part of it is still quite likely to get into contact with your bodily fluids and could retain bacteria, etc. These microorganisms would spread inside the porous material, past the surface. Remember, with a porous sex toy you can really only clean the very surface. You would have to probably use two condoms, one over each end, overlapping a lot, to really be sure. But that's 2 polyurethane condoms a pop – the best price I can find on Amazon has them at $1.58 each.  That's $3.16 per use if you're going to really make it worth the effort.  So unless the item you want simply cannot be had at all in silicone…I don't see why you'd save money by buying a porous toy and then pour money in a slow trickle down the drain with condoms. Having never used polyurethane condoms, I don't know if they're as stretchy as latex condoms. I was able to get a Magnum condom to cover the entirety of the Tantus dildo in the photos and maybe even leave enough room to tie it off like a balloon (if I had more nimble fingers), so if your sex toy has no balls, you could use one condom in this manner, for money-saving purposes.
Edited to Add: The morning after writing this I decided to locate one of the TPR toys I bought for testing purposes. Unlike the red jelly dildo above, this TPR toy didn't feel greasy to my fingers. It's a pretty firm TPR, too. I put the latex condom on, first rolled it all the way down to the bottom and then rolled it up just partway to show that it wasn't baggy on there, it was snug. I rolled it back down just a little bit closed to the handle, maybe another inch, and left it alone. Then I walked away for a little while (an hour at most? I kinda forgot about it while I responded to an irritating email and then made coffee) and came back. I tried to roll the condom the rest of the way down to see if I could tell a difference between the latex actually on the toy vs the latex that wasn't touching the toy because it wasn't fully unrolled. The condom promptly tore. You can see how the condom looks more "roomy", like a bag, and retained some weird texturing from the dildo.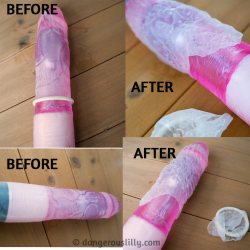 Making it Easier to Keep a Somewhat-Porous Sex Toy Free of Stains
One of the few instances that I can get behind the "throw a condom on it" mantra on is for things like the Magic Wand Original and similarly-made wands. The material is still kinda porous, but doesn't seem to be as porous as the soft materials (the more softening agent that is added, the more porous a toy becomes and the more likely you're going to see telltale signs of hitchhikers. Also I've never seen a Magic Wand head deteriorate like most porous toys), but the Magic Wand WILL stain if you're bleeding and the leather-like texture makes cleaning difficult. In these particular cases, since these wand heads aren't chemically unstable and sweating oils, latex or polyisoprene will be okay.
tl;dr: No latex condoms. Only polyurethane or nitrile on porous toys. Better yet, stick with non-porous materials like silicone, glass, and metal and never worry again!

Using a Condom on Non-Porous Toys
The only times I really think it's necessary at all to use a condom on a non-porous sex toy is when you want to use a sex toy both anally and vaginally in the same session but don't have the means / ability to properly sanitize in between uses OR if you're in a situation where sex toys are being shared about the room with people you aren't fluid-bonded with. Or if you're bleeding and just don't want to deal with the extra hassle of blood on your vibrators buttons, you could put a non-lubed condom over the handle. 
In these situations, especially if you're putting the condom on silicone sex toys, I highly highly recommend buying non-lubricated condoms. I didn't know this until recently but the vast majority of condoms are lubricated with silicone lube. We don't know what kind, so I'd not recommend combining it with a silicone sex toy. Some high quality silicone lubes are fine with high quality silicone sex toys (like Tantus and Pjur are said to be best buds), but there are a bunch of different types of silicone that can be used in a lube, and most are used in a combination, so I don't know which condoms would be considered safe with high quality sex toys – condom makers almost never tell you the ingredients of the lube on their condoms. There are some condoms that are rumored to use water-based lube, but I suspect most (if not all) would contain ingredients that are best avoided by most people. Also, there are lists I've seen claiming so-and-so's particular condom uses a water-based lube but they got their info from the manufacturers, and I don't know how long ago this was – formulas can change and I can't get confirmation from the manufacturer's websites.  So again, I'm back to recommending non-lubricated condoms.
I've seen it recommended occasionally that you should always use a condom on your sex toy, even if it's non-porous, being used in a single hole by a single person with no current infections – i.e. best-case situation. I can totally understand wanting a condom for anal use for easier clean-up, but I'm less convinced of the need for vaginal use, personally. There are quick, easy, and cheap ways to clean or sanitize your sex toys if they are made from a non-porous material. But if it makes you feel better, if you cannot possibly stand the thought of using them without, then go right ahead but again….non-lubricated condoms, please. You can buy them singularly for 50 cents each at SheVibe, by the 100 at Amazon (Atlas Brand) or a value pack at Amazon of Trojan Enz.
tl:dr: non-lubricated condoms!

Unfortunately, I have not been able to find a non-lubricated non-latex condom. If you have latex allergies I don't know what to tell you here; the non-latex condoms all have silicone lube in them. I suppose you could try to rinse out the silicone lube but that seems unlikely, since silicone repels water.