Posted by Lilly | Comments Off

The Nobessence Fling is an ergonomic, wooden dildo that goes beyond a simple handle – it actually has a hole where two fingers rest perfectly and comfortably. Fling is actually pretty discreet, too, since it doesn't look like a dildo thanks to that handle. I would feel pretty good about passing this off as a trigger point massager – I have fibromyalgia and other things and trigger point massage therapy works pretty well for me; My bad spots are all on my back, shoulders and neck so I can't do it myself with just fingers and the Fling actually does a decent job of that. If I were to travel with this sex toy I would feel confident that most people aren't going to assume that it is a dildo. Especially since it is wood and the sex toy uninitiated usually don't think of dildos being made from wood. The box that it arrives in is like all Nobessence boxes – padded on the inside and made from sturdy pressboard in two pretty colors – and can be used for storage (the sticker on the bottom is the only thing that gives away the sexy toy status and the sticker removes easily) but isn't good for travel.
Fling is pretty small and is definitely a g-spot (or prostate) dildo. It is not going to provide much sense of fullness but it will do the job it was made for – target the g-spot. The fat bulbous head maxes out at just over 1.5 inches (but is not the 1.75 inches listed on the site) and the insertable portion is at most 3.5 inches. This shouldn't be an issue for most as usually the g-spot/prostate isn't going to be any farther inside than 3 inches (anatomy varies, so "1-3 inches" is considered the generic gauge). The way that the handle is made forces your hand and fingers to cup and curve a bit and if you hold it as intended this translates into a small range of motion that concentrates on pushing the bulb up and into the g-spot. Pressure combined with a little massage is usually a sure-fire way to get your g-spot to respond. The finger-hold can work if your partner is using it on you as well; they'll probably want to slide it palm-side down (like a bad-ass set of brass, er, wooden knuckles!).
Like any Nobessence "sculpture", Fling is beautiful. Glossy, shiny and slick it is made non-porous and body-safe by the coating. Check out the care & cleaning for Wood section on my sex toy care guide, and feel free to use any type of lube that you love best (but you won't need much!) Directly from the manufacturer's site:
NobEssence's trade secret Lubrosity™ coatings and processes stem from years of meticulous research and development and meet USP Class IV and VI Medical Standards. Sculptures attentively encapsulated in Lubrosity™ coatings are odorless, may be soaked in water, and remain in body-contact for hours at a time – no waxes to melt away, no salad bowl oils to leach out or maintain, and no toxic petroleum distillates.
I won't mislead you – Fling isn't cheap – but there really is no other sex toy out there quite like the Fling and the quality of any Nobessence item makes the cost easier to tolerate. Provided you don't drop a wooden dildo on a hard surface (it probably won't break but if it lands right it might dent or crack it a little – in which case seek a replacement) it will last a long time. There is nothing in a Nobessence wooden dildo that will react with any lube or other toy material.
The Fling is something I've wanted for a long while and now that I have it I have something that will have a permanent home in my overnight bag – Fling is a perfect travel dildo. Small, discreet, easy to clean and it weighs practically nothing (5 ounces, I think?).
Just in time for holiday travels, you can shop at EdenFantasys and save – 25% off if you spend more than $100 or 30% off if you spend more than $150. Currently the Fling is priced at $138.99. If that's the only thing you purchase it will be $104. But if you add on a drawstring toy pouch for $14.99, your order total will only be $107 (and shipping is free!).


This toy was provided by EdenFantasys
See also: Blogger Disclosure
Sex Toy Care & Cleaning Guide
Read More
All text and images on this site require permission before they can be used anywhere. To obtain permission click here to contact me
Posted by Lilly | 3 Comments
You know, I don't get ALL my sex toys for free. Sometimes I get impatient and just buy them. Sometimes I do a "buy out" for review at edenfantasys.com which means I get a discount but I still have to review it, such as the Devine Play Chest or the Fleshlight.
But there's things I purchased with my own money (err…I mean EF giftcards that I got from writing for Edencafe plus the commissions I got from affiliate sales at EF) recently that I want to talk about, both the good and the bad. So read on for my thoughts on the Toiboks Original, the Erosillator 2, a couple of toy storage bags, some rope from Twisted Monk, the Nobessence Seduction dildo, and the Wahl 7-in-1 2-speed Massager.
Toibocks Original
This is a pricey yet unique toy storage item for someone with a few bedside toys that needs total privacy and discretion. The Toibocks IS beautiful, a dark mahogany wood that looks like a plain box and the lid opens to reveal a jewelry-tray thing. Keep cheap jewelry there, watch, anything that you like that's average and doesn't warrant a closer look. To anybody that looks at it in depth they'll know that the box is big but the tray is shallow and try to lift up the tray. But it is locked in place with no obvious key hole. The key is contained within this piece that is stored inside the box magnetically to the metal logo on the underside of the lid. Problem is, in my eyes, that "key" is obvious that it doesn't belong. In other pictures I had thought it to be metal, but it's just plastic. Not even fake-chrome-plated plastic, it's the swirly metallic-silver and so it looks like an oversized play-money coin from a child's board game, and that's really my only disappointment with this whole thing. The box is lined with velveteen-flocked cardboard and appears to be well made and sturdy. Like I said…..pricey, not for storing serious valuables, but it IS pretty and inconspicuous. Good choice for bedside storage if you have roommates or kids.
Toy Pouches

These are being sold under EdenFantasys as the brand, and are cute drawstring toy pouches. I purchased one of each, unable to tell exactly if one was better/different than the other. Other than one having the EF logo in glued-on rhinestones, there's absolutely no different and IMO not really worth sending the extra $6. They come in black or purple on the outside and it's a faux-suede material. The inside is a hot pink satin. Sturdy, thick cords make up the drawstring. Shiny silicone dildos/vibrators will not smoothly glide along the satin on the inside, so I took one and turned it inside out (that's the pink one you see above). While the suede will likely stain more easily if the dildo isn't clean, it can be easier to use it this way for some toys. I was able to fit the Wahl in the pouch by removing the attachment and just dropping it in the bag. I could probably fit one more attachment in it. Toys longer than 9.5-10″ won't fit in and still let the pouch close.
Eroscillator 2

After reading Epiphora's stellar, glowing review I decided to try it out. However….her review was for the tippy top super deluxe package of every attachment plus the stronger motor. SheVibe carries various packages, but the one I first tried was the "2 Plus" basic kit. I liked it….but it wasn't perfect for ME. I like pressure and with the oscillations you can't apply pressure, or they'll slow down a lot. I wouldn't hesitate to recommend this though for other women, so long as they don't require pressure like I do. It can be powerful or subtle, good for a wide range of women. Even my husband liked the sensation of it when I applied it to his hard cock, at the frenulum. I think that I could love it if I was able to try out the super deluxe package, with a more powerful motor and different attachments. In the end, I wound up loving  the Wahl so much that I no longer reached for the E2 and so I gave it to Backseat Boohoo as a surprise. (she loved it)
UPDATE: I eventually was able to try out the "Top 2 Deluxe", the model that boasts more power. Combined with the absolutely-essential Fingertip Attachment, I finally understood what everybody who loved it was talking about. I could truly get rid of all other attachments and solely use the Fingertip. It makes the difference; without it, I was feeling pretty lukewarm about even the Top 2 Deluxe model.  It's a pricey spend, but will offer you a lot of variety with texture and sensation plus could be the thing that changes your mind about vibrators. It's an "oscillator", not a "vibrator".
Wahl 7-in-1   2-speed Massager
That sounds so clinical, doesn't it? This is another "body massager" that has become a pervertable vibrator in disguise. Not for those with sensitive clits, but it's very different from the Hitachi's power. The type of vibrations can't even be compared. The Wahl comes with 7 little plastic attachments but to ME most are not going to work was a sex toy. Especially the scalp massager attachment (the one with nubby spikes). Ouch. There's 2 speeds and they deliver more than just differing speeds….it's totally different types of vibrations. The first is almost buzzy and surfacey but yet….not. Because long time readers will know that my clit doesn't like that type and my clit loves the Wahl, both speeds. The second speed is…..whoa. Only for the aroused clit. The word "jackhammer" comes to mind, but not in a scary way. It's not a numbing buzz like the Hitachi, it's…..literally like a hammering/thumping sort of vibration. That might sound painful but I swear, it's not. And holy shit is this thing QUIET especially on the first speed. On the first speed you wouldn't be able to hear it from a few feet away. The cord is nice and long. The Wahl has become my go-to vibe now. Sure it looks funny but I can't even tell you the last time I reached for my Hitachi since I now own this and the Climax Twist. Also, unlike the Hitachi, I never ever go numb from it, clit OR hand. This paragraph doesn't even do it justice, maybe I'll write about it more elsewhere, another time. LOVE IT. Buy one. BUY IT. You'll love it.
Nobessence Seduction
It's called the "S-shape" on the EF site….why, I don't know. They do that with all the Nobessence dildos – list them on the site as a weird, generic non-Nobessence name. It makes it hard to locate them, IMO. While you can't have the choices in wood type/color that you'd get if you bought it directly from Nobessence what you CAN get is the occasional really good sale. This dildo is NOT for those who think their vagina is small. This is a dildo for the size queens, but yet with some "warm up" most women should be able to handle it. LOVE IT. But I don't use it on myself, because I can't get the right angle. Love having hub use it on me though. It's pretty wood, too. They use a different finishing method than Hans, and it seems to seep into the wood giving it a 3D glowy sheen almost. It's a pricey dildo but SO fucking worth it. And the packaging? Cute. CUTE! Hard pressed/colored/textured cardboard similar to Lelo but the inside is padded and has a few elastic bands to hold the item in place. I can't wait to try other Nobessence toys.
Color of the Month Rope from TwistedMonk.com
Twisted Monk's much-hyped "color of the month" always run out quickly. Whether that's because it's a tiny batch or people flock to it, I don't know. I used to think the COTM was actually monthly but since the annual Midori rope came out in January and there hasn't been anything new since (or for a few months prior) I'm not sure how helpful my review is going to be. I can tell you without a doubt that this rope is different from his run-of-the-mill colored hemp rope. The description calls it a "premium 4-strand Bavarian Blonde hemp", which is normally listed under the Exotics section. I bought the rope because I really liked the color, and having seen his regular colored hemp rope back in November, I had high expectations. It was also for a good cause, benefitting Midori's charity of choice, LifeCycle. While I realize that the site disclaimer says that one should expect some variation from what's shown…..I didn't expect to be disappointed. And I was. Really disappointed. The color was dull and drab, and the application of said color reminded me of makeup – surface only. With his normal rope, the color saturates maybe 3/4 or more of the rope and it's tightly wound so you rarely see the non-colored portion. I had asked Monk on Twitter if the color saturation that I was seeing was normal and he said it was.  This COTM rope though had light patches, un-twisted at every bend, and showed a whole lot of undyed rope. Beware his shipping prices, too. You don't find out the shipping cost until the very last page of the ordering process – he uses only USPS Priority Mail Flat Rate and charges $13 for it. Even though I only ordered 15 feet of rope and it came in a very small box I paid $13, the same as anybody would even if they ordered 5 large kits. So if you plan to drop a few hundred and order enough rope to suspend 3 models – you're getting a really great deal! If you're like me and only are buying a little bit of rope, you're going to feel cheated on the shipping cost. If there were more standard colors available, I would buy his regular rope again someday (but only going in with someone else on the order to save on shipping) but never the COTM rope. Perhaps this Bavarian Blonde hemp isn't good for dying….perhaps the dye wasn't good…I don't know. I know that I've seen his standard rope and had been impressed.
Read More
All text and images on this site require permission before they can be used anywhere. To obtain permission click here to contact me
Posted by Lilly | 5 Comments
I bet about half of you are thinking "a dildo made of wood????". I did. Then I read a few reviews from other bloggers and then I looked at his site and thought hmmmm….yeah, that could be great.
The Facts:
First, get all thoughts in your head regarding splinters and rough edges OUT.
Each dildo is finished with at least five coats of Salad Bowl Finish, a food-quality varnish. The finish seals the wood, making them safe, waterproof, and natural-feeling.  (more FAQ's)
It's -pretty-, you see the grain of the wood with a nice gloss to it. He never uses stain, just happens upon some really cool woods that look great. The really cool ones, like mine which is purpleheart, are limited. He makes these out of scraps of wood leftover from furniture and other big projects, mostly given to him. One day, Hans saw a piece of walnut, and like most woodworkers/woodartists, the raw piece of wood kinda spoke to him…..wood tends to carve itself in a way…you see what should be done with it before you really start. He went to work, fashioned a dildo; the little woman loved it (of course) and down the road he started doing it for the public, once he realized he was not alone in this niche of wooden sextoys.
You're paying for a high quality dildo here – each one is unique, they take 3-10 hours of time to craft by Hans, and there's so many wonderful properties. They're waterproof thanks to all that varnish ( for play though, not for cleaning). They're really easy to clean. You can use any lube type you want. Also, if you have a specific style/size in mind, he'll make it custom from the more common woods. My only request of Hans would be a few more with good girth to them. I'm a size queen when it comes to dildos ;)
——————————
My Toy: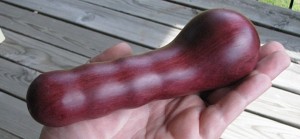 Mine is the Purpleheart #269  (you can view previously sold toys on there to see if there's a past style you really love). Now, judging by the soft ridges one would assume that the thinner end is meant for insertion. That's NOT why I picked this one. The ball end is 1.9″ around. Come to mama *drools*  Ok actually I bought this to have more toys in my collection that pack a punch girth-wise, for a certain someone (or whomever gets there first) to use on me before attempting to fist me for the first time.
It wasn't as hard to wiggle in as I thought. The wide end was delicious on my gspot. I've been fucked with it, it's been rocked against my g-spot, and I've let my pussy just grip it as I shudder to orgasm with the assistance of the might Hitachi. Oh and….the Hitachi? I let it slide down, and held it to the wooden dildo….vibrations transferred VERY nicely. Another nice thing about my particular style is I found out it's short enough that I can go sit down in a desk chair with it buried in me.
The orgasms I had with this thing and the Hitachi (I'm not a dildo-only girl, for the most part) were of the OH FUCK variety. My mouth forming a wide silent "O", eyes rolling, heated flush spreading across my pale skin….my cunt clenching it's first contraction around the solid ball followed by a deep lusty moan. I came so hard that I usually had to wait a minute before I could pull this thing out. It's currently my favorite dildo.
Seriously….this should be a priority consideration for seekers of high quality sex toys. When you talk to Hans, you're really dealing with -him-, not some company. I know that when I can afford a custom one from him, it'll be my new favorite. If I had to create one now, it would be very similar to the Pure Wand, with one very very thick side and one regular thick side, in a pretty deep-toned wood with depth to its grain. I'm truly in love with the purpleheart wood but I fear his supply is gone of that. The deep Ziracote is nice. Black Mangrove was beautiful but appears his supply of that is also gone. Bottom line: if you see one you love, in an uncommon wood – buy it right away.
Read More
All text and images on this site require permission before they can be used anywhere. To obtain permission click here to contact me