Platinum Grade Sex Toy Myths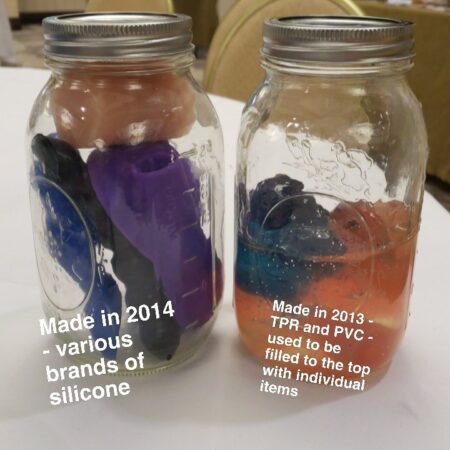 At the Woodhull Sexual Freedom Summit this year I was a presenter, alongside Kenton (Funkit), to talk about sex toy myths specifically as they relate to sex toy materials. Pretty much everything we talked about is something I've already written about and I created a quick-and-dirty temporary page for Summit attendees to reference to, but decided to create a better post about it.
Sex toy myths are especially hard to dispell, even years later, because the misinformation still spreads. Every day, it seems, I have to gently (or, not so gently) correct a myth mid-spread. This list of links will mean very little to you, though, without seeing the session that inspired it.  You can see the video that was recorded live during the session below, with transcription/captioning done by Erika Lynae who also transcribed last year's session that inspired this one. I suggest you take the time to read the transcript of the 2017 session to get a feel for why we felt so strongly about our own session, but it is not necessary. The video was filmed by Suz – thank you Suz!!! A bunch of great people live-tweeted during the session  so please check out the hashtag for it on Twitter, #sfsmyths. I encourage you to turn the captioning on because the sound isn't all that great. I had no idea before the session how we'd be recording for live-streaming so I didn't bring an extra microphone to better capture our voices.
Please note the best part of the captioning:
KENTON: [GLORIOUS DILDO REMOVAL POP]
AUDIENCE: [GASPS] [APPLAUSE]
LILLY: The sex toy version of pulling a rabbit out of a hat!
Sex Toy Myths – The Material Basics
We touched on talking about the differences and similarities on material; basically TPR/TPE is a blanket term consisting of many recipes that vary from brand to brand, and these recipes nearly never have harsh plasticizers – but for some reason PVC jelly rubber does. PVC jelly rubber is a TPR, but we know a good bit of the recipe and we know the main ingredient, so we call it by it's name. It's like saying "Italian food" and then "Eggplant Parmesan" – everybody's Eggplant Parm will vary a little, but we know it has Eggplant and cheese, and that it's "Italian food". In this strange analogy PVC is the Eggplant Parm and TPR is Italian Food. Here are a few Wikipedia links:
You can see from all of the lab tests that have been done that anything classified generically as TPR/TPE has never had phthalates.
Silicone is cured by various methods – addition-curing adds platinum or tin and this can be combined with room-temperature condensation cure (RTV). This means that "platinum" is not a grade, it's the means of curing the silicone into a rubber-like elastomer. The only "grades" that can exist are the various medical grades and food grades. Companies can indeed use FDA-approved grades of silicone and pigments but this does not make the finished product FDA-approved.
Toxic Toys
We talked about how and why we continue to use the word "toxic" when we are talking about PVC and TPR toys, despite the fact that newer lab tests show a drastic decline in irritating, unsafe phthalates. I noted that while Doc Johnson's PVC toys may not contain phthalates they do contain an additive they've dubbed "sil-a-gel" whose chemical composition is unknown but is an extreme irritant for many people.
I did touch briefly on the issues with porosity that include an increased risk for vaginal yeast infections, and you can read more about that here.
We discussed the long-standing unproven myth that covering problematic sex toys with condoms suddenly makes them body-safe; in short, no science has told us this protects us against the irritants or micro-organisms that may be present and that's in part due to the fact that most porous toys will leach oil and oil destroys latex (the most commonly used condom type). While my recommendation to use polyurethane condoms still comes with a heavy caveat and uncertainty, I feel it's got a slightly better chance at doing what we think it might do. However, maybe not. Until there are studies on this I don't feel comfortable recommending it as a safety measure.
I also talked about the various definitions of body-safe, and I've written about it a little more extensively here.  For many more articles related to sex toy materials, visit the Toxic Toy landing page.
Silicone Lube and Silicone Sex Toys
At one point Kenton and I talked about how lubes affect materials; I reiterated the fact that oil doesn't harm silicone as I've proven as much as is possible in an at-home experiment. I talked about how I've changed my stance on silicone sex toys paired with silicone lubes – definitely Not For Your Butt.
Kenton submerged some cured platinum silicone pieces in silicone lube and found that while that particular pairing didn't "damage" the silicone toy, it certainly changed it. The toy absorbed lube and grew 20% in size and became 20% softer. This doesn't change the porosity or how the pores react to water (they're hydrophobic, which means no water which means no food for micro-organisms in the pores). It may create tears in the material because it's now a little weaker than before, but you'll see any tears quickly – they won't stay small. Because the lube is absorbed, there won't be lube left for your butt which is an absolute necessity for anal play. It'll make it difficult and painful to remove the toy.
You could still use silicone lube for shorter external and vaginal use. I've personally never experienced lube-absorption with the Sliquid Silk hybrid lube but your mileage may vary. Check out a few of Kenton's tweets in addition to his info in the session for more about silicone lube and silicone sex toys.
The Flame Test
We did talk a good bit about the flame test; why it's used, how to read it, why the results were unexpected a few years ago. In short, silicone can burn and if it does catch a smoldering flame it'll give you gray ash which is silica dust. It won't get shiny or melt, it won't burn like an oil lamp – all of that describes the reaction PVC and TPR will have to a flame. You'll also usually get results sufficient enough to make a material determination in 5 seconds or less.
The flame test isn't perfect and the inaccuracies from the early days continue to plague us with incorrect result readings but I feel confident enough with it to know what my materials really are when I do the test. I have performed the flame test enough times on known materials and received the expected results every time thus far. The flame test is really the only affordable, at-home "test" consumers can do if they doubt that a material is silicone as advertised.
We Don't Need No Regulations
I talked about how sex toy companies can make any material claims they want, because no governing body regulates this. People are disturbed when they hear this and ask why the FDA doesn't get involved and why I don't want the FDA involved. The FDA wants money – a small fortune per SKU – and animal testing. The cost factors would prevent most sex toy companies from ever creating anything and would result in drastically fewer choices with vibrators always years behind on tech because FDA approvals can sometimes take years. I pointed out that the FDA has approved KY (gross) and Nonoxynol-9, a spermicide that was shown to increase STI transmission. The FDA is only concerned that the ingredients are "Generall Regarded As Safe" (GRAS list), not if they're a known irritant. I've also noted in the Lube Guide that FDA-approved lubes don't have to publish their ingredients list – so this would mean that probably the materials in the sex toy would remain a mystery, as well, and if so what is the damn point? Most companies utilize specific import/export codes to avoid being classed as a medical device and rely on the "Novelty Use Only" tags to help with this because if it is classed as a medical device, then FDA approval is required. The Novelty tag doesn't necessarily mean that the manufacturer is setting out to deceive and harm you.
Sex Toy Myths About Silicone vs TPR
In the 2017 panel there were numerous arguments given for why they feel educators and reviewers are wrong for insisting on silicone for soft toys; the person heading up the panel was the publicist for Screaming O, a company that makes silicone and TPR sex toys. One point brought up was that nothing beats the realistic feel and the softness and the stretchiness of TPR or PVC. Nearly all mainstream penetrables/strokers are made of TPR or PVC, but Kenton pointed out a few of his products that showcase just how soft, pliable and stretchy silicone can be. The shore durometer he uses for his flogger can be stretched to 800 times it's unstretched length. He even made a silicone penetrable stroker out of this same type of silicone. The better quality sleeves from brands like Fleshlight and Tenga are not what I would call affordable, so a large company buying silicone in bulk could in theory make comparably priced silicone masturbators. You can't really see me pulling on the flogger in the video above but this is the de-molding video Kenton mentioned in the session for those who like hearing the satisfying sounds of silicone popping out of its mold. The stretchiness of it is fairly evident there.
They also argued price – that most of the silicone products we insist are better are not affordable to many people. Body-safe (non-porous) sex toys are becoming increasingly more affordable. I mentioned that SheVibe stocks nearly 500 body-safe sex toys, and they certainly don't stock every body-safe sex toy on the market. I also only counted up the major categories such as clitoral, g-spot, classic, and mini vibrators; silicone and glass dildos; regular and vibrating butt plugs, prostate massagers, and anal beads. I'd counted up the number of individual models, not colors offered.
While I've got a comparatively small list of sex toys under $35 you can see from the count above that there are hundreds.
Other Bits and Bobs
We talked about cleaning methods a little; most of those are detailed on the Care and Cleaning guide page. You do not *need* high-priced UV sanitizing boxes to keep your silicone products safe. There are links to all the various posts about the Jar of Horrors (the TPR and PVC jar) on the Toxic Toys page, and this is the link to the post about the silicone jar.
I think I've covered everything here? If not, let me know! Have questions that didn't get asked? Ask em here, we'll do our best.