My Favorite Sex Toy Shop: SheVibe.com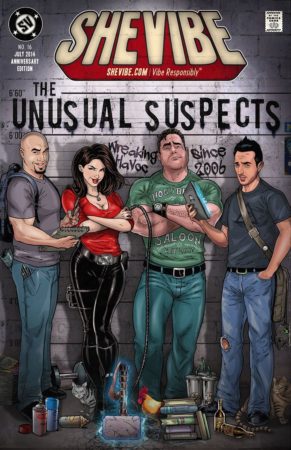 As part of a new-to-me end-of-the-year series of posts, I'm telling you about my favorite things from 2017. And while SheVibe has been a Favorite Thing for years now they upped their game this summer with a site redesign that prompted my interview below. You may see them as just another sex toy retailer so I wanted to share with you a little insight on the many reasons I love SheVibe. I'm so privileged to know these folks, and to have gotten to know and understand so much about the way they operate on a personal and professional level which isn't something we get with many companies. We don't get to peek behind the curtain. Consider this your peek!
Dangerous Lilly and SheVibe – The Love Story Begins
After working with a lot of retailers in my earliest years of reviewing I slowly grew to be somewhat of an anomoly in the reviewers circle – I had a "primary partner" for a retailer, who would supply most of my toys and get most of my affiliate links. This started to really pay off with drastically increased sales at my first primary partner, EdenFantasys. Yes, they're terrible and we know that now but I'd stuck by them despite early issues because, at the time, there were so many features of the site I liked for my readers – plus their site was responsible for 75% of my earnings, earnings I badly needed in 2011 and 2012 due to being out of work. But shit went down in 2013 that I couldn't abide; I made the decision to hitch my wagon to SheVibe for supplying most of my review items and I started slowly changing my EF links to SV links. 
I first worked with SheVibe briefly towards the end of 2010 when they reached out for me to review the Vamp Greta. I wouldn't review again for them until 2013 with my second Fucking Sculptures (RIP) glass dildo and I'm pretty sure the SheVibe team had reached their wits end with me on that review – I kept bringing up the fact that the FS items were so unique that a stock image of each style wouldn't exactly work, that they might sell more if each item was shown off and measured. They eventually took my suggestion, though, and seemed to not dislike me too much because a few months later Sandra and I had lunch1 and a bond was cemented. Her passion and compassion shone through as we traded horror stories and insider tips. I knew immediately that I would grow to love her more – she was like the ultra-cool older sister I'd always wanted.
Let Me Count the Ways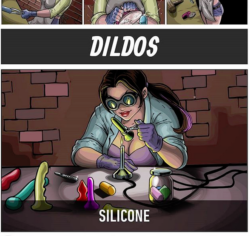 I've written a lot in the past about why I'm so devoted to SheVibe and my devotion only grows stronger, in part because I know and love the owners as friends. I know how they run their business and I know their ethics. I understand their business decisions and still recommend them over anybody else despite the fact that they carry a (relatively small) number of porous, realistic dildos and vibrating dildos. Although, happily, they have changed their business model over time to drop a large number of porous material internal vibrators. Their stock is very different from many other larger retailers who literally carry everything the distributors offer. SheVibe curates their stock while being open to supporting up-and-coming brands, indie brands, and adding – and removing – products to the site based on customer and reviewer feedback. One recent example is the HIKY – All it took was my bad experience and a confirmation experience for SheVibe to drop the dangerous HIKY2. They act quickly to remove dangerous or painful sex toys and lube.
In the four years I've been sending most of my readers to SheVibe I have never had a single complaint about customer service, shipping, returns, product issues, etc. Not a single complaint. I know the SheVibe staff – I know who is dealing with the customers, and this hasn't changed over the years. They don't have high staff turnover like so many sex toy companies.  I know the lengths they will go to to help their customers have the best experience possible and get them the most accurate answers. While there are other small feminist shops who also have great ethics, customer service and education – shops I also highly highly recommend3, these shops lack the large variety of stock online that most of my readers usually want. 
This year SheVibe did their first truly major website design overhaul which has incorporated ideas I've long nudged for, like the ability to filter by size and material. Their art has expanded to be more intersectional and diverse; something they're still expanding and improving – personally and professionally. No matter what the topic or issue I know, without a doubt, that Sandra, Thor and the rest of the SheVibe team truly and honestly gives a fuck. Lots of fucks. I have never felt so heard and valued when dealing with a sex toy retailer as I do with them, and I know I'm not alone. They're the type of company, and friends, you want in your back pocket when life deals you lemons. They're generous with everything they have to give.
Whether it's their above-and-beyond customer service, their support for smaller brands, their support of the blogging and sex ed community or their simple willingness to take advice or critcism and create positive change, the SheVibe team shines like a beacon. In a world where literally every month this year some company has made an egregious error in ethics or judgment I have the utmost faith that SheVibe will never be out of my favor. Empathy, humility, generosity, sincerity – these are the traits that come to mind when I think about Sandra and Thor.
SheVibe's Origin Story
Lilly: Why THIS business? What convinced you to start up a sex toy retail site?
Sandra: When Thor and I met, we immediately started experimenting with sex toys. At that time – 14 years ago now – most of the sites were kind of hinky; lots of jelly, misleading descriptions, mistakes with our orders and widespread misogyny. We thought we could make a better go of it. We had both run small businesses and figured we could vastly improve the sex toy business model.
L: Do you remember what your first sale was for?
S: Yes! It was for a weight loss supplement called Lipodrene on July 4th 2006. The site started out much differently than it is now – there are so many products and categories that we have ditched along the way (including brownies, shoes, mainstream movies and vitamins).
L: Let's talk about the early years especially the magazine. That seemed like a LOT of work with all the advice columns. How did you get people to write in with questions? What made you decide to create all those different characters!
S: Ugh, the magazine was a beast. We had no idea what we were doing, but Thor and I fancied ourselves decent writers and thought we could create interest and indexable content for the site by having the companion "magazine". MySpace helped a lot back in those days – we are still friends with some of those folx. We would get questions from them, some from our immediate circle of friends, and some questions were our own – meaning we wanted to learn about specific situations relating to our own experiences and decided answering those questions would be fun and interesting. The characters were the backbone for the theme of the site which was Superheroes (before Superheroes were cool, ahem). We wanted each of them to have diverse backgrounds and we really tried to make their stories relatable. We cringe looking back on it now, but at the time it felt really forward thinking and progressive.
Stock the Stock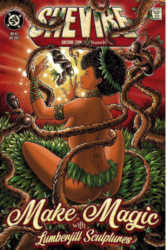 L: You are known for carrying "indie" or smaller single-person company creations where many other online-only retailers do not. How do you decide what to carry (be it from their line, or deciding on a business, period)
S: Most often, we select indie brands after they reach out to us or have been recommended by a trusted blogger. We practice due diligence by checking out their social media culture and their website to see how they are presenting themselves to the world. If we like what we see, we'll bring in a small run and see how it does. It's very rare that a brand takes off quickly; it can often take years for a newbie brand to take hold. But if we have to re-order even just once within a year, we'll stick with them. It's not easy and it's a tough business to navigate. Very often, these are artisan pieces that are pricey (and worth every penny) so the public needs a gentle education on why they're worth it. The blogging community has been invaluable in conveying how important these brands are.
L: Question from a reader: "how can small brands position themselves without losing the plot trying to get into retail?"
S: There's no magic bullet. The long (and short) answer is: you do everything yourself and you do it well. SheVibe grew as a company by consistently keeping down costs while slowly building a loyal following. To this day we do EVERYTHING in house. We don't outsource. From accounting to marketing to coding to photography and beyond, we do it all ourselves. Yes, it's a ton of work – and it's how you build a brand. We're probably the poster child for "if you want something done right…". Chances are, if you're lacking in any of these significant skill sets, you'll have a more challenging go of it.
L: You carry so many things I love and have requested but I've noticed some brands come and go over the years. What makes you decide to stop carrying a toy or line?

Thor: A few things: It doesn't sell. We can't source it reliably. The quality is consistently compromised. The manufacturer is cutting corners. Frequent customer dissatisfaction. It's that simple.
L: You've been in business a long time and have seen many changes – so what are the next trends you expect to see in sex toys?
T: You're going to see a more prominent focus on penis toys. Virtual reality, air pulsation, variances on the "stroker" format. Technology will play a big role, somewhat awkwardly at first. Silicone will continue to dominate and we're hoping body safe toys will become more and more affordable.
Behind the Art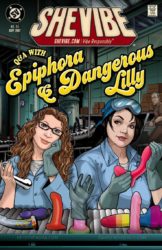 L: Your monthly cover art ideas seem unending! How do you decide on the monthly art?
T: The SheVibe team has a creative meeting every Wednesday. Covers are selected from a variety of source material. We'll promote a manufacturer or a new toy. We'll pull from pop culture. We'll also do covers paying homage to those we love and/or respect in our industry. Once in a while, it's a mini-operetta! Multiple covers will tie-in to each other. It really varies. This year, there's a consistent element that runs through every cover… Can anyone guess what it is?!
L: The comic strips in each category are also something unique to you – what gave you that idea?
T: We are geeks. One of the partners is a comic book artist. We wanted to be different and make people feel comfortable. Comic panels seemed relatable and fun. That's really all there was to it.
L: How did you decide on the style of art you wanted?
T: It all comes down to Alex Kotkin. He's a very talented comic book artist and we went with his expertise in this area. In the end, it just worked!
L: Many retailers use, at most, bland photos or over-the-top sexy images that feel like they could appear on any random adult site, but your art stands out (as I'm sure it was meant to). What made you focus on art so much throughout the site?

T: The art allows us to present ideas, promotions and subject matter without the graphic (and sometimes grating) visuals many adult sites rely on. We wanted to make people comfortable shopping with us. The art is disarming and it seems to make people smile.
Respect and Karma
L: What terms do you like and dislike for sex toys? (pleasure devices, sensuality hardware, etc)
T: We try not to employ terms that "dumb down" or disrespect the user. Sandra hates "naughty" and we all dislike vulgar product descriptions. We can't always rewrite product copy but we always try and modify the especially egregious. Sometimes specific terminology indexes better with search engines and in those cases, we're at the mercy of the web…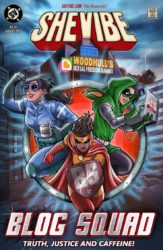 L: Another reader question: "There are some sketchy sex toy retailers out there. What methods do you use to get customers to trust you? "
T: That's easy. We always do right by our customers. We never lie. It's part of our corporate culture. SheVibe practices Karma. That's the best you can do and so far, we think we've built a great deal of trust with our customers. If we're wrong – we own it, but we work hard at not being wrong.
L: This year's overhaul was huge – what prompted it and what will folks see as the biggest and best changes?
T: A few reasons: Accessibility was a primary factor. We now present the same way regardless of the device you're using to access our site. We wanted to incorporate faceted search. This gives our customers more options when trying to find that perfect toy. We wanted to utilize modern technologies to increase speed, security, reliability and customer experience. We feel we've accomplished all of these objectives with the new site, but we're always making improvements.
L: What has been the best part of this adventure over the last 11 years? The worst?
S & T: SheVibe has always considered "the worst" to be a gift and part of our learning experience, we try not to dwell on the negatives. Yes, we've had challenges and heartache but we don't let those events define us.
The best? Hands down – it's the human experience and culture at our company. We were lucky enough to form a partnership of creative energy. Combined, our small staff incorporates expertise in graphic design, photography, original art, web coding, advanced technologies and years of business management. Most significantly, we are all like-minded social justice warriors and share in our triumphs and defeats with equal measure. We all love each other and that's rare in the workplace.
~    ~    ~    ~    ~    ~    ~    ~    ~    ~
Thanks for reading, folks. I realize that some of this was incredibly effusive and mushy but when I love something, I love it. I'm as generous with my words of love as my words of loathing. I hope this gives you a little more understanding on why I refer you so much to SheVibe. There is no absolutely perfect retailer, I've found, but the SheVibe team has a level of compassion that is rarely matched; I have no doubts about the longevity of their success and I have no doubts about the level of care you'll get as a customer. I believe in supporting businesses that are run well by decent people and SheVibe gets that hard-earned stamp of approval.
I live a few hours from SheVibe Central and drive past it in my travels to my homestate ↩
They've decided against a sex toy based on my one bad experience before, and only didn't this time because I wasn't certain that the incident wasn't related to the fact that the battery died mid-suction. Once we all thought about it for a little bit, knew that that could happen to someone else, and then sure enough quickly were told about another person's evil experience, they dropped it from the line-up ↩
To name just a few: Smitten Kitten, Sugar of Baltimore, Early to Bed, SheBop, Come as You Are, Self Serve, Vibrant ↩