These Are a Few of My Favorite Things: 2017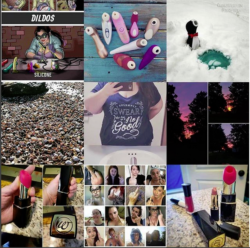 For years now I've kept up a tradition of talking about the Best (and Worst) things I've reviewed over the prior year. But this year I looked at my reviews (lacking though they are) and found that there were actually very few things I reviewed and loved. I could make a list of the worst, easily. My goodness so many things let me down – whether they were loud and weak, over-promising and under-delivering, simply not worth the hype and cost, the cause of literal injury and pain or pretty okay except for some bafflingly unfortunate button placement. Many others just left me bored. But love? Adoration? Not this year. At least, not that I've had time to review, yet.
I dealt with a lot of personal bullshit this year, while also feeling the terror of my worst fear coming true: Trump as president. Depression, anxiety, and stress played a big role in my life this year and kept me from giving a shit about a lot of things – one being this blog. I'm trying to get back here, though. Our patience for bullshit hit an all-time low this year, collectively, so it's no suprise my Blacklist got a little bigger. And while one sex toy brand came off of my Blacklist, another went back on it due to their heinous behaviour at Woodhull 2017 and their complete lack of understanding of consent and privacy. Fuck you, Screaming O. 
I can tell you that you'll have a few good reviews to look forward to in 2018, like the Blush Real Nude dildo or the Sola Cue vibrator. I'm hoping that my reviews trend more positive in 2018, at least a little, because I really do want to be able to wholeheartedly recommend some awesome new stuff for you. Yes yes, it's important to uncover the shitty things and I'll never stop doing that but, yikes, it's been bleak. You know I'm picky so let's hope the industry ups its game!
I did manage to write a couple of articles I really like, topics that have needed to be addressed for a long while now:
You're going to see posts between now and the new year about some of my favorite things from 2017. I'll be updating this post as a sort of Master List. And if I can think of anything else or YOU can think of anything else, I'll add to it!
My favorite sex toy retailer: Shevibe.com! 
My favorite dildo maker: Kenton of Funkit!
My favorite blogging inspirations! Check out why I loved these 11 folx this year. 
My favorite blogging tools: Apps, tools, plugins and more – these are the things that allow me to cobble together a blogging existence.
I never wrote a whole post about it, but one of the best things on social media in 2017 was EffinBirds. I have a folder saved of some of their images that work best as lazy-salty responses to asshats on Twitter; this folder is on Dropbox so that I can have access to these salty gems from any device (which is really crucial). Effinbirds lets me quickly and easily respond to mansplainers and jerks with exactly the amount of effort they deserve: none. I'm embracing my palty number of fucks to give in 2017 and amping up my salt.
Now if you'll excuse me, it's December 31st as of the last edit and I have a fuck ton of laundry to do. Can't start 2018 with nothing to wear, right?