My Favorite Dildo Maker – Sir Kenton of Funkit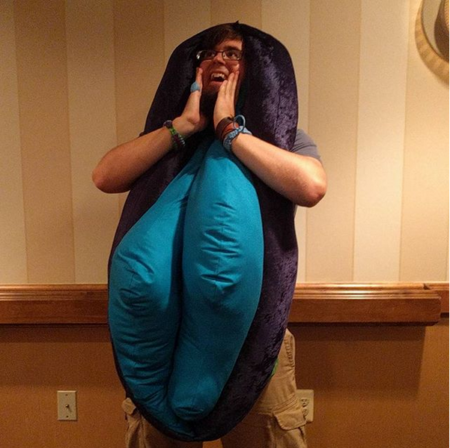 As part of a new-to-me end-of-the-year series of posts, I'm telling you about my favorite things from 2017. Today I'm talking about my favorite dildo maker of 2017 – Kenton Johnston, the singular person behind Funkit Toys. Regular readers may be scratching their heads at this point because I named Funkit Toys as one of my favorite brands of 2016, but even though Kenton is the brains and creator and talent and silicone-pourer-and-puller of Funkit Toys, Kenton is also just…Kenton. a lovely human. Yes, the sex toys he creates a fabulous but today I wanna talk about the person.
My reasons for picking Kenton are varied and sundry but many can be condensed to: go look through his tweets. He's engaged with the community in the best, most respectful way. He is an ally and a fighter for causes. He's quick with the puns and the deeply-geeky science-y answers. He is always down to answer my science questions and then re-answer them so that my brain understands them. He is humble, kind, ethical, punny and engaging. He understands that a sex toy does not need to be created or prescribed "for women" or "for men", but for body parts – and often, not even then! As he explains here the same design can often work really well for stimulating g-spots AND prostates, or creating a fullness sensation desired by both butts and vaginas. 2017 has, overall, been a trash fire of a year but so many times this dude had me laughing my stress away.
Kenton has battled alongside the social justice warrior bloggers and helped behind the scenes. His creativity with sex toys knows few bounds. Sure, he was the first person to create clear silicone dildos with vivid swirls of color buried below the surface, but have you seen these bases? Fucking genius design. He is creating unique items and doing SUCH a good job.
The personal is the political and 2017 has seen my tolerances for bullshit from companies/brands/creators at an all-time low. I want to spotlight and support the people and brands who have gone above and beyond simply "not fucking up", but catapulted into allies, friends and folks that the rest of the industry should model themselves on. While I will avoid recommending that you, dear readers, spend your dollars supporting companies run by jerks, I will also be purposely pointing you towards good humans making good things. Supporting the good humans is good for the world.
Don't take just my word for it, here's what others have to say about Kenton:
Lunabelle, Ninja Sexology: "I love his relentless drive to Do Better, in the realms of both education and product development. The NoFrillDo project is an example…he saw a need, figured out a way to fill it AND spread the word about body safe materials. And he does it all in a way that's fun and engaging. Also, he plays pun/song lyric games with me and I will love that forever."
Sandra of SheVibe: "Kenton is a wonderful amalgam of Artist, Scientist, Activist and Storyteller. His heart is pure and his aim is true."
Ruby Goodnight, blogger and US brand rep for Doxy: "Kenton just GETS what it's like to be a small scale manufacturer when you're up against the mega-corporations. He doesn't try to compete with them, but he does try and be better than them. He KNOWS his market – and he listens. He doesn't try to create the 'better version of this dildo that everyone is doing' – he makes his own path."
Logan, blogger at TheNotice: "Oh my god. Don't even get me started. I have a huge Internet crush on Kenton LET US NEVER SPEAK OF IT AGAIN. He's just such a genuinely good bean and he's so funny and committed and it does Things to my brain."
Sugarcunt writes: "He's so fun! Our impromptu duets at SFS17 are a super fond memory"
Kate, lover of puns and blogger of GirlyJuice states: "He takes genuine delight in a good pun. I love connecting with fellow punny weirdos."
Caitlin who writes at Sexational said: "Kenton is a hilarious goof but also one of the most earnest people I know. He's always trying to be a better person, a better friend, a better creator. Always considering how what he brings into the world can effect it, whether that's being a goof with his friends or designing new things."
Indigo says: "I love that he is really willing to engage customers. Email, Twitter, etc are all open for folks. And on top of that, he is human. Like he clearly has compassion, isn't a robot or in it for money, etc."
Taryn eloquently summed it up with "SAME" because, yeah. Same.
Do you know Kenton? Do you also love him? TELL ME WHY IN THE COMMENTS!
We've seen one-person dildo makers come and go, but I really hope Sir Kenton of Funkit sticks around. He is creating the most unique stuff AND it is modular – meaning it all works together, solidified as a Kit, a very Fun Kit, by that unique base he's created. To check out his work visit his site or the items SheVibe is stocking. You should also check out his Patreon where you can sign up for cool extras, discount codes and more. And for fuck's sake, follow him on Twitter. You will not be disappointed!
Image above courtesy of Kenton.