Womanizer 2Go Review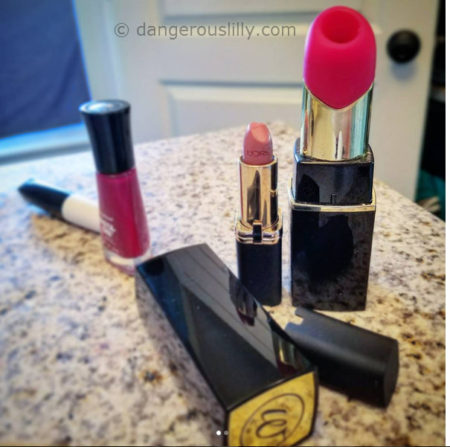 Folks, I gotta tell ya – I'm worn out from all these "pressure air wave" sex toys. But it's become my Thing. Some people review All The Wands, and this is my deal ever since I sealed my fate with the Womanizer vs Satisfyer Comparison Guide. People start asking me if I've tried the latest models before they're even released and I feel compelled to stick with this and review every fucking one of them. I was, at first, excited about the Womanizer 2GO because I thought, for sure, that it would be smaller and easy to hold, and come with a more manageable price tag. But then they slapped a $169 price tag on it and now I have to figure out if this thing is worth that high price. And yet, like with any Womanizer, I feel like I can't seem to tell you much except that I prefer it over the Satisfyers.
It's Yuge. Lorge.
We can't get any further without discussing the hilarity of the size of Womanizer 2GO. The product photos lulled me into a complacent acceptance that this would be a certain size – when you see a photo of an apple, with no size signifiers, you assume the object was average apple-sized, right? It's what our brain does. Sure I was skeptical about a Womanizer literally the same size as a lipstick; I wondered about the nozzle and how it would be big enough to work well. I wondered how the motor could fit into such a tiny housing when prior versions are all very large.  So when I opened the Womanizer 2GO box I just couldn't stop laughing and the feeling was mutual – we were all shocked at the size. This was the kind of laughter that gets mocked, that isn't pretty – full of snorts and wheezing and animal sounds.  This isn't the first time I've been surprised by the size of a sex toy but was definitely the most hilarious.
I get it – no lipstick vibe, not even the well-designed Tenga Iroha Stick, will actually fool anybody upon inspection. Most lipstick vibes on the market are a scootch bigger than an actual lipstick but never are this far off the mark. I am not going to pretend that this will fit nicely in your travel makeup bag. I'm not going to find some other obscure cosmetic to favorably compare it to. Let's be real – it's ridiculous; but when the cap is on it definitely doesn't look like a sex toy. I think that snoopy, curious people may look at it funny – and it definitely won't blend in with your lippies – but it still is a discreet design? Sort of? I mean I felt comfortable leaving it out on my nightstand when we had HVAC people at our house this week, doing work in our bedroom. So it's got that goin for it, at least.
I think that the most interesting part here is not just the comedic effect of the hugeness, but the fact that it's really not that much smaller than some other models. It's about the same length as the Deluxe W500 and a slight bit longer than the Satisfyer Penguin.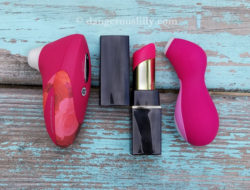 Now that I'm done mocking the size (for now), let's get down to business.  How does it perform? We're seeing numerous design changes here – a different head, a single button, an uncommon body angle. They've even changed the number of intensity levels, taking it down to just 6.
Womanizer 2GO – How does it feel?
One thing that I've loved about the Womanizer models is their first few intensity levels – they're mild and if air pulses can feel thuddy, that's what these are (unless it's the Womanizer Plus Size). The uppermost levels of the Womanizer products have air coming so fast that you can't hardly distinguish the pulses anymore, it's suddenly more like a vibrator.  The lower levels  allow you to ease into the intensity of these concentrated sensations and even, for me at least, allow me to leave the sex toy in place during orgasm to seek out an even more intense orgasm and perhaps let me continue on to a second orgasm without stopping – it's not something that happens a lot, but I do try for it. But that can only happen if I can quickly drop down to level one with the touch of the power button.
Whether it's a different motor or the pressure waves are simply greatly affected by differences in design and size, the Womanizer 2GO feels different. Even more surprising to me is that the two heads feel very different in use! I only noticed a minor difference in use between the two white silicone heads found on the other Womanizer models but with the Womanizer 2GO the difference for me is night and day.
The "original" head has comfortable, rounded edges that feel better to me than any other Womanizer head, but it makes the air pulses on the lowest level feel really intense – they're thuddy, but intense. Sometimes too intense for me! Using that head I almost never go above level one. The "XL" head loses the rounded edges and has a wider, cone-shaped interior. This head made the Womanizer 2GO feel like a normal intensity (as Womanizers go) and less thuddy. Using the XL head I needed to go up to level 4 or 5 to orgasm. It was still a good, strong orgasm but it was no quickie like the original head!
Original head: 
Interior: 12.6 mm x 17 mm
Exterior: 21mm x 25mm
XL head:
Interior: 19.5mm x 23.9mm
Exterior: 22.5mm x 26.8mm
 
The Single Button
You know the thing I raved about with the PRO40 – the up and down intensity levels? Or how any model of Womanizer allows you to quickly go back down to the "gentle" level 1 with the tap of the power button? Of course you do, I talked about it three paragraphs up. Yeah, that's not the case with the Womanizer 2GO and boy am I sad.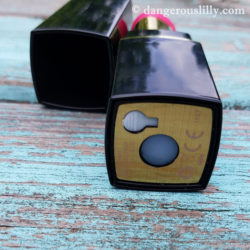 Some folks may like a single button but I like having more control. And yes yes I know I know, there's no room for any more buttons. I know. But it's hard to accept when you've become accustomed to the multi-button way of life with these things. Womanizer, you spoiled me with multiple buttons! How can I cope with just one?

Unlike other models the Womanizer 2GO requires you to press and hold the single button to turn it on or off. This means that, unlike their other models, it won't turn on accidentally in your travel bag. The only other model that is protected from this is the discontinued original model which came with a case that helped prevent accidental turn-ons. Unless I can find a similar hard-sided foam case for my Pro40 it looks like the Womanizer 2GO will end up being my travel Womanizer.
The Design
Before I talk about the functionatilty of the design I need to talk about the femme and gender stereotyping going on. epi24 has never been a progressive brand in terms of gender and such; their earliest designs were in line with what a clueless dude might think "all women" want: pink everywhere, animal prints galore, and faceted baubles. The Pro40, especially in white, is pretty incognito (it looks a lot like a cheap ear thermometer). There are a lot of ways they could have done a "travel friendly" Womanizer without picking the tired cliche of creating sex toys that look like cosmetics. Something this overtly femme bulldozes over the fact that not all clitoris-owners identify as female or feel comfortable with something this femme.
All of that said…I actually really like the lipstick-shaped head. The "original" head fits me well and feels comfortable. What I didn't personally love is the straight shape of the body – it's much less ergonomic for me during use versus the standard styles we've seen thus far that bring the handle/body towards your belly versus pointing out away from your vulva.
Previous Womanizer styles had a confounding red glow to the head which was done away with for the Womanizer 2Go. Instead, the power button glows red during use because how else will we know it's working? What can I say; I don't like my sex toys glowing brightly in the dark.
In addition to looking like a classic-style supersized lipstick, the cutesy "W" has caused many Americans to say "Um….that looks a LOT like the Walgreens logo" and sure enough, the similarities are striking.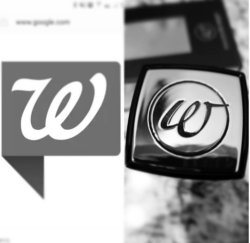 There are a few aspects of the design that I really dig – namely the silicone nozzle shape and the cap. It's a built-in case and prevents the silicone from attracting any cat fur or dust! And the nozzle won't pop off easily like the Satisfyer models do. I have the tendency to just toss my in-use sex toys in a drawer, on the desk, etc so this cap thing is super for me. However – and this is a big however – the cap comes off easily. If you tossed this in a bag with other items the cap will come loose. I knocked it over (on the bed) and the cap came off. I held it "wrong" and the cap popped off. I have to wonder if a super-thin itty-bitty smear of silicone caulk on the inside of the cap might make it stay on better, without making it impossible to put on or remove – but I haven't tried that yet.
~    ~    ~    ~    ~    ~    ~    ~    ~    ~    ~    ~    ~      
Super Important Note: As I mentioned above there are actually 2 nozzle heads for the Womanizer 2GO. I found this out by accident and after Sarah did much searching for me1 it turns out the extra nozzle is stashed under the plastic tray, like up inside of it. I looked through the box when I initially received the product and never saw it. Since the 2Go isn't on the Womanizer site I don't know how consumers will realize this. I found this tidbit out the day before I wanted this review to go live and the thought of more pictures, more measurements, more testing exhausted me just thinking about it. But I must soldier on.
~    ~    ~    ~    ~    ~    ~    ~    ~    ~    ~    ~    ~   
Overall I'm torn on recommending the Womanizer 2GO – cartoon prop-size notwithstanding the case/cap is moderately handy for travel/keeping dust off the nozzle and the fact that you need to press-and-hold the single button is a de facto travel lock. The silicone nozzle is comfortable and they include two sizes. The angle I have to hold the thing it at isn't comfortable, though. You can see why I go back and forth on my feelings for it?
I was initially listing the higher-intensity as a bit of a "con" before I found the larger head and noted that it provides the lower intensity. The price is still holding me back, along with the fact that personally I still prefer the Womanizer PRO40. If the Womanizer 2GO came with a more reasonable price tag (and okay, a separate power button) I'd be more able to forgive the body angle, the single button, the cap that falls off easily and the stage-prop size.
The Womanizer 2GO was provided to me by epi24 with no expectation of review or links; I'd recommend shopping at Shevibe.

Wondering how the Womanizer 2GO compares to the other "pressure wave" sex toys and other Womanizer models? Check out the Womanizer vs Satisfyer Comparison Guide.
Save
I was at work when I found this out and my curiousity wasn't going to wait 7 hours to find out the truth ↩