Satisfyer 1 Review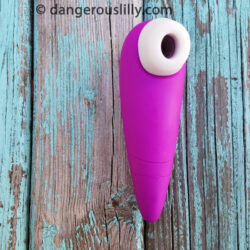 The cheapest in price, the Satisfyer 1 is battery-powered and simple. The silicone nozzle head is the one that is the most similar to the Satisfyer Pro 2 (and the Womanizer line) – it is large, fits securely over the plastic head guide, and appears to be more comfortable due to its fat shape and curved edges. It actually has one up on the Womanizer line – the edges of the silicone nozzle that are in contact with your vulva are rounded and a bit fat, versus the more defined edge of the Womanizer line. Since both are a medium-firm silicone I find both styles to be equally comfortable.
How picky can a person really be about cheap sex toys? Pretty damn picky, if you're me. To date, my favorite pressure-air clitoral stimulation sex toy is the Womanizer PRO40 due to its price and features but the affordability of the Satisfyer line of copycats is irresistible to others. For some, they simply cannot make themselves buy a sex toy named "Womanizer", and I get that.  And maybe you don't expect a lot from a sex toy priced under $35, but maybe you do. I'm here to assume that you don't want the flowery prose of marketing copy and instead want to know every flaw (or feature) so that you can make an informed decision.  I've tried to read the ad copy and figure out what they mean when they say that "The curved head on this pressure wave vibrator creates never-experienced-before climaxes", especially when it's said about every model, each with a different head. I don't think there's any logic, to be honest.
While this review is important and thorough, the Womanizer vs Satisfyer Comparison Guide is equally important to help you decide which model to get. Check it out after you're done here: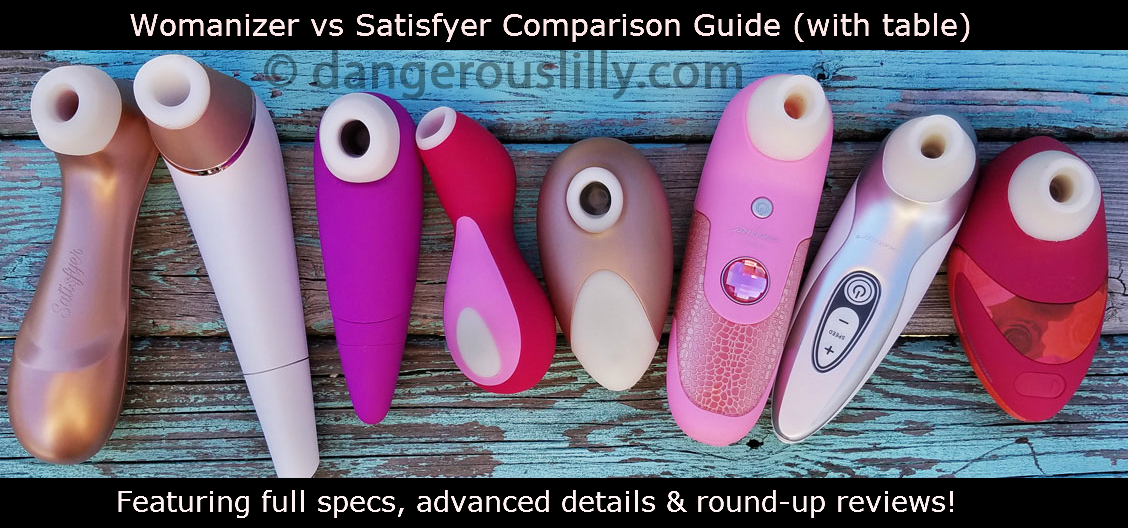 Picky Concerns
I'm not sure why, but the Satisfyer 1 has a strange, green glow from within during use. In the dark, I could see this green glow escaping through the seams in the plastic body which really concerned me. I mean, sure, it does possibly add to the illusion that you're using some sort of futuristic/outer space thing on your bits, but if the seams are too wide, then I worry about build quality and longevity. The seams in the body are so cheaply done that when I ran a fingernail in one crease to clean dried lube out of it, I noticed it lifting slightly and could hear the distinct sound of dried glue crackling. Eek! Also glowing is the single control button – bright enough white LED to read by, if you wanted to. You wouldn't, but you could. At least it's facing away from you, unlike the brightly glowing button on the Satisyfer Pro Penguin. Fine for solo play, annoying as fuck for partner play if you're in a semi-dark to dark room. All I'm saying is that the Satisfyer buttons are the brightest in the business.
I don't like the button placement; it's way down at the bottom, on the backside of the head which means it's awkward for me to use. Not everyone will share this opinion and many who are more flexible than me simply won't care. 
Batteries Not Included
Unlike other pressure-wave sex toys we've seen so far the Satisfyer 1 takes 2 AAA batteries and says you'll get approximately 2 hours of use time out of this. I set mine at medium and got at least 2 hours from my batteries1. Since many folks will be able to orgasm more quickly with this type of sex toy, your use-time per-orgasm is potentially less than many budget vibrators. However, the cost of batteries will add up over time. If buying a big pack of AAA batteries for around $10 (this 24-pack will get you 24 hours of run-time) is more doable for your budget than increasing your sex toy budget by $25 to get to a half-decent rechargeable model, and you don't mind lower-quality construction and single-button controls, I can't really complain too much about the Satisfyer 1. You may get more orgasms per battery, though, from the Satisfyer 2.
Engine Room
Let's talk briefly about the motor. Honestly, I didn't expect much from a battery-powered pressure-wave sex toy. It's not that all battery-powered sex toys are weak, but I've always retained a healthy dose of skepticism from the start when it comes to this variety of sex toy. The intensity of the Satisfyer 1 is a little more than the Satisfyer Pro Penguin, more than the Womanizer W100, and somewhat weaker than the rest. The upper intensity levels lose their "thuddy" "tapping" sensations more quickly than other Satisfyer models such as the Satisfyer 2 or Pro 2, instead turning buzzy like a vibrator. This may be related to the overall length from the motor to the tip, like I discussed in the review for the Satisfyer Pro Penguin. In the large spreadsheet at the Comparison Guide this measurement is listed as "tip to back", and the Satisfyer 1 is the 3rd shortest distance, with the shortest going to the Satisfyer Pro Penguin and Pro Deluxe.
Satisfyer 1 has a more-than-reasonable price point at $31 from Shevibe and I feel like we can't expect too much from something so inexpensive. It's basic and does what it came to do. Even if it doesn't last, at this price point you probably can afford to replace it if the warranty is too much of a pain in the ass. Yes, there is a warranty, but I don't have details beyond the information here.
tl:dr: Yay: Good shape, comfy nozzle, not extremely intense, very affordable Meh: Brightly glowing LED button; not as "thuddy" or intense as other models; takes 2 AAA batteries, not included Nay: Crappy button placement; lacks the superior up/down navigation buttons, build quality probably low
Better than: Satisfyer Pro Deluxe, Womanizer Deluxe Pro (W500), Satisfyer Pro Penguin
Worse than: Womanizer PRO40, Satisyfer Pro 2, Satisfyer 2
On Par with: Womanizer W100
Thanks to Shevibe for sending me the Satisfyer 1 in exchange for my honest review. There are many retailers you can shop with but I recommend Shevibe over them all; they have the best customer service and overall pricing/selection. They've been in business for over 10 years and can be relied upon for discreet shipping!
Save
Save
tbh I gave up after 2 hours, that was way past my attention span for babysitting a running device ↩