Satisfyer 2 Review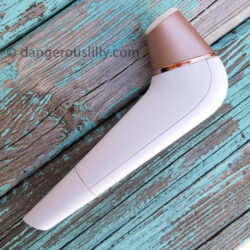 This is my 3rd Satisfyer review in as many days and I feel like the Satisfyer 2's theme song should be "I Can't Get No (Satisfaction)". Due to my love of the Womanizer PRO40, in large part because of the up and down intensity navigation buttons, you would think that I'd be recommending the Satisfyer 2 over the Satisfyer 1 (or any Satisfyer model), right?  However, button placement is equally important to me and if I can't hold the thing ergonomically/easily and still access the buttons in use, what good are they? This, my dear readers, was my biggest disappointment in the Satisfyer 2. Before I got it in my hands I was excited that least one Satisfyer model was made "right" but then they proved that there's no prototyping or research done before they pick a strange design. If someone had done research they would have understood how dumb is it to have these buttons alllll the way down at the bottom (head). Oddly, though, I still find the Satisfyer 2 is slightly easier to hold and control than the Womanizer Deluxe W500.
Compared to the Satisfyer 1, the Satisfyer 2 is a few dollars more and also powered by 2 AAA batteries. The batteries, and the pressure-wave function, are where the similarities end. They couldn't be more different!
Pro/Con List
The Satisfyer 2 has a gender-neutral color scheme that at first, I liked – I admit, I'm a sucker for copper accents. I like rosy, champagne-gold colors. But overall, the more I looked at it, the boxy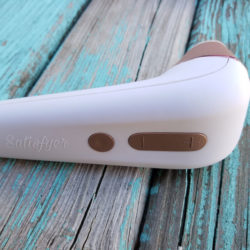 design and color scheme is very 1970s-basement-rec-room. If you squint, it can look like the Nike logo or a straight-stem pipe. As I've already bitched about right out of the gate, those damn navigation buttons are down by the head vs farther up the handle. The buttons don't have a bright, LED glow, so, hey, that's a plus.
But the Satisfyer 2 is also the loudest of the bunch, by far. The Satisfyer 1, Satisfyer Pro 2 (updated), Satisfyer Pro Penguin and terrible Satisfyer Pro Deluxe all purr like a kitten compared to the clunky Satisfyer 2. Even when the nozzle is completely covered up and sealed, the Satisfyer 2 rattles loudly enough to make you cringe in a quiet house. If discretion during use is important to you, definitely do not go with this model.
Bigger Nozzle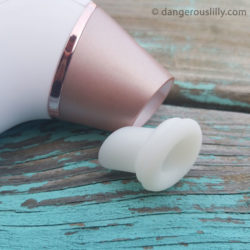 Compared to the Satisfyer Pro Penguin and Pro Deluxe, this nozzle seems large. Yet compared to the pillow-y style of the Satisfyer Pro 2 or Satisfyer 1, it seems small (and definitely small compared to the Womanizer). When we go by caliper measurements, though, the inside diameter of this nozzle seems to be the biggest of the bunch. You'll see these numbers in the chart in the Comparison Guide. This larger opening can be good for folks with a larger clitoris OR for folks who want to be sure the nozzle head doesn't touch the sides of their clitoris. I have nearly no inner labia and a small, buried clitoris; the nozzle on the Satisfyer 2 wasn't uncomfortable but I did struggle a little to get a good seal. When I did? Whoa, baby.
Luckily I haven't had issues with this nozzle coming loose easily, like I do with the Satisfyer Pro Penguin or Pro Deluxe.
The Motor
Proof that the batteries don't matter, the Satisfyer 2's motor is way more intense than the Satisfyer 1; in fact, it ranks up there with the most intense motor of all models. Only the Satisfyer Pro 2 can compete (under water, the Satisfyer Pro 2 beats the Satisfyer 2 by a lot). Perhaps because the distance from tip of the nozzle to back of the body is bigger than most models, it does feel more "thuddy" and gives stronger "tapping" sensations on the low to medium settings, while still devolving into manic, white noise at the upper-most levels of intensity in true Satisfyer fashion.
When you have a motor this intense it feels even more necessary to have those extra buttons that allow you to navigate the intensity settings in both directions, versus pushing a single button 20 times to get back down to level 2 if you find level 3 is too much for you. Even though the power button sometimes acts up and is non-responsive, the dual navigation buttons respond to an easy touch, which is a plus.
Other Quirks and Thoughts
Satisfyer's ad copy states that this model "cannot be missing from any toiletry bag". At 7 inches long, that's gonna take up a lot of room in a toiletry bag! I'm also not sure what the difference in build quality is between the Satisfyer 2 and 1, but the batteries tend to rattle around in the Satisfyer 2. This may lend a bit to the overall noise level.
I'm disappointed in this version, but I'm also being incredibly picky. If the noise factor and button location doesn't bother you, and you really feel that you, like me, need the extra plus and minus intensity navigation buttons, this is a begrudging green-light to buy this if you can't yet afford the superior Womanizer PRO40.  I will forever curse the button placement on the Satisfyer 2 because it coulda been a contender.
If you'd like more detailed comparisons between all Womanizer and Satisfyer models, as well as detailed specs on this and every model, head over to the Womanizer vs Satisfyer Comparison Guide: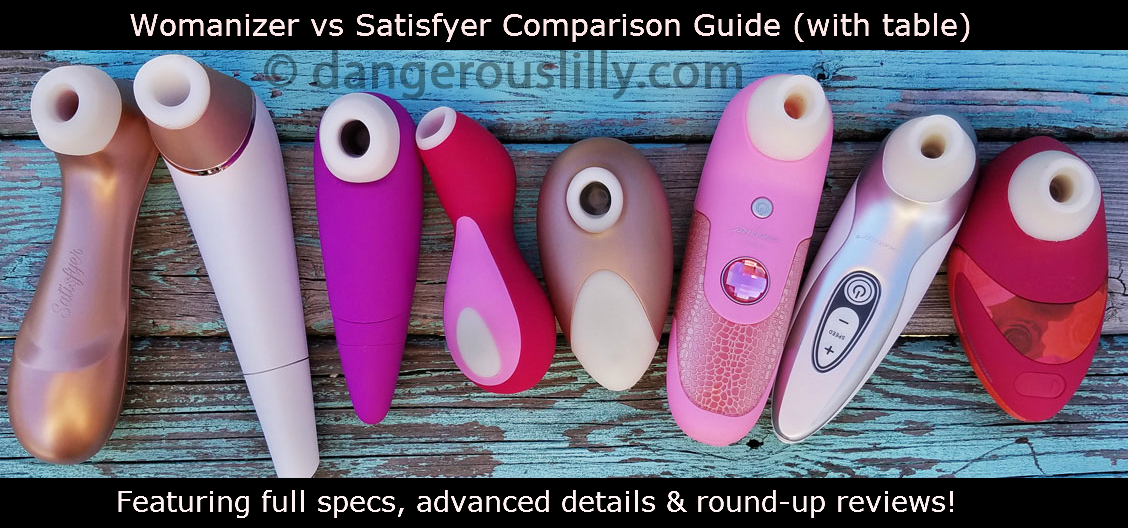 tl;dr:  Yay: Dual navigation buttons plus a power button; very intense Meh: Takes 2 AAA, not included; nozzle may be a bit large for some. Nay: Loud as fuck, buttons are terribly placed, body is not ergonomic to hold and is very long.
Better than: Satisfyer Pro Deluxe, Womanizer Deluxe (W500)
Worse than: Womanizer PRO40, Satisfyer 1, Womanizer W100
On Par with: Satisfyer Pro Penguin, Satisyfer Pro 2
Thanks to Shevibe for sending me the Satisfyer 2 in exchange for my honest review. There are many retailers you can shop with but I recommend Shevibe over them all; they have the best customer service and overall pricing/selection. They've been in business for over 10 years and can be relied upon for discreet shipping!
Save
Save
Save
Save
Save