Blush Nude Impressions – Silicone Suction Cup Vibrator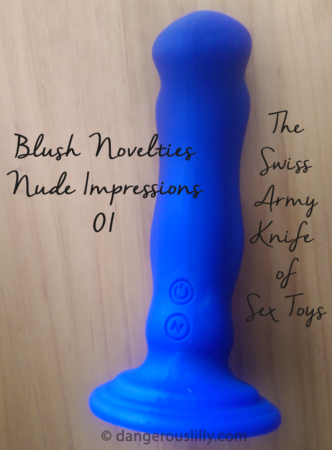 I got pretty excited when SheVibe first mentioned the Blush Nude Impressions line to me – they're something we don't see much of right now. They're rechargeable vibrators with a suction cup base, crafted from dust-repellent silky-smooth silicone AND I was told the vibrations don't suck! AND they're affordable! I was a little wary of the button placement and odd designs but still held hopes that I would like them. I wanted to like them; primarily because this category is slim pickins – you either have battery-powered options from Pipedream (definitely would rather not support them) that have a wired remote handpack or you have other options that are highly realistic and made from dodgy, porous materials.
Blush Nude Impressions – The Good
When I said multi-purpose, I meant it. This thing is Ridiculous. My Blush Nude Impressions 01 can be an external vibe if you're in a pinch; a g-spot vibe; a dildo; a prostate vibe; a suction-cup ride-able sex toy; a harness-compatible vibrator; a bath-time vibrator. It's body-safe and affordable with a good motor. It's like the Swiss Army Knife of sex toys.
The vibrations have a kick. Have I felt better? Of course. It's no Prism V, it's no Rave. But I wouldn't call the vibrations surface-buzzy, either. They have some reach and I'd put this firmly in the "middle of the road" camp both in terms of strength and buzz vs rumble. It's going to be enough to satisfy many people. Oddly enough I was able to orgasm from this, when used externally. I think it's partly because of the weird fin on each side, which meant I was able to target the more sensitive side of my clitoris. I'm not saying it was a great orgasm; but it happened. It wasn't a strong orgasm, but the fact that I was able to come from the vibrations puts it ahead of plenty of other vibrators. Yes, the motor suffers vibration dampening when the toy is inserted, but it actually just manages to tone down the buzziness. I can still feel the vibrations, and it's stronger than some other insertables. The vibrations are firmly concentrated to the head; I can barely feel anything as you get closer to the buttons. Yes there are patterns, and there are 5 levels of vibration intensity.
Rechargeable! That's pretty rare for this type of beast. So rechargeable is a very nice bonus. There's a slight issue with charging, which I'll talk about it a minute.
The buttons – at first I thought they were in a bad place for use, but I can't see where else they could go. They'll become a cleaning issue because of the indented design, and you'll want to take special care of them if you're using anally, or sharing. They're easy to press, though they do glow brightly in use (and strobe annoyingly while charging). One button is to turn the power on but it doesn't start the motor – it's a two-key process. You have to press the power button and then press the function button to cycle through the intensity and pattern settings, and then press the power button to turn off. This can act as a sort of travel lock since it's less likely that the buttons could be depressed while in your bag in the correct order.
The suction cup is strong because the suction base has quite a bit of flex and give. I can attach this thing to my work desk and gyrate it around like an arcade joystick; it stays put.  It will still be harness-compatible, and anal safe though! A really nice harness-compatible vibrator. Think about that. That's uncommon!!
The silicone itself has no drag and feels very silky (which means it attracts no fur or dust) but overall the design is firm to a squeeze. There is some bend to the shaft, though, I suspect because the motor is under the silicone skin for the top half and then the bottom half doesn't have as much hardware inside, allowing the toy to bend a bit. Those who don't like the rigidity of type silicone-covered vibes might find this to be a little more comfortable.
It's waterproof, so it's a great bath and shower toy. And shockingly, there's a 5-year warranty. I've never dealt with Blush Novelties for warranty issues so I don't know how they are to deal with – i.e. if they give you problems or ignore you completely. But a 5-year warranty is pretty nice for a $50 sex toys.
The Not Great
My first one was DOA…I think. When my second one arrived and charging still didn't work, I consulted the interwebs and was told that you can't insert the charging plug the whole way. Which is weird, and surely a flaw in design but the only way you'll know it's actually charging is when the power button's light flashes wildly. If you first plug it in and the light is steady, then it's not charging. But it's receiving power, so that's odd. Both of mine arrived without a charge in them, so it was hard to know if they were okay until I figured out how to charge the thing. Insert the plug fully and then slowly pull it out slightly until you see the power button blinking like it belongs in a rave.
The charge doesn't really seem to last very long. Blush says "up to" 40 minutes which means only if you're on the lowest setting. I ran a charge down just by randomly picking it up and turning it on for a couple of minutes here and there over the weeks I owned it, for comparisons. I admit I lost track of how long it took to charge from dead to complete; over an hour, definitely. Probably longer. At least the charging cable is USB, so it's travel-friendly – you'll  definitely need to take the cable with you.
While the designs are all butt-safe, they're also all a little on the short side – nothing is over 6″ insertable. That's not incredibly short but for some people it's less than ideal. The vagina is a cul-de-sac so there's a limit to how much length you'll really need but the butt is like a dark country road – how far you go depends on you. Just like the g-spot, some people have a prostate that's located a little bit farther inside, so the shortest model (the 02) may be just a bit shy of ideal at 4.5″ insertable.
Weird As Hell Designs
I have Blush Nude Impressions 01, which has a pronounced head – angled, yet flat which gently tapers to the shaft, and the shaft isn't round, it's more oval. And then there are these odd "fins" on each side. They don't look like much, but you can really feel them pinging your g-spot if you twist the toy while it's inserted. It's actually pretty interesting, but not something everyone will like. I'm the queen of "off label uses" with sex toys and I found that the fin on the side allowed me to use this as an external vibe – the fin nestled against the side of my clit, right where I need stimulation.
Blush Nude Impressions 02 is pretty short on insertable length (4.5″) but has these ridges that remind me of what happens to blacktop when a tractor trailer brakes really hard on a hot day. Those who know that their g-spot or prostate really digs ridges will like this one.
Blush Nude Impressions 03 seems longer, it's 8″ overall, but the subtle "balls" prevent you from getting that much insertable length. This version would be great for anal-play afficianados because the balls prevent you from inserting the buttons, making cleaning just slightly easier. SheVibe takes its measurements from Blush, listing the Nude Impressions 03 at 1.9″ wide right now, but other sites list it as 1.6″ wide. Then there's the customer review, saying that the head is actually closer to 2.5″, so I don't know what to think. (currently discontinued?)
Blush Nude Impressions 04 is….it reminds me of a jewelry holder, the kind meant to hold bracelets, or maybe rings and someone put a beaded ring on it. This design is the weirdest and I'm not sure who would love it. I'm also not really a fan of yellow, but I know plenty of people who are.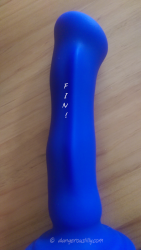 Overall, I approve of these. There's currently nothing this nice on the market, at this $50 price point. $50 for something that does so much is a really great price.
SheVibe sent me this affordable sex toy at no charge in exchange for my honest review. You can get this model or any of the Nude Impressions line at SheVibe and rest assured that a DOA vibe won't be a big deal with their amazing customer service.
Save