Boom Olive Rechargeable Vibrator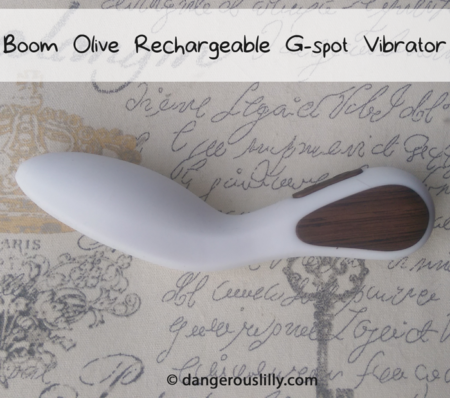 Can I interest you in a short, weaker version of the Lelo Mona? Mona-Lite! Wait, no. That doesn't sell it. Hmmm. Would you like to own a vibrator that speaks to your love of posh-looking car interiors with their pale no-kids-allowed leather seats and faux (or maybe not) wood accents? That's a thing, right? There's folks out there that perked up at that? Yes! We're gonna go with that!! Boom Olive, and the rest of the Boom line, appealed to my "gotta own something that looks unique" side. Sadly some of the Boom models have barely any wood trim – just the button. These aren't as fun to look at.
Boom. I dunno, man, I dunno. I don't know what it means. I know who they are though – one of the many, many sub brands of Shots Media and I think they're now owned by Evolved Novelties? I took one look at Shots and what they have under "toys" and I don't even know what the fuck I'm seeing, but that's not part of this review. I feel like I just looked behind the curtain and shouldn't have. MOVING ON!
I had two really good reasons for wanting to review the Boom Olive:
The design – white and faux wood. It's not your usual sex toy design, it feels really gender neutral and unique.
The price – The most expensive one is $65, and a bunch are under $50 for rechargeable, silicone-covered vibes!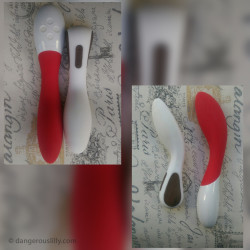 Both good reasons. But something happened when I got the Boom Olive in my hand….I realized I'd forgotten to read the specs. It's SHORT. Like, way too short for my T-rex arms. Some of you are gonna like this aspect. Some of you don't want a longer vibrator, and if that's you – you're in luck. Olive has some decent girth for being so short. It's got an interesting curve like someone took their fimo-clay model and just bent it at that point right above the handle. A nice 45-ish degree angle crook. Seriously, it's really similar to Mona's crook.
Before we go further, I'm gonna tell you who is going to consider this vibe, because this isn't for everyone. You are:
A bit more sensitive to vibrations. You don't need a powerhouse vibe, but don't want anything too mild.
On a bit of a budget. You know about the nicer vibes, the vibes I love, but they're out of your price range. $59 is in your price range.
 Interested in a little vibe that can pull double duty. This would work well as a clitoral vibe for those who don't need super pinpoint stimulation, and could even work well as a vibe to use during PIV sex – the crook and the handle help keep your hand back from the pelvic-bumping action.
Not looking for anything big; you're actively seeking vibes with less insertable length but you don't need something slender.
Sick of pink and purple.
Boom Olive – The Good
Alright so the vibrations – this is definitely one for people who like patterns. While there's only three vibration intensity settings, there's a whopping seven different patterns. But the vibrations…they're not bad! I'd put them firmly in the middle of buzzy and rumbly – they're not rumbly, but they're not buzzy. It took me awhile but I was able to orgasm clitorally with this. The vibrations don't dampen too much during insertion, either! They feel about on par with the OVO K2 rabbit, so will be equal to most insertable battery-powered OVO vibes (but not their rechargeables). The vibrations seem to be also on par with the larger Picobong vibes, like the Moka.  The button is easy to use – press and hold one end to power (on) and press the other to increase the speeds or cycle through the patterns. The motor is in the tip (hence why it's decent as an external vibe). The silicone is silky, similar to OVO and LELO and Je Joue.  It's USB rechargeable, so it's universal which I'm starting to appreciate more. It's also water-resistant, but not waterproof. No submerging, but you could likely get away with using it in the shower, just not while you're under the stream. Noise-wise, Boom Olive is also pretty quiet. In fact I think it's slightly more quiet than the Picobong Moka. I'm actually impressed by the noise level here.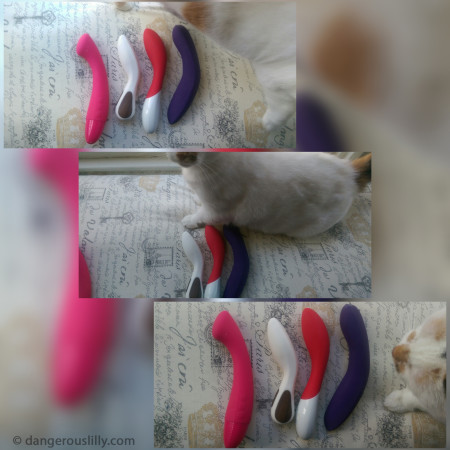 Boom Olive – The Not So Good
The seam between the faux wood accents and silicone is annoying and gonna cause some issues, but at least with the Olive it's only on the handle. Some models will have the wood accent on the insertable part and that is going to make for some difficult cleaning. The white silicone also can absorb dye from ABS plastic. I accidentally stored this in the same "to be reviewed" box as the hot pink Womanizer W500 and now there are two faint lines of pink on the Olive where it touched the Womanizer, not unlike a pregnancy stick. So the white silicone needs to be kept in storage bag….and they didn't give you one.

I can't really count the short length and moderate vibrations as a "not so good", because I already warned you about that. It is what it is, and maybe for some this length and these moderate vibrations are a good thing. If it's a flaw to you, well, okay, it is to me too. But thankfully not everyone is like me! All in all this really is a decent little vibe and I think that some other styles in this line hold great promise, while others just confuse me on their intended use. I like that most of these are under $50; I'm not sure why the Olive is $60 since it is so short, like the Miki while the traditional-length Elm is $45.  I hope it's not because Olive has the best motor; but when I can find out if there's motor differences/similarities between the models, I'll let you know.
Shevibe provided me with the Boom Olive in exchange for my always-honest review. Thank you SheVibe!