L'amourose Prism Review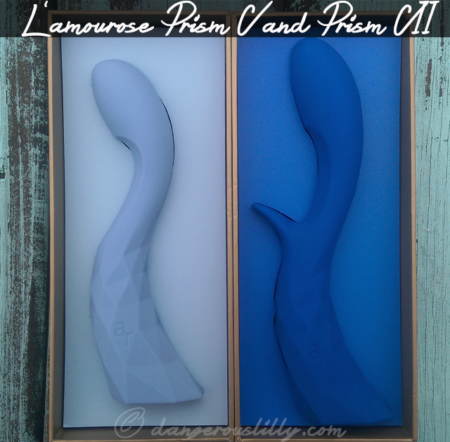 L'amourose, one of my favorite newer companies, came out with two new vibrators that were created to address complaints/issues people have with the Black Diamond line (which includes my beloved Rosa Rouge and Denia). Since the L'amourose Prism V and Prism VII are so similar I've decided to combine the reviews into one. I was lucky enough to get the Azure Blue Prism VII from L'amourose and the Sky Blue Prism V from SheVibe, both in exchange for my brutally honest review. And I'll tell you right now – I'm very much in love with one of them. I'm now at the point in my sex toy collection where three of my top five vibrators are all the same brand, which I never thought would happen. Also can I just mention how thrilled I am that in 2015, I really feel like some sex toy companies finally get it, finally understand the beauty of the truly rumbly vibrator?
L'amourose Prism VII – What is this really FOR?
For as much as I love the Denia – for it's flex, it's power, it's rumble – I'm "meh" on the L'amourose Prism VII. The nub on the Prism VII is supposed to be a clitoral arm but I think instead it makes for a decent anal-safe "barrier" rather than clitoral contact (unless your clitoris is located very close to your vaginal opening). Why? Because it doesn't reach my clitoris at ALL. It's short and the clitoral motor is so weak and buzzy that it doesn't do anything at all. I'll stick with my Denia for dual-stimulation rabbit style vibrators. But you know…I kinda feel like the Prism VII could make a great prostate vibrator. I feel that the clitoral "thorn" is enough of a safety feature and the Prism vs the Rosa provides the pressure on the prostate that some people need. Plus the head is smaller, if you need that – ~1.25″ on the Prism VII. I have a bit of an issue with my Prism VII – it sounds like a motor is off-balance. Dissonance, maybe. It's less noticeable by fair if I'm holding it in certain ways but it's actually too loud in most positions for me to feel comfortable recommending for those who need something quiet. I did send a video to capture the sound to L'amourose to see if this is normal or what, so watch this space for an update when they get back to me.
L'amourose Prism V – Why it's the best g-spot vibrator I now own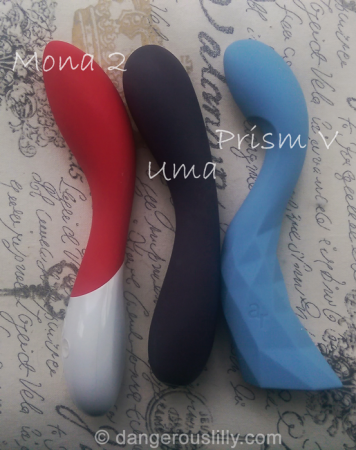 Remember how much I loved the Rosa Rouge? I mean I still love it, don't get me wrong. I really do. The Prism V has actually taught me that the biggest reason I love the Rosa Rouge is for external stimulation and yeah, I do need the heat to bring in extra blood flow to the genitals. But we're talking about the Prism V right now and how much I fucking love it. The shapely body and perfect head provide as much pressure as I could ever want on my g-spot combined with the same powerful rumbles as the Rosa Rouge. I had a three-way competition going between the Je Joue Uma and Lelo Mona 2 and the L'amourose Prism V and a clear winner was evident right away: The head on the L'amourose Prism V is fucking perfect. Perfect. L'amourose Prism V isn't for size queens; it's about 1.3″ wide (max), and I have no idea why it feels so very much more comfortable when inserted vs the Lelo Mona 2 – they're the same max width. But I think it's down to the shape. Did I mention I think it's perfect? Above all else? Like I don't think I'll ever use the Uma again and the Mona 2 felt downright uncomfortable. If I didn't need to keep the Mona 2 around for comparisons in the future I'd legit give it away. That's how much I love the L'amourose Prism V.  I feel that the Uma is a tiny bit more powerful and rumbly than the Lelo Mona 21 and the Prism V is noticeably (not a lot, but enough) more powerful and rumbly than the Uma. The vibrations in the L'amourose Prism V are a clear boost over the Lelo Mona 2. And the price? Oh glory. Prism V is only $99 at Shevibe (and the Prism VII is $105).
If I had to find a negative about the Prism, either one, it's that the buttons aren't perfect. They're in a much better spot now; they are exactly where my thumb rests as I hold it and they're not *too* easy to press but they're also not easy. I tend to need to dig my thumbnail down a little to get them to click. Do I care much? Nope. Gimme my Prism. Another issue is that the motor on the Prism V is rattly unless the head is inserted. Again I'm not sure if this is an early run problem or what, so I plan to ask L'amourose if this is normal. It makes the Prism V a little noisier than I'd like but it's still a small issue when I consider how much I love it in use.
L'amourose Prism vs Black Diamonds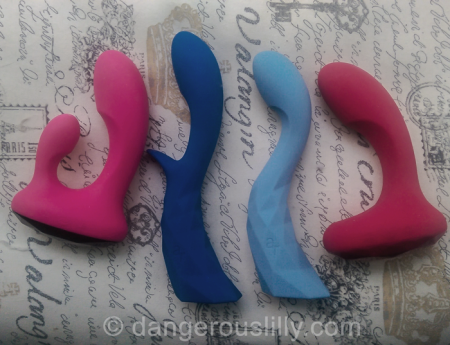 There are a lot of changes from their flagship Black Diamonds line, and all changes were made by reading reviews and getting customer feedback. The handle is more ergonomic2 with buttons in a place that is suited for righties or lefties. The motor is the same, but they took away the "Flex and Shift Technology" which many people didn't like because they need pressure on their g-spot or prostate. And here's the best part: they are priced less than your average Lelo. For those who, like me, actually liked the shape of the Rosa and Denia and even liked holding on to a bigger base, don't worry. The Black Diamond line isn't going anywhere. Which is a damn good thing because I can't recommend the L'amourose Prism VII for a dual-stimulator. Denia still holds the title as the rabbit vibe that fits me best, and one that I feel I can recommend above most others.
I had to ask my contact at L'amourose why the names Prism V and Prism VII – V has 5 settings, VII has 7 (because you can turn off either motor so that just one of them is running). Well, okay, but it is still going to be a little hard for me to remember this at first.
Also can we talk about how fucking gorgeous this Sky Blue color is? I can't even take a picture that does it justice. It's a subtle variation from "baby blue" that is truly a pale sky blue color, slightly dusky, and a very under-used color in general for the sex toy world. I'm pretty much in love with the color alone. It's the sort of blue that pairs perfectly with shiny copper or bright bronze. Actually it matches my office pretty well so it's clear that the L'amourose Prism V is officially my vibrator mascot.