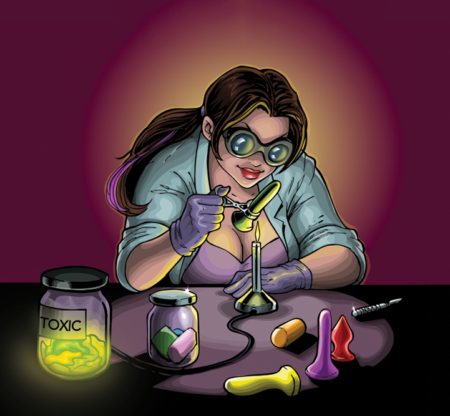 Welcome! While this blog was more of a personal blog in the beginning, it's now taken on the role that I feel fits me best – educating and informing on the topic of sex toys. If you want the truth, you'll find it here. I don't sugar-coat my reviews, and I don't ignore or gloss over really bad aspects of a sex toy. In fact, I don't even like most sex toys on the market. But when I do, you can trust that it's awesome. I firmly believe that everyone should have access to safe, wonderful sex toys that get the job done. In fact, I've decided that "sex toy reviewer" just doesn't quite cut it. I'm a sex toy critic.
I've been here since June 2008, and have critiqued and owned hundreds of sex toys. Because I know that there are other women out there built like me with similar vibration preferences as me, I write my critiques from that point of view – mine.  When you read a sex toy review here, there is an even mixture of subjective and objective writing. If you feel that we're alike in our preferences and build, then you'll be the person to find my reviews the most helpful. It's all about the context, right? Years ago I became frustrated when reading reviews from users who thought that the vibrator in question was ultra-powerful, whereas I barely felt a thing. That is why I started reviewing.  I also noticed that readers were arriving at my site with some very concerning search terms, and so those terms prompted me to do more research (like why would a vibrator make you itch?). This research has led to many posts revealing the truth of the sex toy industry – truths like "jelly sex toys are dangerous" and "silicone won't melt". 
Should you find that my criteria on whether or not a sex toy is going to work for me personally doesn't match yours, check out the Sex Toy Reviewer Directory. It's not "the best" reviewers or a ranking. It's an attempt to show a variety of reviewers whose needs are different than my own and each others.
 I started my blog in June 2008 after being introduced to the blog of Ellie; I was talking to her boyfriend via OkCupid because I asked on the OKC forums if anyone had ever used a few certain sex toys. I was fed up with the worthless little one-liners I was finding. I hadn't yet found EF or Lovehoney, who had been doing the more detailed user reviews for awhile (Lovehoney a lot longer than EF).  I was so very intrigued by the idea of not only a sex blog, but the fact that she was given sex toys FOR FREE (!!) just to write about them.  The niche I made a home in was more about "sexy" blogging – writing sexy things, writing about your sex life, your dating life and posting sexy pics through the weekly meme HNT. It seemed to be the sort of blog, too, that was catching the eye of the sex toy retailers wanting reviews.  Tinynibbles, the home of Violet Blue, was my second stop before I made the leap. Violet's blog showed me that you could just TALK about stuff, it didn't have to be an erotic story.  I, and therefore my blog, has changed a lot over the last 6 years. You won't find any of those former "sexy photos", and a number of the "sexy writing" posts are gone, too. I even cringe at my early sex toy reviews. Something happened to me in 2011-2012 that really changed a big part of me and changed my sexuality – I no longer wanted to talk about it publicly or share glimpses of myself. And last year I started feeling like the sexy past was a hindrance to being taken "seriously", if I wanted to show the site to people I knew or wanted to further myself with the consulting gigs and sex toy education talks to groups. 
A great place to start here is my Toybox page. This corrals all of my reviews, plus my important educational pieces as well as shopping guides.
All photos and artwork on my site is created by and belongs to me, with the exception of the wonderful drawing of me you see above. This was created for my business cards by the wonderful SheVibe team and I loved it so much that I asked for permission to use it everywhere.
My "wow I feel so pompous writing about myself in the third person, but generally that's how a Bio blip is written so I hope this doesn't sound too douchey" public bio to quote from:
Lilly has been blogging and reviewing sex toys since 2008, her soapbox getting a little bigger and taller every year. She doesn't believe in sugar-coating or holding back. In addition to her reviews, Lilly is also known for her journalistic pieces revealing the truths of the sex toy industry and education pieces teaching her readers things like exactly why a jelly sex toy is dangerous or how to sniff out an imposter.  Lilly has a big mouth, a big body, and a big heart….and also one very finicky little clitoris.
I can be reached many different ways – Twitter, Tumblr, Facebook, Email, or comments; if you're new here and would like to contact me, start with my Policies page, it answers a lot of questions!