About Lilly
 Next Page: Blogger Disclosure  ->
Go Back Home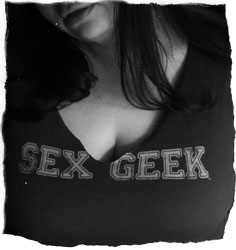 I am not your average girl. I swear like a sailor. I cook like a domestic goddess. I started this blog in 2008 and with it started my quest to Build a Better Sex Toy Review. There's a lot to say about what this blog used to be about, but let's leave the past in the past, shall we? I'm moving onwards and …. sideways. 
The blog title used to be "This Could Be Dangerous…". Now, though, I'm just sticking with what people know me as: Dangerous Lilly. What makes me dangerous? The answer to that has changed over the years, but my mouth makes me dangerous. I don't really hold back much. If you want the truth, you'll find it here. There is no sugar-coating of sex toy reviews and I don't even like most sex toys. When I do, you can trust that it's awesome.
Site Navigation
Above the site banner are my major post categories, and some have sub-categories. Below the site banner are my pages, and the Sex Toy pages especially are broken down into a lot of information.
My Other Projects
Toy Swap Network – This is a private, invite-only ning.com social site that Sinclair and I created, and I run now. This is basically for sex toy reviewers/bloggers who have a lot more sex toys than they know what to do with, and we swap (safely!) with each other. If you would like to know more about it, the mission statement is viewable on a public blog here.
e[lust] sex blog round up – This is was my baby, my big project. I created it and ran it tip to stern for 3 full years before burning out. Instead of letting the community lose yet another outlet for traffic and exposure, I sold the site to a fellow blogger that I trust to keep up the traditions. Explore the site here.
Sex Blogger Co-Op – This is another private, invite-only place. This group is for somewhat-established sex/sexy bloggers to privately kvetch, share information, ask questions and generally get the inside scoop on how to be a better sex blogger. Check out this page talking about it over at e[lust].
Unless otherwise noted, any pictures you see on here ARE MINE, and copyright remains.
I can be reached many different ways – Formspring, Yahoo IM, Email, or comments – visit the Contact page for the links!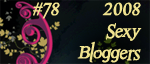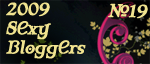 Also listed in the 2010 and 2011 versions of the Sexy Bloggers list