Hot Octopuss Queen Bee Review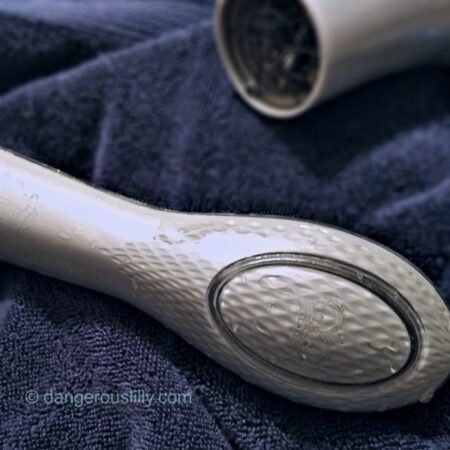 I feel like I must surely intro way too many reviews by telling you how skeptical I was about a product before I even laid hands on it. I do, right? I'm kind of afraid to find the answer and search my blog. But yeah I was skeptical about the Hot Octopuss Queen Bee from the moment I saw it. Sometimes I end up being pleasantly shocked but often I find my instincts were right.
For those unfamiliar with the basis of the Queen Bee's tech, it's a spin-off of their flagship penis vibrator, the Pulse. The pulsating plate on the Pulse is able to deliver deep, rumbling "vibrations" to the penis and provide intense stimulation that bested a traditional vibrator for many folks – it was powerful without being numbing and gave a sensation that didn't even require manual movement (though you could, if you wanted to). Actually I did have a moment, briefly, without so much skepticism and I thought I could like the idea of the Bee, because anything that promises rumbling sensations perks my ears up. But as you may know I've been having a lot of trouble with depression this year and especially these last few months. I would use the Bee now and then when I remembered my review commitment and I took strange notes every time I used it, since I wasn't in the headspace to write any parts of a review back then.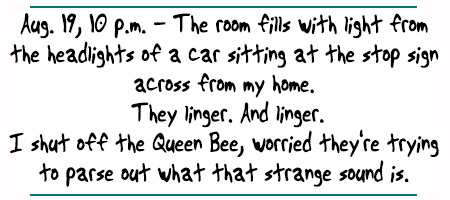 In the user manual they give you the basics in many languages. It's 278 grams, and 229mm long. It takes 4 hours to charge for 1 hour of use. The noise level is "below 55db". Wait, what? 55db is ….relatively quiet? Not bad, not great. Allow me to get geeky for a minute, please. I promise this has a point. Our last dishwasher was rated at 50db and once we left the kitchen we couldn't hear it running, not unless there were pots in there. Our current maxes out at 44db and sometimes I can be in the kitchen and not be sure it's running. Using a sound meter is tricky – how close you hold the item to the microphone affects what it registers, obviously. When I was doing the tests for the Womanizer vs Satisfyer chart I held the items within 2 inches of my phone's mic. I should probably have held the item as far from the phone as it is from my ears, in use, and I might re-do it that way. 
When I ran the sound meter test on the Hot Octopuss Queen Bee it registered at 48-54db when I held my phone up by my ear and held the Bee at vulva-level. When I held it up to the microphone the same distance as I did with the Womanizer it topped out at 80db. You can hear the Queen Bee in all it's noisy glory right here.
I also ran the totally-scientific partner-and-cats reaction test. I left my partner in the living room, far end of the room, playing Assassin's Creed. Central heating was running. I went into the kitchen, two rooms away and stood behind a wall. 80 feet and a wall separating us. He heard the Queen Bee loud and clear, even on low. The cat in the living room was staring at me. The cat in the kitchen was glaring at me with her ears back. 
I shouldn't have been so surprised that the Queen Bee is disturbingly loud – sometimes the Pulse can be loud, too, but this is a whole new level. The Pulse is nothing like this. The Queen Bee doesn't have the high-pitched whine of the Magic Wand or the frightening chainsaw-on-speed sound of the Rockbox Finger but it's still loud and cringe-y. Pitch has a lot to do with it, as well – it doesn't blend in with anything for most houses so it'll stand out more.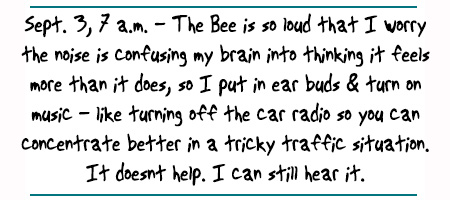 The Hot Octopuss Queen Bee is "not a vibrator", technically speaking. They talk about oscillation (which in my experience is side-to-side movement) and "pistons". The plate moves more outwards than side to side – and when I put too much pressure directly down on it, it stops completely.
They also present a "feature" of a gentle "warm-up" sensation, if you will, by using the other side of the wand. This isn't a feature, it's a side-effect. I've felt more vibration-transference on handles where they didn't intend for it to happen, than the Queen Bee. The backside sensations are so weak you may not even notice them in use.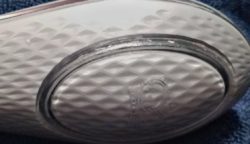 This is all accomplished by there being a separate, moving part on the Queen Bee. The pulse-plate is firm, hard TPE that is given some movement via the softer TPE ribbed sides. The downside is that this is a "seam" to beat all seams and the fluids and dust and whatnot that get caught up in there is… a lot. I've purposely taken the photo above before cleaning to show you how bad it can get.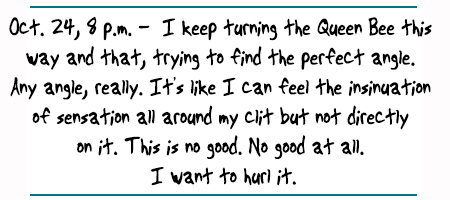 I have the same problem with a pulsating plate as I do a thrusting vibrator: pressure impedes movement. Just like the Mona Wave and Stronic Drei and even the pinchy Rockbox Finger – the Hot Octopuss Queen Bee is dead in the water when it meets my vulva. I feel like my genitals are the Bermuda Triangle for sex toys with movement. But then I remember that physics is a thing and I stop blaming my body and instead get mad about sex toy companies who don't think about this.
Not only do I like, and need, pressure with the Queen Bee to circumvent my issues with broad stimulation, I have fleshy labia – full. "chubby".  This means that it feels rumbly if I'm holding it in my hand and apply no pressure but the second my labia surrounds it like an octopus1, all movement of the plate stops and I'm left with this far-away hint of something….somewhere. I can hear it, oh boy can I hear it, but I don't feel it. Because I can't feel anything, I can't even accurately predict if this will work for you if you don't have much labia, if you have a larger/more visible clit and don't need pressure. I don't know what it's supposed to feel like! I've read a few reviews that talks about it feeling like a rapid "tapping" sensation. This hasn't been my experience.
I have tried holding it at various angles. I have tried uncomfortably spreading my labia. I have tried numerous positions and I just cannot find any pleasure with the Queen Bee. I'm relieved that I can finally write this review and get it off my mind because I just don't want to ever turn on, much less use, the Queen Bee again. I shouldn't have to try this hard to get a sex toy to work for me.
I believe the only way this will work for you is if you have minimal labia and do not need pressure. The Queen Bee, despite being gendered by Hot Octopuss and prescribed for "women", would potentially make a pretty decent alternative to the wrap-around design of the Pulse. Because of the material it seems like you'd be better able to glide the pulsating plate all around your cock2. You still can't apply pressure and the sensations will be really localized but if you've been able to orgasm from vibrations alone, this could work well for you3.
I have one final bone to pick: It's the button placement. The controls are on the "back side" of the Queen Bee. They're all in a row, and can't be seen in use. They take up almost the whole handle so at any given time my fingers are over them, trying to finagle the QB to my vulva while also not pressing the wrong button. I've accidentally hit the patterns which means the whole moment is ruined. I've been unable to quickly turn it off without removing it from my body and staring at the controls. It's not intuitive, it's not easy.
Like the strange iGino 1 and promising-until-it-wasn't Revel Body, the Hot Octopuss Queen Bee will deliver different sensations from the vibrators you're used to but it is not a sex toy for the masses. It is something that a minority of folks will love and appreciate and for $150 I just can't recommend it. It's a price point where most folks are going to want as much certainty as I can provide them that the sex toy will work for them and I simply can't do that.
But wait…there's more!
Before we go, I want to briefly talk about the materials because you all know that materials matter to me. You know I'm skeptical and use only non-porous products. Happily, the Hot Octopuss Queen Bee uses medical-grade non-porous TPE that can be sanitized. It can also tolerate silicone lube! I absolutely support this material as body-safe. I don't know that everyone here is as fascinated by materials-talk as I am so instead I'll link you to the materials FAQ sheet they gave me. You can ask me any question about the material in the comments or via email. If I can't answer it, I'll ask H.O.!
The Hot Octopuss Queen Bee was provided to me in exchange for an honest review from Hot Octopuss. It's available directly from them or at my favorite retailer, Shevibe.
Save
Save
Save
Save
Save
Save
I see what you did there ↩
While the TPE on the backside has some minor texture and seems a bit "grabby", the main side has no texture (just a print). It isn't as smooth of a glide as hard plastic but with lube you shouldn't feel any friction ↩
Yes, that whole paragraph feels a little "trying to squeeze out a silver lining" to me, too. ↩