Beginner's Guide to BDSM Toys
I don't often have Guest Posts but sometimes I want to bring you information that I just don't know enough about! But you know I'm picky so you'll only see guest posts from fellow bloggers I trust. Taylor J Mace was kind enough to write up this amazing guide to BDSM toys for you – the impact toy infographics are especially helpful!
~   ~   ~   ~   ~   ~   ~   ~   ~   ~  ~   ~  
There are so many sex toys out there to choose from, which is great! But it can also be overwhelming for those who are new to toys and don't know what's worth buying from lists of 500+ items. You want to make sure it's safe, decent-quality, and worth the price tag, but you're also exploring something novel that you might not know all the terms for.
This article aims to break down the various types of BDSM toys, include a few tips for what to look for, and also for what to avoid. It is aimed toward folks new to this kind of play, not seasoned kinksters.
By now I'm sure you know that I do not support Pipedream or their subsidiaries. This makes shopping for BDSM toys more challenging, as a few of the companies owned by Pipedream are incredibly common. BDSM brands that are owned by Pipedream include: Fetish Fantasies (Frequently listed as "FF" on websites), Anal Fantasy, Metal Worx, Jimmyjane, Pipedream, Extreme Toyz, Pump Worx, Sir Richard's, Neon, iSex, and Icicles.
Blindfolds and Hoods
Blindfolds and hoods are used for sensory deprivation – when unable to see, folks frequently report that their other senses are more focused and that they are more sensitive to whatès going on around them. Hoods come in many different styles with any combination of mouth, nose, or eye holes being covered. Many feel that a blindfold or hood makes them feel less self-conscious – when I was new to being dominant, I always felt more comfortable when the submissive was blindfolded as they couldn't see my face so I didn't need to worry that I wasn't "looking the part" of a dominant. Sleep masks or scarves tied over the eyes make great makeshift blindfolds if you're curious about blindfolds but aren't ready to invest in one!
Bondage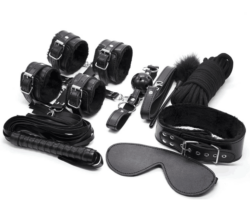 Look for soft materials – leather, nylon, silicone, neoprene, pleather, or bondage tape. Avoid handcuffs, even the fuzzy kind! These can cause serious and permanent nerve damage. Cotton or silk rope is also a fun option, though make sure to have safety scissors on hand for any rope play. Bondage tape sticks to itself and not your skin, so it can be used anywhere on the body and around any type of surface. Bondage kits are a good option if you're looking for several items – for instance, the Complete 10 Piece Luxury Bondage Kit includes wrist and ankle cuffs, a faux leather flogger, a ball gag, a collar, leash, blindfold, feather tickler, hogtie, and rope. These kits are usually cheaper than buying each piece individually and are a great (affordable) way for people to try out a number of different types of kink play to see what works best for them. It is important to never leave someone alone in the room while they are tied up.
Clamps and Nipple Play
There are so many types of nipple clamps out there that it's hard to know where to begin when you first want to explore nipple play.
Clothespins tend to be a good starting-point as they are a common enough find that you can discreetly buy some in order to see if you like clamps without spending much money. They can be wooden or plastic (avoid plastic ones with teeth) and are recommended for single-use only as they are nearly impossible to sterilize and therefore can harbour bacteria from one use to the next. You cannot adjust how tight they are on your nipples.
Micro-Pliered clamps have a screw used to adjust how much pressure they exert on your nipples.
Tweezer clamps tend to have a smaller surface area, thus the pressure is more concentrated and may feel more intense. Depending on your nipple size and shape, you may find that you have a very hard time making tweezer-style clamps to stay on your nipples. You can adjust the intensity of these, though not as much as micro-pliered clamps.
Clover/Butterfly clamps are probably the most advanced kind of nipple clamp. Unlike other kinds of clamps, when you pull on the end of a clover clamp it tightens on the nipple, exerting more pressure. Even when they aren't being pulled, clover clamps are very powerful.
Weights and chains can be added to some types of clamps – these increase the pressure, pain, and intensity of the clamps. When you're moving, chains or weights can add even more intensity through the way they pull on your nipples.
Nipple suckers can be vacuums, pumps, or suction. Unlike clamps, they aren't painful – instead, they increase the sensitivity and blood flow to your nipples temporarily.
Collars and Leashes
When selecting a collar, pay attention to what the intended purpose is. Is it meant to be decorative, functional, humiliating, or for posture? Most collars come with an o-ring on the front for you to attach a leash to or to secure the wearer's neck to a piece of furniture, however, some of the more decorative collars do not so make sure to keep an eye on that if it's important to you.
Leashes can be used in conjunction to a collar to exhibit more control over the wearer by simply tugging on the leash like you would a dog. Pay attention to how long the leash is as this will impact what positions you can have your submissive in.
Gags
There are a few kinds of gags to chose from – the most common being ball, bar, or o-ring – and each type comes with their own advantages and disadvantages. It is important to not leave someone alone when gagged and to have a non-verbal safeword in place in case something goes wrong (the standard one being the submissive tapping their hand twice).
Ball Gags
These can have holes or be one solid ball. The ones with holes are easier to breathe through while using but are typically made out of a hard plastic which caused more strain on your jaw and mouth than one with a silicone or rubber ball. Silicone balls have more give and so it's easier to relax your jaw for a bit or bite into it in the middle of a scene. Be aware that the larger the ball is, the wider you'll need to keep your mouth and thus the quicker your jaw will become sore. Ball gags tend to pinch at the corners of your mouth after extended use. These restrict a lot of speech and also have a higher choking hazard than the bar or o-ring gags.
Bar Gags
Also known as "bit gags", these feature a bar that is typically made out of silicone, plastic, or (less commonly) metal. They pinch your mouth less than ball gags do, are easier to speak around, and also restrict the breathing less than a ball gag.
O-Ring Gags
Usually made out of metal or silicone, this type of gag fits behind your teeth and does not restrict your breathing. They make it difficult to speak and pinch the corners of your mouth just like a ball gag does. You may be able to perform oral sex while wearing one of these gags. Keep in mind that the larger the ring's diameter, the wider you will have to keep your mouth and thus the quicker your jaw will tire.
Impact Toys
When it comes to impact, there are "thuddy" toys and "stingy"/"sharp" toys – think of the difference between getting punched versus slapped. Many people consider stingy toys (canes, crops, whips, some floggers) to hurt more than thuddy toys (paddles, some floggers), though individual preferences vary.
Material also plays a big role in how much a toy hurts. Below is a guide to know how things will feel!
Keep cleanliness in mind – it is just as important to clean an impact toy as it is to clean something that's going inside of you. Impact toys may come into contact with blood (even if the submissive does not seem to be cut, for example if you hit them on a pimple), sweat, spit, ejaculate or pre-ejaculate and/or lube, and they may come into contact with genitals. As such, make sure you know how to clean your toys between every use.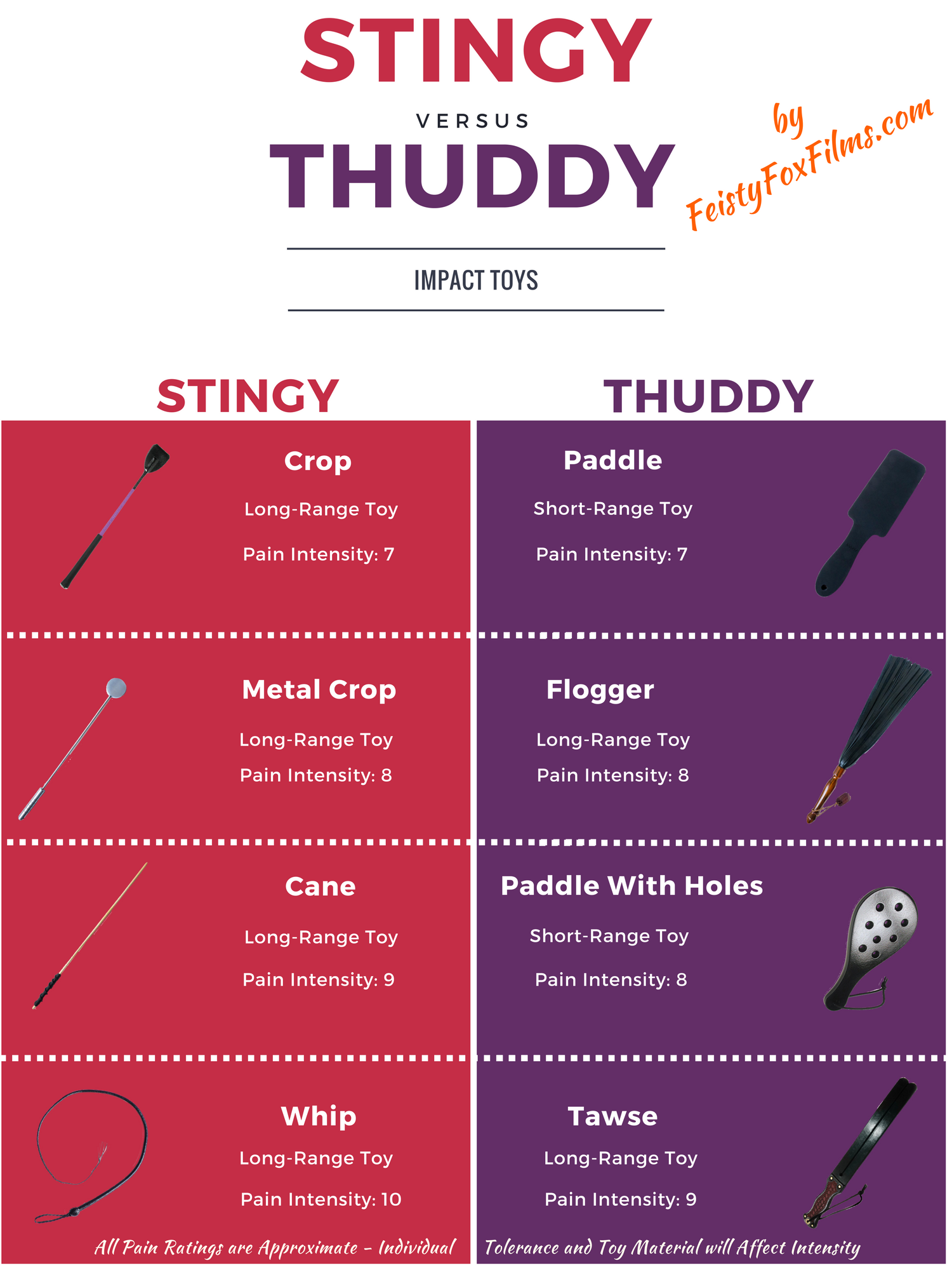 The above ratings are all pretty high, which can be super intimidating if you're new or not into much pain. So…what are your options if you don't enjoy a lot of pain?
Material, size, and force used by the top all greatly affect how intense the pain feels. The thinner/narrower an object (cane, flogger falls, paddle, etc), the stingier the sensation; thicker toys, wider falls, and/or increasing the number of falls will all make the toy more thuddy.
Floggers are one of the more customizable options, good for everyone to those who don't like pain at all, sting-enthusiasts, or those who prefer a nice thud. The below graphic will help you pick one that's right for you!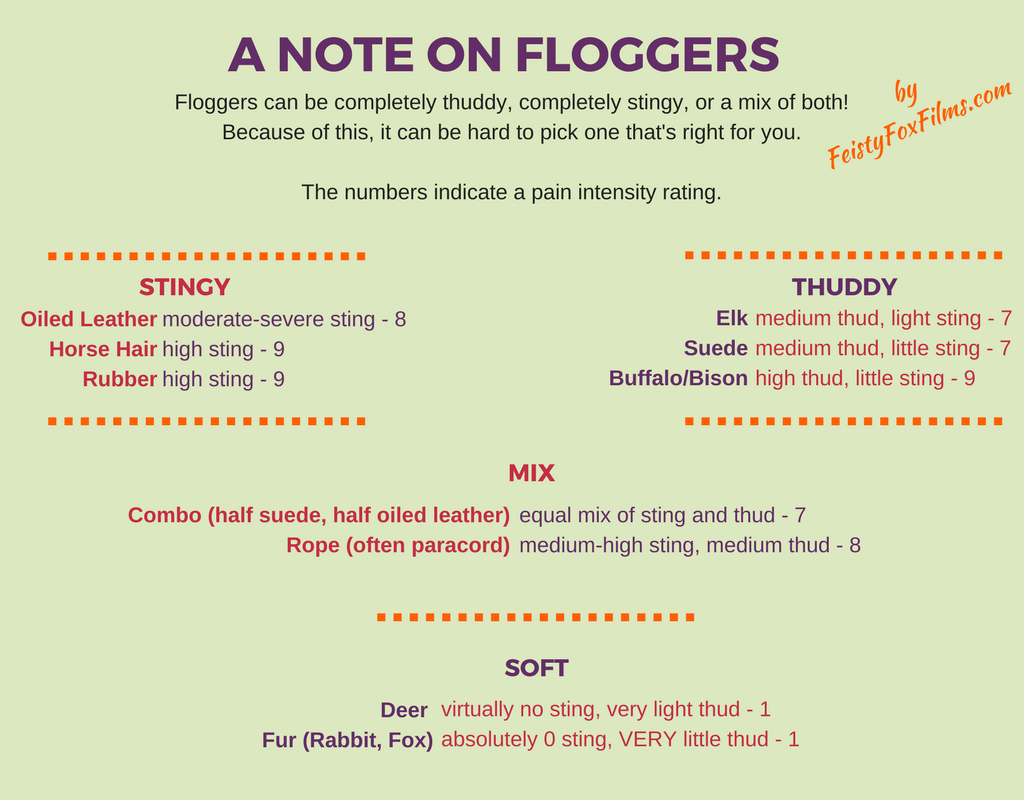 ————————————————————-
I hope you've learned more about kink toys and gear and that this guide helps you find toys that work for you and your partner(s)!
This post has been sponsored by Lovedreamer, but all opinions, information, and recommendations are Taylor's (and approved by me!). Sponsors like Lovedreamer are helping Taylor get to Woodhull SFS17.