SenseVibe Warm Dual Stimulator by SenseMax
The SenseVibe Warm had a strange advantage right out of the gate: You all know how picky I am, but did you know that there's one thing that can pique my interest despite all jaded misgivings? 
Cool storage.
Yeah, I know, I know. But I like cases, pouches, bags and totes. I've been suckered into buying makeup I don't need because it's a kit and comes with cool storage. I've fallen for this marketing trick in the past with sex toys; I'd gleefully gone after the long-deceased Topco Vida line because it came with a pocketed pouch AND a mini zippered train-case-style bag only to be massively disappointed in the quality of, well, everything about the set. I even felt swayed a little by the Barbie pink Womanizer case because it was handy and functional and had pockets. Pockets make everything better, yes?? YES.
Casing the Joint
The SenseMax SenseVibe charges through a closed case for discretion – plug the case in (thankfully using standard micro-USB) and then lay the vibe inside the case and shut the lid. If I had to find a complaint about the case it would be that the magnets holding the lid shut aren't strong enough to use this as a travel carrying case. If it gets turned upside down or jostled in your bag the vibrator will just fall out. For stationary purposes, though, it's a good case. The vibe nestles in there perfectly, yet is easy to pluck out.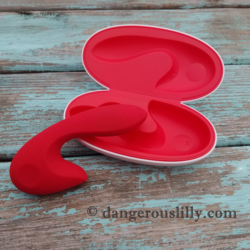 Since you're buying a vibrator, though, and not a storage case, I hate to tell you this (spoiler alert): the case is the best attribute of the SenseVibe for me. I wanted to like this vibrator; even though I was pretty certain it wouldn't fit my anatomy, I still could have loved it for people who aren't me. Alas.
Shopping in the Petite Department
The SenseVibe is designed and marketed as a dual-stimulation G-spot & clitoral vibrator. Since vulvas come in various configurations there are definitely some folks out there whose clitoris is close enough to their vaginal opening for this design to possibly work. You have to know this about yourself to know if this is gonna work for you, and the Sensevibe's clitoral nub is definitely way too short for me. Combine the shortness with a lack of flex in any way in the clitoral nub AND the fact that the nub aims away from the clitoris and it feels like it's going to work only for a specific portion of the population – those with a clitoris close to the vaginal opening who also don't need super-rumbly powerful vibrations externally. I was able to angle the vibe to get close-ish to my clitoris and provide the pressure I need but then the internal arm was pressing against the rear vaginal wall and away from my g-spot. Not good.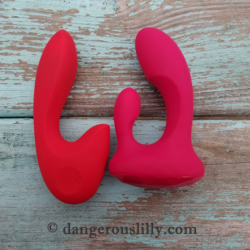 If you like the idea of a base that doesn't put the buttons 2 inches away from your body but feel that the base of the L'amourose Rosa/Denia may be too chunky and cumbersome, then the design of the SenseVibe would be right up your alley if everything else lines up. There's not much to hold on to with the Sensevibe, but it's within easier reach. If I angled the Sensevibe so that it makes contact with my g-spot, making the clitoral nub far enough away from my body to allow for a smaller clitoral vibe to also be used, I could use this as a g-spot vibrator. I'm all for using sex toys outside of the prescribed use but only if it does the job as well as or better than other things that are otherwise designed for the job. I feel like there are better g-spot-specific vibrators on the market that won't get in the way of whatever clitoral vibe you want to use.
Sizewise the shaft is a bit petite – larger than the Prism V, smaller than Rosa or Denia yet it lacks that obscene curve or pronounced head that my g-spot likes best. For me, it's the very definition of "meh". Tepid. Neither offensive or awesome.
Captain Crunch
There's a good amount of flex at the base of the internal shaft, much like the L'amourose Rosa or Denia. It can flex in any direction. Even though I really like rigid things up against my g-spot (which makes me prefer the L'amorouse Prism V over my first love, the Rosa Rouge, for g-spot stimulation), I really like flex action for dual-stimulation vibrators to ensure a wider range of fit. However…there's a disconcerting crinkle-y crunch-y sound when I flex the SenseVibe – and I'm certain I'm not purposely over-flexing it. It concerns me for longevity reasons, primarily. I'm worried about what exactly is causing this sound and will repeated flexings cause a wire to dislodge or break or something? I don't know. It does have a one-year warranty, though this is a seemingly new company.
You Push the Button, We do the Rest1
The travel lock on the buttons is nice, and a feature that is shared by L'amourose; there are no seams and it is 100% silicone on the exterior, so it is waterproof.
The center button only changes modes2 but there is no "rapid off" feature – you just press the minus button until the vibrations work their way down the scale to nothing. Note: According to the minimalist user manual that is literally part of the box, you should be able to press and hold either the minus or center button to get it to turn off, but this has yet to work out for me. Similar to the L'amourose Rosa Rouge, though, you CAN press and hold the center button to allow the internal shaft to warm up before you start using it.
Speaking of buttons; since they control the motor I'm gonna say that this is the best section to briefly compare and contrast the vibrations. The internal shaft is damn near as rumbly as the L'amourose Denia or Rouge motor – a hair less intense overall (but still quite powerful). It feels more rumbly than That Brand I Won't Recommend. Like many dual-motor vibrators, there can be dissonance when both motors are running, leaving you with this weird semi-pulsating feel that can be distracting to some. Because the vibrations in the clitoral nub aren't very strong I don't feel much vibration in my hand when holding it.  There is one faintly glittering star in this cloudy sky: The vibrators of the clitoral nub aren't buzzy and numbing. They may not be nearly enough for me but they're not awful.
It Coulda Been a Contender
I admittedly have a hard time reviewing sex toys completely of their own merit and not comparing them to what I currently own. Would I be this nitpicky if I hadn't tried the L'amourose line, or the We-Vibe Nova? Price is playing a factor here, too, because the SenseVibe starts at $129 for the "Classic" version. Many folks can only afford a couple sex toys of this cost in their lifetime.
While I know that many people feel that the dual-stimulation, or "rabbit", vibe is the Holy Grail because it's two sex toys in one, I hate them because each one is fairly unlikely to hit all your spots unless you have created 3D life-size cast of your vulva AND vagina and know for sure that the measurements will line up for you. So I'm really confused about SenseMax's decision to only make a dual-stimulation vibe AND for it to have such a short clitoral stimulation section which cannot be adjusted in any way for better fit. I really enjoy the powerful, rumbling vibrations of the internal shaft and I like the button placement over the L'amourose Rosa or Denia. But these two things, plus the charging case, aren't enough for me to love this vibrator. I can love a vibrator with some flaws, and this is not a bad vibrator but it doesn't make me want to write poetry about it.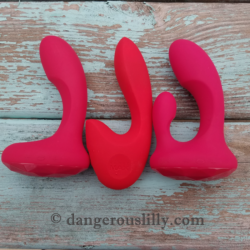 So far SheVibe only carries one item from SenseMax, the SenseVibe (Classic or Warm). I went to the SenseMax website to find out more about their products and it seems the brand is heavily leaning towards virtual reality stuff with their masturbator, wristband (???) and VR goggles. There is an app, Sense Lovers, but it is strangely not in the Google Play app store. The company explains that "unfortunately due to the nature of the content on the app we are not able to be listed in either app store. We sincerely hope Apple and Google will soon reconsider their attitudes towards adult entertainment." And I'm confused. There are apps for We-Vibe, Ohmibod, and more. Exactly how is the Sense Lovers App so different that not even Google Play store will allow it? I wasn't willing to find out because I'm not a fan of installing apps outside of the app store, which is what is required here. I also don't like using apps with my sex toys, so it's no loss to me on this one. 
In the end, I don't feel like I can recommend the SenseVibe Warm to most people. Sure, the SenseVibe Warm is much more reasonably priced ($149) than the L'amourose Rouge Denia ($209) BUT the L'amourose Denia has a design I can enjoy with rumbling motors on both shafts and I feel it's likely to fit a larger percentage of folks. Since the warming feature is only present on the internal arm of the SenseVibe Warm I feel like if you're considering this design you should just opt for the less expensive SenseVibe Classic, priced at $129. The heat isn't enough to really feel when it's in your vag – it didn't earn the slang term "hot box" for nothing-  but the heat on the shaft is lovely when used externally. Again, though, it's not comfy or logical to use it that way. SenseMax could definitely be on the map for rumbling, powerful vibrators if only they could improve and expand their designs.
Also: No, I don't know why it's called the SenseVibe. There is no "sensing" of anything here. There's no AI, no VR, it's just a vibrator and I'm really confused.
Many thanks to SheVibe for sending me this in exchange for my very honest review. I feel like the brand is on the cusp of perhaps branching out into something really cool, so keep an eye on SenseMax.
Save
Save
Save