Sola Pip Remote Control Vibrator
Unless you're new here, you know I'm really picky about remote-controlled vibrators. My perfect RC vibrator will:
Be powerful and rumbly
Have a remote that lets the remote holder know exactly what is going on
Actually work from 2 feet away and across the room
Not be terribly loud, so that it can be used in public
Most fail. Yet I keep on reviewing them because this is a Thing People Want and I really don't have many great recommendations, but I keep trying. So why are most failing? Am I asking too much? Maybe. Apparently, Bluetooth doesn't like to work when water is in the way and our bodies are mostly water. So if the antenna isn't fully outside your body, then the Bluetooth connection will fail. This explains why the We-Vibe always failed for me, since the location of the antenna is always going to be covered by flesh. Used externally, while fully clothed, the Sola Pip worked fine but used internally (as intended) remote use was more spotty. Sometimes it worked amazingly well, 30 feet away, but sometimes it didn't respond. I have no idea what caused it work well sometimes and not at all other times.
Out of the Box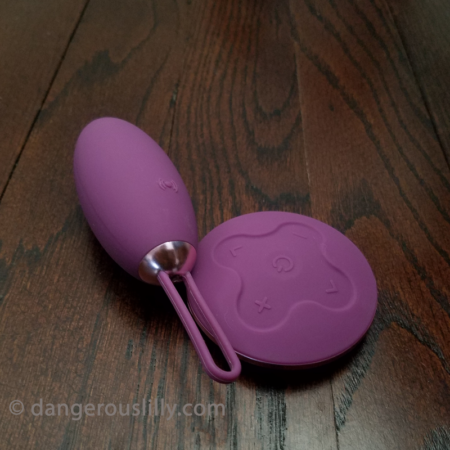 For $93 you get a rechargeable, waterproof, silicone remote-controlled vibrator. There are faux-metal accents on both the bullet and the remote, and the retrieval cord on the bullet is stretchy silicone. The bullet is also a bit too big to comfortably use externally for some, due to its size: 1.6 inches long and about 1.2″-ish at the widest part. The USB charging cable jack plugs into a port in between the silicone retrieval cord1. There's also a pleather-ish storage bag which actually isn't awful. The Sola website claims it's anti-bacterial yet doesn't go into detail about that. There's a 5-year warranty; again, good, but given the quality issues I've heard about with other Sola toys (like the Wand) I have some doubts that the company will be around that long. Yes, that's me in the corner, being jaded and cynical. It states on their website in one place that a full charge gets you 1.5 hours, and in another place that a full charge gets you around 1 hour. I let the thing run for 1 hour on level 3 and it was still going by the time my patience ran out and I turned it off.
The Sola Pip Motor
When I read this part in the ad copy, I was intrigued (and suspicious): "The Sola Pip has one of the most powerful motors on the market! Deep rumbly vibrations are all yours with the Sola Pip." The vibrations do seem rumbly and powerful at first, but as you go up in intensity it brings a little buzz to the party, and then a little more. In-hand it seems more rumbly but when surrounded by flesh the rumbles get dampened and the buzzes come more to the forefront. It's tolerable and rumbly-ish when I used it externally as a "panty vibe"2 but inserted vaginally I only felt the buzzy underbelly and it felt downright uncomfortable. Like "get this vile beast out of me" levels of uncomfortable. It turns out that buzzy vibes used internally are like nails on a chalkboard for me. It is absolutely nothing like the rumbling power of L'amourose or others.
Honestly, the first level will probably be too intense, clitorally, for a good number of folks. Under best-case scenarios, I was able to easily orgasm from the 2nd of 5 intensity levels. In a fairly quiet room, the noise factor was too much to use it on anything above level 3 intensity, or any pattern, if you're in public and in a semi-quiet place. Naturally, Sola claims it's whisper-quiet. Sola also claims that the Pip has the most powerful motor on the market and I feel like they're wrong. The Jopen Envy Fifteen remote controlled vibe was more powerful and rumbly. Other non-RC vibes are more powerful. I realize I'm focusing on weasel words here and this is why objective reviewers are necessary, but come on. You know I'm gonna call you out on that, Sola.
The Remote
The remote has a central power button – if you press the remote's power button and then the vibrator's power button, they sync up but don't start vibrating. This is good. You can turn the power off on the remote to turn off the vibrations, but don't need to re-sync the two to get started again. Also good. The remote is small and rechargeable, easy to hide (or lose) and sadly necessary for using the vibrator. If you lose the remote, the bullet won't work. This is bad; terrible, in fact. But, of course, my biggest bitch is that the remote-holder has no idea what setting the vibrator is on unless they paid strict attention to what they're doing. And most people won't remember how many times they've pressed the buttons in either direction over the course of some fun times. Asking people to pay attention and count during sexy times is just wrong. Unless that's your kink – but that is a whole other topic and not for this blog. 
Ehhh…No
Because this is an "egg" and Sola intends for the Pip to be used vaginally, I tried it that way as much as I could stand it. I tried it under the extreme condition of wearing it internally whilst standing up and moving around because yes, some folks will use it this way. I felt more vibrations heading towards my bowels than my g-spot, firstly but secondly and most important? 1.6″ doesn't seem long but it was apparently too long. Between the vibrations and the moving around, it kept trying to poke its head out of my vag like an over-saturated tampon. Comfy, eh?
So the vibrations aren't terrible. The Bluetooth isn't actually abysmal. Why am I not recommending the Sola Pip? The remote and the price, mainly. And yes, I'm being picky. I realize that any lower price point will get you junky toys and prices over $100 require even more justification but I'm not in love with the Sola Pip, period, price notwithstanding. Just because it's rechargeable and has a powerful3 motor doesn't mean it's worth the $93 price tag at Shevibe. It's just not. Hysterical fact: It's literally $1 more than the Jimmyjane Form 1 remote-controlled vibe (which also, naturally, claims to be the most powerful wearable vibrator because Jimmyjane) and at least the Form 1's remote tells the remote-holder what is going on. Granted, I have not tried the Form 1 and I feel pretty sure that the Sola Pip's motor will be more powerful than the Form 1 because obviously, but I'm just as shocked as you are that I had a good thing to say about a Jimmyjane product. I promise, that won't last.
My thanks to Shevibe for sending me the Sola Pip in exchange for my brutally honest opinion!
At first you won't believe that's where you shove the pin, but I promise, it is. And yes, afterward the silicone there does look "pierced" and different, but it's also still waterproof. I dropped the egg into a large glass of water while it was running and it escaped unharmed ↩
because of my vulva and the way I was sitting to use it like this, there was a decent amount of pressure put on the egg, ergo rumble-dampening ↩
yes it's powerful but slow down bucko, you're not winning awards ↩