L'Amourose Denia Review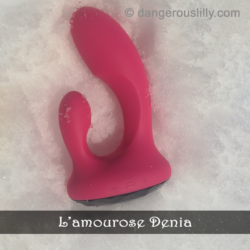 The L'amourose Rosa Rouge very quickly became a Top 5 toy for me for its rumbly goodness, intensity, and warming element that made clitoral stimulation with it awesome. The L'amourose Denia lacks the warming element but as a dual-stimulation vibe I actually still like it quite a lot – this doesn't sound like high praise but consider the source; I rarely recommend or use dual-stimulation "rabbit" style vibrators. Would I love the Denia more if the clitoral arm had the warming element? Yep. The added warmth that Rosa Rouge brings aids in blood flow and increases my ability to orgasm. Previously the Jopen Vanity VR6 held the position as "most loved rabbit vibe" for me, even though it wasn't perfect – the clitoral arm didn't hit me just right, and the clitoral arm was kinda clampy. The Lelo Ina 2 was okay but again the clitoral arm just didn't have enough oomph for me. But the L'amourose Denia has all of the rumbly intensity I need and something else I didn't think I needed – flex.
Flex and Shift
Normally I need a solid tool for internal g-spot stimulation because I need a LOT of pressure on my g-spot. This changes when the internal vibrations are very strong and very deep/rumbling like the L'amourose Rosa Rouge or the L'amourose Denia. Intense and rumbling vibrations on the internal arm was why I had a love-hate relationship for so long with the Vanity VR6 – loved the internal arm, hated the clitoral arm. And while, in the end, half of the time with the L'amourose Denia I need to use the internal arm externally to tip me over the edge, I don't think most people will have that "problem". If I had more patience (which I rarely do, these days) I could actually orgasm with the Denia used properly. It's probably the first rabbit / dual-stimulator that fits me properly because of the "Flex and Shift" action – meaning there is flex and movement at the base of both arms. Usually the clitoral arm is a branch off of the internal arm and the internal arm is rigid with no flex or movement. That's what makes the Denia different, and able to actually fit me comfortably. I did find that the clitoral arm of the Lelo Ina 2 was also more comfortable over the original Ina and the Vanity VR6, but the Denia still wins out with even more comfort and right-spot-hitting. And while there is a lot more flex to the Denia, overall, this doesn't mean it lacked pressure for me on the clitoral arm which I do need. It provided pressure, but not too much, with the ability to adapt to my body. The intense, rumbling vibrations inside stimulated my internal clitoral legs and g-spot more than most vibrators can.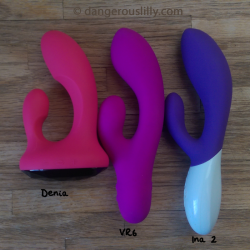 There is a bit of an oddity that comes with the Flex and Shift technology, something that may bother some people. The ability for both of the arms to flex, combined with motors so intense, leads to some vibrator "dissonance" in some positions – I've never owned the Jimmyjane rabbit-eared Form (I cannot keep the damn numbers straight) so I'm not sure if it's a similar thing or not. I don't feel it all the time but when I do it's kind of like using a subtle pattern. It's not exactly bad but it can be a little distracting for me sometimes. The L'amourose Tech Department explained it thusly:
Although variables of motor rotation can be controlled with electronics, motors are still physical machines and subject to several physical consequences. A key factor in the issue you cited has to do with sympathetic resonance, or in your case, dissonance. In simple terms, this means that one motor directly affects how the other behaves. This is further complicated by variances in vibration intensity, how you are holding the product, how the product is flexed during use, etc. We maintain the highest quality in all of the components of our products and assemble each one with care, however there is no way to control something like sympathetic resonance when using motors that are as robust as ours.
Like the L'amourose Rosa, the Denia sits on a faceted gem-like base to charge magnetically. Not so good if you have an asshole cat who likes to bat things and knock them over, but otherwise it's fine and I don't mind it. When it sits on a base, versus having a fob that must dangle and be subjected to gravity, it won't disconnect and stop charging. The battery on the Denia also holds a charge for a really long time; longer than Lelo does for me. I hadn't used the Denia since probably February and I pulled it out in June to start writing this review1 and it still worked like a champ.
Some people dislike the fat base/handle on the Rosa and Denia; for me it's a godsend because instead of having a longer handle that sticks out from my vagina and away from my arms, this base means I can easily reach and manipulate the vibrator. For my arthritic hands a fat base is also easier to hold. A lot of people dislike the buttons on the L'amourose stuff – they're part of the silicone skin and you only have slightly raised markings. There are no discernible buttons, and they're on one side of the base. For me this makes it a bit easier to avoid accidentally turning it off during use but it can be a bit of a pain to find and reach the buttons during use.  I personally allow such imperfections when the overall result is body-shaking orgasm – I don't make that statement lightly, but the L'amourose motors just do it for me.  The design of the L'amourose Denia, and Rosa/Rosa Rouge, is a part of why I love it so and why it's so comfortable for me to use. It simply works better for my body size and my limitations. You may not find this to be true.
But Oh My God The Price
Updated July 2016: L'amourose dropped the price, and it's now $169 at SheVibe, whereas Lelo has raised prices and the Ina 2 is now $189 at Shevibe.
Once again with L'amourose, I have to talk about the price and if it's worth the price. At Shevibe, who has a better price than Lovehoney, it's $199. This is a significant chunk of moolah. Only a few Jopen Vanity models are more expensive than the Denia. It's $10 more than the horrific Lelo Ida; $10 more than the disappointing, mild Lelo Ina Wave; and $50 more than the regular Lelo Ina 2. Even the now-dethroned Vanity VR6 is significantly less at $129. The vibrations overall are barely stronger than the Lelo Ina 2, but the vibrations are more rumbly and the clitoral arm has just that extra edge of intensity and rumble that I need (plus added comfort). The warranty on L'amourose is a little longer than Jopen and Lelo, it's 18 months whereas the former two are 1 year. From what I've found so far it seems that the build quality of L'amourose is superior to Jopen and Lelo. I've also had readers write to me complaining about customer service in regards Lelo's warranty department, and Jopen will always require you to mail them the failing vibrator for them "to check", on your dime, and it they may not even decide it's broken. All in all I've probably tried just under a dozen dual stimulation vibrators; I try to avoid them because most will not work for me. But the L'amourose Denia blows everything else out of the water. It's just that much better, for me, than everything else I've tried.
L'amourose Denia vs Lelo Ina 2
It's funny, reading over my review for the Ina 2 I wonder "why don't I use this more?" and then I go to turn it on after a few months and find it dead. Oh, that's why. The Denia sat dormant for 4+ months and still kicked to life, full throttle. I said that "the clitoral arm on the Ina 2 provides the proper amount of pressure for me and hits me in the right spot." in regards to the Lelo Ina 2 and it does have a lot of flex at the base of the clitoral arm. But the Denia has flex on both arms and this, for me, gives it a bit of an edge. Is this bit of an edge worth the vast difference in price? I think that if you prefer the traditional style of rabbit vibe where the handle sticks straight out from your vulva; if you need obvious buttons; and if you really really need to cut down on cost, get the Lelo Ina 2. If you need a little more power, a little more rumble, a bit more comfort? Go for the L'amourose Denia. 
L'amourose Denia is Great For:
Those who hate finicky charging cables
Those who need a lot of power and deep, rumbling vibrations
Those who hate clampy clitoral arms that don't offer enough flex to fit you
Those who don't require intense pressure on the g-spot
Those who sometimes want to turn off either the internal or external arm – Denia allows you to have only one running at a time
Those who like their vibrators to be waterproof
L'amourose provided me with the Denia long ago to review, but I was so blown away by the Rosa Rouge that I almost forgot about the Denia! Then life hit, and all reviews took a backseat. I can't recommend the brand more, as brands go. Get your L'amourose from Shevibe, they carry just about the whole line. 
yes, yes, I'm slooowww lately ↩