A Wolf in Sheep's Clothing
Author's Note: This post is continually updated as things happen so please be sure to read to the bottom for the latest updates.
I've been accused once of being a bully, and a mean girl, on social media because I dare to stand up for myself and other bloggers. At the risk of facing more accusations like that I'm writing this piece and bringing this situation to light because the further we dug the more it went from "weird" to "predatory".
In my research on glass sex toys I came across a scare-tactic article from "A Touch of Glass ®", a UK glass sex toy retailer. Much of their information is correct (the cheap mass-produced China glass items are indeed cheap and can break easily) but they take it a step further, warning folks that shady companies might use "window glass" and insinuating that the glass dildo can shatter to bits while in use. That's false, and it irks me.  Given that they sell many designs that are commonly found elsewhere in the industry from many companies, I have my doubts – one such design is known best in the reviewing circles as the Bent Graduate from Don Wands. It is replicated by EdenFantasys, SSA Glass, and dozens of no-name glass sellers on Amazon and even Etsy. Every version of that glass dildo that I have tested by polariscope has failed. Yet their company claim leads one to believe that one wouldn't find a dildo in their shop that doesn't pass a simple stress test: "To maintain such a venerable high standard, our glass dildo product range specifically excludes the cheap far-eastern imports of dubious origin and questionable quality, flooding the mass market these days."1
I don't follow this company on social media but I've seen them around and yesterday a photo they posted for #asswednesday, oddly enough, tweaked my Spidey Sense. I did a reverse image search and surely enough….there's the photo they used but on The Chive, a "bro" site that frequently does round-up posts of selfies from around the 'net. Then I did a reverse search on the avatar – and found that the unedited version is used on many adult dating sites as a "teaser" image for "some of their members". This same avatar image is also used for "Jenny Dillar" on Facebook who is listed as the Owner/Partner2 of 'A Touch of Glass ®'.  On Twitter recently a new employee was introduced..yet even her headshot is fake. Why even do that? When you read the "About" pages on their website which introduces us to three lovely women (Carol, Jenny and Lauren) is it said that LAUREN is the person controlling the Twitter account….yet Jenny's picture is used. It's all very weird and shady, isn't it? Now it could be that the photos that they are posting on Twitter and Facebook are really this young woman who also submits such photos to Tumblrs which causes them to get picked up and used without credit by these many adult dating sites, porn sites, and The Chive. It could be. I'll allow that possibility to stand. But it is my opinion that that isn't the case, that they have plucked these photos from the web and use them as their own. Their tweets and commentary on the posts when they share the photos usually insinuate that they are saying the photo is of them, "Jenny" or "Lauren" or whoever. 
Even if these photos are real…this is pretty unprofessional. It feels a bit odd that a retail shop would allow their social media manager or even a company partner to flirt, approach others for photos, and share personal risque photos of themselves on a company account. Of course, this might be something they think they need to do to stand out from the crowd of adult retailers. Since the website claims that Lauren is running the Twitter account they also fill us in on how Lauren is a model3.
No stranger to yoinking photos from the 'net, 'A Touch of Glass ®' is also using a random image of Jennifer Lopez on their homepage. I've got a feeling they're not paying to use her likeness.
But the real owner of 'A Touch of Glass ®' isn't hard to find. When I was asking my fellow bloggers if they were as weirded out as I was, David over at The Big Gay Review did a quick web search to find that ESHOPS (UK) owns 'A Touch of Glass ®' and that the owners of ESHOPS are David Mattocks and Janet Mattocks4. As David (Big Gay Review) puts it the "information is from Companies House – it's from the UK governments business registry – so that is who owns ESHOPS, which in turn runs A Touch of Glass ®." and this is public knowledge. Updated Info on this: It seems that they stopped doing business as A Touch of Glass last year, and now just operate as EHOPS, which Jessica pointed out to me last night. Neither place seems to show any employees, but I'm not certain one would have to report that in this manner? I'm not 100% that regular employees are shown on this site. Also note that ATOG was registered to: David Mattocks 44 Rectory Avenue Corfe Mullen Wimborne Dorset, his home address. He probably dissolved this when he ran for Town Council or whatever it's called.
I haven't had tests run on their glass pieces yet5 but my suspicions are strong that their glass isn't what they represent it to be. And them using fake photos and creating what I speculate is a fake persona for social media isn't criminal or anything more than weird, but things make a quick turn into predatory when I am told by no less than four reviewers that they were privately asked to send over explicit video of them using the product, in exchange for being sent the product for review. Luckily the bloggers who revealed this did NOT send this person their explicit video but I fear that others might, or already have. Here is the account of one blog reviewer who would like to remain anon for now, and I'm sharing this with her permission:
I was messaged via Twitter asking if they could send me products… in exchange for a VIDEO for the 'VIP section' on their site. I have no idea what or WHERE this 'VIP area' is. I said no and avoided them for a while. I have since reviewed for them (quite recently in fact) with no issues, but I know they are still (over a year on) unsolicitedly asking people for videos in exchange for toys and I just think it's kind of, well… icky.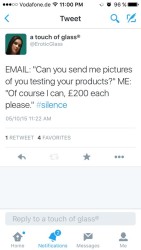 This "VIP Section" is referenced when you view the "About Lauren" page on their site, they say that Lauren is running it. But it sounds like they have been asking this of reviewers for many months now with no VIP section coming to fruition. I don't take kindly to my troupe being taken advantage of, and that's what this seems like. It's my opinion that the UK glass sex toy retailer 'A Touch of Glass ®' selling at theglassdildoshop.com cannot be trusted by reviewers OR customers. A Touch of Glass ® appears to be misrepresenting the identity of the person running their social media networks, causing people to assume they're speaking with (or sending photos to) a young woman when it fact it could very well be they're sending them to an older man. When they use this misrepresentation of identity to make other people feel more comfortable about sending them explicit photos, this feels predatory. This feels wrong. It doesn't feel like a company I could ever recommend you to trust, and that's why I've decided to write this post. I can't not tell you what I've found, so that you can make up your own mind based on that, versus the smoke and mirrors the company has apparently laid out.
I have not approached the company privately, because we are not connected on social media. If the company would be interested in replying and clearing the air here, they are welcome to do so. If my speculations and opinions are wrong, and there is a more honest situation going on here, I'm very willing to publish their story. I would have gone to them first if it were merely about the fake photos but once I found out that they had asked many reviewers to send explicit video (something I have never had ANY company ask me for) I decided that my speculations and opinions, and the information from other reviewers who may comment here and share, warranted public light. You can make up your own mind if you want to do business with this company, whether you are a reviewer or customer. I wouldn't, and that's my opinion. The image just below is a screencap of the account runner offering a mere dildo as payment for an explicit video.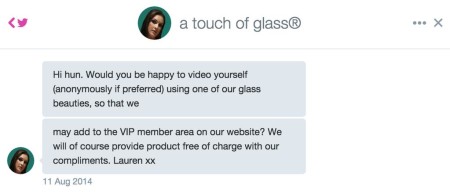 Readers and bloggers, does this information change your level of trust of this company, or any company that might do this? Have you ever seen these actions elsewhere by another company? Have you had any interaction with this company that strikes you as unprofessional, or troublesome? If you'd be willing to share your story but do not want to do so under your blogging identity feel free to use Disqus anonymously and I will make sure it's published, and your identity won't be shared by me.
UPDATE: Shortly after this post went live the @eroticglass Twitter account was made private. Those who are Twitter friends with the account say that some of the photos I called out above as being fake are now gone. The Jenny Dillar fake Facebook account is gone, however Jenny lives on still (for now) on Google Plus and Linkedin. The actual website for the shop used to list David Mattocks as the site designer and linked to his personal page, but they removed that as well, you can see the image below though that shows it was there. There is also a screencap of a little interview talking about "Carol" and her "friends Jenny and Lauren" starting A Touch of Glass. The entire story seems to be a fabrication. I wouldn't expect this company to last much longer, as David seems to sell his businesses all the time. The detail someone else commented about below, matching car photos both about being in Colorado on the same day from David's personal FB account (the post is public, btw, but I obfuscated details just because I'm wary at this point) and the ToG picture is shown, screencapped before they locked their account down. Speaking of Jenny's G+ account – I can't see much, but I can see two other photos that, judging by the filename (Jenny250) and their use on her page seems like they're claiming it's Jenny…despite that face looking nothing like her profile picture. A reverse image search found it being used by a Mary Thompson from Michigan on a Moms page; later on someone named "Jenny D" used it on a moms group page when the talk turns to "sex toy testers" re: Lovehoney.
Update 2:
Day 2 after the post went live, there are new "closings" and changes. The Google + page for Jenny Dillar no longer has that fake profile photo.  The Twitter account that was made private in the hours after the post went live is now completely gone. The "About Carol/Jenny/Lauren" pages on theglassdildoshop.com site have been taken down, but we have screenshots. Other websites and Twitter accounts also owned by David Mattocks, like "Amelia of Mayfair" are now gone.  Kara found this page which talks about the businesses that David Mattocks runs; judging by this I wouldn't be surprised if they close down A Touch of Glass and start a new one up in a few months or a year. Below are more screenshots of things now missing, or just more information as it's found.
Also, David Mattocks has yanked his personal davidmattocks.com site which was pretty much just a page of pompous bullshit, no major loss. He seems to not understand that 1. The cat is out of the bag and 2. Erasing Twitter accounts, web sites, and pages from websites doesn't erase them from the Internet Archives, doesn't negate our screencaps, and doesn't hide the fact that he runs the business and ran with this predatory deception for so long with A Touch of Glass.
UPDATE 3: I received an email from a very shaken-up UK woman who wanted to remain anonymous, as she no longer is a sex blogger, but she grew to trust the person running the Twitter account. She was talked into sending them video, and she did. She received video too, claiming to be Jenny, but she never viewed it. She was sent nude photos and sent photos in return, until one day when David Mattocks slipped up pretending to be Lauren: "I swapped some photos over DM again just last month but then a couple of weeks ago she messed up, I then realised I had been sending photos to someone who was lifting photos from sites after a photo was sent to me with a message and then the same photo but cropped and the same message was sent again, they obviously didn't realise that they could delete the photo and message but I would still see it. I saw the Uncropped photo which was from porn hub of a Caity Minx. I felt thoroughly used, disgusted at myself and like a total idiot now I feel more of one. I spent so long tweeting this account in a normal way that I wasn't suspicious when things were approached in a business way with a bit more of a fun twist shall we say."
Another blogger tried to email Lauren and has received back an error message that indicates the email account for Lauren has been deleted.
Becks sent me her Moody Blue glass dildo to run my home polariscope test on. While the upcoming glass test post is a bit of ways off, this much I can tell you now: You do NOT want to see rainbows. Rainbows means not annealed. Not annealed means it was made cheap and fast, and most certainly in a China plant. They tried to claim to one person that the glass dildos they source are hand made in Germany. I think not!!! A Touch of Glass / theglassdildoshop.com specifically has warnings all over their site about cheap China glass, with assertions that THEIR products are not. Are we surprised that they've outright lied? Customers, you have overpaid.
Update 4:  Another blogger contacted Jenny, Lauren and Support emails to request their affiliate balance be paid out – emails to Jenny and Lauren bounced, naturally, but the Support email went through. They did not receive any response, but DID receive a payment of the balance of their account. If you are an affiliate of A Touch of Glass and would like to cease your relationship with them, it seems they are honoring requests to pay out and close out accounts – albeit silently. Any attempts at emailing David Mattocks have gone unanswered.
Update 5 / November 8th: It was brought to my attention on Twitter that A Touch of Glass is BACK on Twitter as @PleasureGlass now and is right back to trying to solicit videos this time under the guise of instruction girls to be "information" rather than "pornographic"….but still explicit. Right. ALSO: Within mere hours the Twitter account went from private (but not before blocking all bloggers involved in this post) to deleted.