A Brief History of Sex Blogging
Introduction
I'm trying for as much brevity as I can get here which, admittedly, won't be much. The world of blogs about sex (as a general umbrella term) were varied and niched and I can't possibly cover everything. In fact, I might very well be unintentionally leaving out crucial stories. That's where I hope you will fill things in in the comments section. Sex blogging as we know it seems to have gotten off the ground around 2002, 6 years before my start, which was 6 years ago in 2008. My point with this piece is to illustrate to my current niche how WE got to where we are now with sex toy reviews, sexuality conferences and this tumultuous but awesome community.  You'll see [tooltip tip="Extra info!"]this "tooltip"[/tooltip] characterized by the dotted underline; clicking on it (mobile or regular) will provide more info without making this post seem to scroll on forever, so don't overlook them! Also check out the links, they often really help to further explain things.
The First Sex Blogs
One can argue that the first blogs about sexuality happened on Livejournal. The group that I can follow back through this history, though, was primarily on blogspot and things seemed to start roundabout 2004.  Sheboppin' can recall LiveJournals that were like what we know as sex blogs today (and a few even got toys to review as early as 04 or 05).
There were websites for porn and of course Literotica, but the personal "sex blog" as we know them seemed to have been born mostly on blogspot, but some self-hosted too. Tiny Nibbles, Violet Blue's site, has been around since 2001 but I'm not sure I would truly call it a sex blog….although some would. Erosblog, run by Bacchus, started in 2002, is primarily a mash-up of aggregated sexy photos and commentary on sexuality things of all types1. I believe this is the first thing that can be considered a "sex blog", and he recalls being the first to use that terminology.  Susannah Breslin with her Reverse Cowgirl site came shortly after Bacchus started.
ETA: I was off by a few months! Reverse Cowgirl came first, but as Bacchus said, we're not sure Ms Breslin would consider her site a sex blog. Do you?
Susannah wrote a short note here, and then someone else chimed in about a blog going back to '99!
.@susannahbreslin @ErosBlogBacchus @dangerouslilly my blog linked to Debra Hyde's Pursed Lips in August of '99. Mouthorgan in February '99.

— Dan Lyke (@danlyke) April 4, 2014
A lot more personal blogs started around 2004. Famous "sex diary" blogs like Girl With a One Track Mind and Belle Du Jour didn't seem to start until 2004/2005.  Those of course are some of the more famous ones, as they were made into books and even a tv show for the latter. There were sites about sexuality, but the blogs tended to be more personal. Erotica or sex diaries seemed to be the most popular and the most celebrated thanks to the Holy Grail of Traffic: Fleshbot's Sex Blog Roundup that was aggregated in the beginning by Violet Blue and Bacchus.  The growing boom seems to have continued through and peaking at maybe 2009.  Early icons included [tooltip tip="AAG later on,  Laura –@_Laura33_ on Twitter and website designer to the e-famous–now"]AlwaysArousedGirl[/tooltip]  who, by 2008, had the most popular personal blog *I* knew of – if you weren't on her radar, you [tooltip tip="At one point she was half of the Fleshbot Sex Blog Round-up duo, she also worked on Janesguide reviewing blogs and sites. Not to mention her blogroll was the most extensive around and was a listing of anyone and everyone who mattered"]were toast[/tooltip].  Sam Sugar, [tooltip tip="At one point it looks like he was running 7 different sex sites, including porn for PSPs and a podcast called Podnography"]entrepreneurial[/tooltip] spirit that he was, started his site in 04 and in 05 the project that birthed many to this day – Sugasm. In the summer of 2008 blogspot/Blogger started [tooltip tip="this seems so minor now compared to what they started doing last year, which was deleting people who had affiliate links"]cracking down[/tooltip] on adult blogs by forcing a warning screen to pop up first. This was annoying at best, and ruined your stats trackers at worst. A number of people made the move to being self-hosted, including me. I was self-hosted probably less than 3 months after I first started.
So many blogs that popped up in 2005-2008 no longer exist. But some of the more popular ones in their day are still around: Sinclair Sexsmith, Viviane's Sex Carnival site, Alex & Suze who created a number of [tooltip tip="I inexplicably got banned from ALL their lists and directories at some point a few years ago. I inquired many times, but no one would ever respond to me so I don't know if they're just unprofessional or if the site runs itself now without them touching it"]directories/"top lists"[/tooltip] such as AdultBlogHub. Essin' Em who is now known as Shanna Katz, Sabrina Morgan, and Audacia Ray of Waking Vixen are perfect examples of early bloggers who made a career out of their blogs but are now sought-after speakers, educators, authors and activists.
HNT and Sugasm
Both of these seem to have popped up roundabout the same time period (05/06). I became fed up with the eye-rolling that seemed to just persist towards sex bloggers joining in [tooltip tip="HNT, Half Nekkid Thursday, was started by a man who had absolutely nothing to do with the sex blogging world. The people who first joined in were not aiming for the prize of Most Sexy each week. At some point though the sex bloggers found out about it and found out that it was a great place to get new readers and show off their perpetually horny selves. It was a simple system, there were no link lists but there were a lot of comments to go around – the hotter you were, the more comments you received. The person who ran it each week simply created a post every Wednesday night and people commented with the link to their post."]HNT[/tooltip], so after 2 years of participating in the epic-ness that was HNT I branched off and created something new – Wanton Wednesday in 2010. Wanton Wednesday inspired Sinful Sunday to come up a year later, and then when I decided to hang up WW, a bunch of other weekly memes cropped up. 
The mysterious (to me) Sam Sugar had the idea in 2005 of sharing links between blogs in a new way – not just a sidebar link, but a link to your best post of the week, and everybody who participates shares the list. Originally titled Bloggasm, it quickly grew big enough to be its own thing and he renamed it Sugasm. The format changed as the participants grew, and soon it was the [tooltip tip="With Sugasm, though, it was weekly, and all participants had the chance to vote. Weekly!!"]format you're familiar with[/tooltip] now in e[lust].  Sam didn't seem to last more than a few years after Sugasm got off the ground; he had had bloggers like Sabrina Morgan and [tooltip tip="Vixen was completely running Sugasm editions for a few years on her own after Sam disappeared eventually in 08."]Radical Vixen[/tooltip] doing the hard work on Sugasm for him.  When Sugasm started to become less reliable and less frequent, due to understandable burn-out and life, Vixen decided to hang it up. I knew how important Sugasm was and so I started my own – e[lust]. I made a [tooltip tip="Some changes I made were to not include sex toy reviews, since they were becoming more prevalent–plus a digest just for reviews existed–and to not allow commercial/porn sites or posts just meant to promote/sell something–to participate. This made the digest more palatable to most, but cut back on the traffic spikes everyone would see."]bunch of changes[/tooltip], but kept a lot of things the same.  Pleasurists, the first weekly digest for sex toy reviews, came out late 2008.  Since the demise of Pleasurists, we've seen various other ways of carrying the torch including other digests and even entire sites (which also sadly died off).
The First Sex Toy Reviews on Blogs
I've found evidence of sex toy reviews (as we know them currently) on blogs going back as far as 2005 2. Perhaps, depending on one's definition of a sex toy review, this post at Erosblog could be considered the first – Bacchus was sent some vibrating products and told his readers how they worked out for him. At the heart of the definition, that could be considered the first. But for years, they were few and far between, of course. Slowly by 2006/2007 they ramped up a bit more. EdenFantasys and Lovehoney had community reviews that happened onsite, but EF also was doing blog reviews as early as 2007, and the blogs were decidedly of the "sexy sex blog" nature – they had the traffic. AAG probably did the very first blogger giveaway in 2006 with a giftcard to a porn site. By the time I started in 2008, it was right on the cusp of explosion. Vibereview.com was the company willing to send me stuff when I was only a month old, and seemed to be the company most often sponsoring reviews that summer in addition to Babeland.  I feel like I did a lot of sex toy reviews for the first 3 years in contrast to my other posts, and there were a number of other bloggers getting in on the reviews but it still was nothing like it is today with many blogs mostly dedicated to sex toys. I think I found the earliest example of a mostly-review blog here, started in 2006. Since the sexy sex blogs ruled supreme, it felt like you were really expected to incorporate the sexiness into your review for the sake of your readers. Reviews written for the consumer, more professional sounding reviews, weren't popular until 2009 it looks like.
The giveaways were so limited.  SO. LIMITED. And of course unless you were super popular, the giveaways weren't as popular because Twitter, when it was first available, wasn't the massive thing it is now.
Bloggers Building Community – Conferences and Parties
2008 seems to be the year that sex bloggers really started meeting in person.  Sex 2.0 was the first sexuality conference (run on a version of the "unconference model"), originally created by Amber L. Rhea, and first happened in April 2008. Sex 2.0 continued in 2009 and 2010, the host city & conference organizer changing with each conference. Fall of 2008 had the NYC Sex Blogger Calendar party, started by Tess Danesi aka Urban Gypsy with her friend [tooltip tip="You now know her as Dee Dennis!"]Debauched Domestic Diva[/tooltip] as a way to do something good in the NYC blogger community (which had recently seen a lot of scandal), with proceeds going to a sex-positive charity. The first Sex Blogger Calendar party was mostly a NYC blogger thing, with a few out-of-towners attending the party that fall. It grew to be more national in [tooltip tip="Technically of course, the Calendars were 2009, 2010, and 2011 but the release parties would happen the November of the year prior which is why I list 2008-2010, since I'm focusing here on the events that brought people together"]2009 and 2010[/tooltip], with more bloggers coming in for the event.  After attending the panel "Sex in America", Tess, with the help of Dee under their company Tied Up Events, had the idea to [tooltip tip="From the Momentum.com site: Momentum is being presented by Tied Up Events, the NYC based sexuality event planning company founded by Tess Danesi and Dee Dennis.  Tess who has blogged extensively about sex and sexuality, written and published erotica, now teaches sexuality workshops.  In 2008, abetted by Diva, she conceived the NYC Sex Blogger Calendar whose editions raised funds for Sex Work Awareness"] create a conference[/tooltip] around the topics discussed in it. MomentumCon happened in 2011 and 2012 in DC. Tess moved on to other projects, like the Woodhull Alliance, after the second MomentumCon, and Dee changed the name to Catalyst, putting it on east and west coast for 2013 and 2014. Not the only conferences on the block, there is also the Playground Conference in Canada, and Woodhull Alliance Sexual Freedom Summit conference in DC. All of these conferences have built a community that transcends the limitations of the web, fostering friendships and bridging the gap that can exist when you only speak via text.
Sex 2.0 really started bringing the community together in the flesh and has indirectly resulted in what we experience today. You can see from looking at the site in the Wayback that the sessions are not much different than what we currently see – we still need and want to talk about many of the same issues from 2008 through 2014.
Share Your Stories
Am I really the best person to be writing this post? No; I only started in 2008. This post would have been much richer in detail had it been written by someone else, but I'm what you get because I'm the only one crazy enough to tackle it3. I did pick the brains though of The Former AAG, Bacchus, Ellie, Shanna, Tess and Amber Rhea – without their help I would be a lot more clueless. I've had to gloss over and sometimes leave out entire swaths of history.  This really could be a book, but I'm not a book writer. I've left out a lot to focus more on how we got from Violet Blue & Erosblog to sex toy giveaways galore and flying cross country to hang out at conferences. So I remind you again that if you have stories to tell that will help fill in and round out this history, please share with us below. Every bit is fascinating. I can't tell you how many hours I lost to picking my way through the Internet Archives of old sites long gone or just viewing the old school designs.
ETA:
There's been great discussion on Twitter, so I'm saving all tweets related to the discussion on Storify: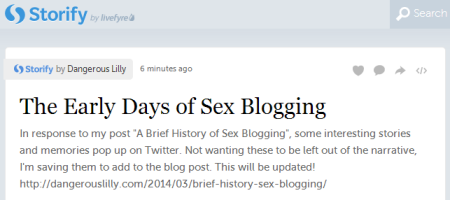 You really should also check out his 5 yr anniversary and 10 yr anniversary posts ↩
Bacchus wonders if this page on Violet Blue's site can be considered as such, but it seems to be more of an education piece to me ↩
I think I'm starting to get a reputation for that "Oh that Lilly….she tackles the craziest shit. And man, she's wordy" ↩