Throwback Thursday: The Magic Wand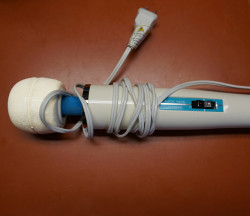 The Hitachi Magic Wand was one of the first really powerful sex toys I reviewed. Except that it's not REALLY a sex toy, it's a back massager. That's what Hitachi thought, until they caved and let Vibratex distribute it instead but with a rebranding of removing the "Hitachi" because they were so ashamed of its fame.  I loved the Magic Wand for awhile. It was cumbersome and clunky, but sometimes I really needed that power boost in order to orgasm.
Nearly 6 Years Later Update…
The more vibrators I try, the more I learn. I learned that although the Magic Wand is certainly powerful, it's not the *right kind* of powerful for me. I've found that what I need is vibration that travels deep and vibration that is rumbly, instead of buzzy. The Magic Wand is pretty buzzy, but you don't really notice that because of the sheer power. However when you compare it to the deep, rumbling penetrating vibrations of the Lelo Smart Wand Large (not the Medium), you'll see what I mean. Even the attachments originally made for the Magic Wand, but various companies, perform better with the Smart Wand because the deep, rumbling vibrations travel better. I've also found that the head of the Magic Wand is incredibly difficult to clean, when compared to the smooth silicone of the Lelo Smart Wand or even the silicone of the Vibratex Mystic Wand – although the ridges on the side of the Mystic Wand do present a few issues now and then. Also, as much as I disliked the Fairy Wands, I found that the variable speed options on them made for a better arrangement than the Magic Wand's two speeds.
5+ years later I find that I haven't touched the Magic Wand in at least a few years (except to use as comparison during review research). It's gathering dust, because better vibrators have come out – smaller, lighter, less noisy, rechargeable. I find that I actually don't need the extreme intensity of the Magic Wand if I can instead have the right kind of vibrations. I found that right kind, and it's perfectly at home in the diminutive We-Vibe Tango. These days I stick firmly to my little We-Vibe Tango, actually. It is used 90% of the time.  For someone who prefers the broad sensations of a "massager style" vibe, though, I'll recommend the Mystic Wand first, and if you have the cash to plunk down, the Lelo Smart Wand Large. The Smart Wand has mixed reviews when it comes to longevity, though, so really make sure you use the hell out of it during its first year and don't hesitate to contact Lelo if ANY hint of a problem arises.