Glass Dildos: The Curved Joy Flower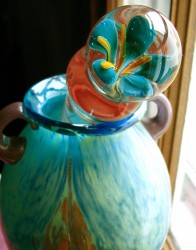 I've owned a few glass dildos in my time; my first one was a bit of a let-down, as it wasn't as heavy as I thought it would be. My second one was even more of a let-down, since it looked nothing like the original photos on the seller's site and the new design left a lot to be desired. Then I received recently the Curved Joy Flower from MyPleasure for review. Made by a company called Joyful Pleasure, it is a handmade glass dildo yet still mass-produced.
The upside to handmade glass dildos:
They're a lot like snowflakes – no two will ever be exactly identical
The downside to handmade glass dildos:
The variances can sometimes vary wildly from the manufacturer's listed specs. This can mean size or color or decorative work.
The Curved Joy Flower is a solid, and pleasantly hefty, shatter-proof glass dildo. [Check out the properties and proper care of glass dildos] The pretty flower that is inside the double bulb end is quite beautiful to look at – I love the 3D design of it. All in all, the design and color of this are pretty close to the photos I've seen on MyPleasure and the manufacturer's website. What was different, however, was the size. Luckily for you, the retail sites accurately portray the sizing of this: which is a max width of 1.5″. That size is only at the bulged portion of the tulip-shaped single end. Is there anything really wrong with 1.5″? No. But when you visit the manufacturer site and go by their measurements (less conscientious retailers will likely use the manufacturer's measurements without doing any research themselves) they claim that the dildo is 1.75″ wide. A quarter of an inch in width translates to a lot more noticeable girth than you might imagine. For some, especially when you're dealing with solid materials like glass, 1.75″ wide is going to be too big. I had been hoping for the larger size and so I was a little bit disappointed.
It was pointed out to me that this is what you get with handmade glass sex toys – diversity. Since there is no mold, they can't be identical. But when you're expecting 1.75″ wide and you get 1.5″ wide…..well, that's a let-down. And if you were expecting 1.5″ wide and got 1.75″ wide? That would be an unpleasant surprise for most. After I received this glass dildo for review, I purchased two on my own (which I'll review in the future) from another company and found the same problems: The sizes were different than the specs. Both were smaller than what was listed. Why is this happening so much? Is it because (and I hate to sound like I'm all "down with China", because I'm not entirely) they are handmade yet still mass-produced in China? Would we get more consistency in the sizing and quality from a smaller company like Crystal Delights?
Well anyways. Moving on to the dildo itself. It's pretty, it's nicely hefty but not overly so, and has a dual-ended thing going on so that you can choose the style that suits you best. The gentle curve on the shaft is generally good for g-spot stimulation; using the stacked-bulb end for thrusting would add extra stimulation for your g-spot. Overall there's nothing really "wrong" with this dildo (other than the sizing issue). For me personally it doesn't trump the g-spot prowess of the Pure Wand but at half the price this is nothing to scoff at. The Curved Joy Flower that I received has an orange-ish red spiral in the shaft and the tapered bulb, and a teal-with-yellow flower in the bulb. Women who don't like a lot of bumpy texture would enjoy this glass dildo, but women who don't like things catching on their pubic bone might encounter issues with this if they also prefer slimmer dildos. I had no problems with it.
My only real complaint is that while the packaging for it is pretty it isn't meant for storage and they don't include a padded pouch, or a pouch of any kind. Storing your glass dildos in a protective cloth pouch is absolutely essential to maintaining a safe, chip-free sex toy. The packaging is a nicely designed cardboard box and the glass dildo is in a plastic mold. Throw away the plastic part and the box is quite a bit bigger than the dildo so that's why I say it's not ideal for storage since it's a pretty big box.
Product received in exchange for an honest review.