This is possibly the easiest sex toy review I'll ever write.
Why?
Because I've basically already reviewed this toy before. Twinsies much?
Despite the differences in the size as listed in the descriptive reviews for each of these two bullets, both the bullet and the handpack are exactly the same size and shape. If I had to find a difference, the cord on the Black Magic Bullet is 1/2″ shorter. Otherwise, they are both plastic bullets with 4 settings and they light up the same. The Harmony Bullet is shiny, slippery plastic while the Black Magic Bullet is "velvet cote" plastic. They both take2 AAA batteries and the bullet motors are almost identical.
Almost.
But you know what, I cannot tell you that it's definitely a difference between the two over all. Perhaps just between my two. If you gave me two Harmony bullets I might notice the same difference. The Black Magic Bullet, when it's just buzzing away untethered in the palm of your hand, sounds a bit louder. When the bullet is grasped for use, however, they both seem the same. Not near-silent but under your comforter it's pretty quiet.
There's one major difference: The price. For some reason the Black Magic Bullet, as of this writing, is a full $6 cheaper than the Harmony Bullet.
When I first reviewed the Harmony bullet I didn't feel that it was the most powerful bullet I'd owned. While both of these do nail it perfectly on the vibration pitch for me (lower, rumbly) I think I was too quick to judge. There has been only one other bullet that was more powerful AND cheaper, but it hasn't been in stock for a long time and I don't think it ever will be again (the Vital Bullet). Both of these Doc Johnson bullets have something that the cheaper "silver bullet" handpacks don't – 4 discernible vibration intensity levels. And because of the rumbly pitch of the vibrations I have actually been able to orgasm on the 2nd setting (and once on the first!!) when I was extremely aroused and had had it tucked against my clit for awhile watching porn or reading porn or something.
If I were forced to choose just one to recommend I'd pick the Black Magic, and not only because it's cheaper. I quite like the velvet-cote that's on both the bullet and handpack. It seems to look cleaner after use for some reason and I personally just think that the black velvety look is more visually appealing. Either way you go, though, I truly do highly recommend either the Black Magic or the Harmony (but make sure to get the Harmony in black).
Thanks to EdenFantasys for letting me try this one out!
The Fine Print:
Not to be used anally
If you use it vaginally, please put the bullet in a condom for easier retrieval to extend the life of the cord
Follow cleaning instructions for plastic
Read More
All text and images on this site require permission before they can be used anywhere. To obtain permission click here to contact me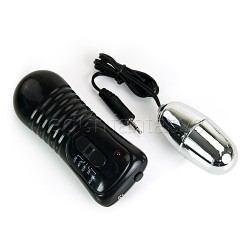 One of my favorite sex toys to review are remote-controlled bullets. Well, calling them "bullets" is a bit of a misnomer, I guess. They're usually egg-shaped. But I digress.
There's a big reason why I love bullets: I can nestle it in between my labia and sit there, hands-free, enjoying the vibrations as they rumble on my clit. Mostly hands-free. Most bullets, most of the time, require my help to climb that last hill to orgasm by pressing it and holding it to just that right perfect spot on my clit. I've found that, for me, price has no bearing on whether or not a vibrating bullet will get me to orgasm. It's all about the speed and type of vibrations.
The Vital Bullet is probably about as cheap as you can get. And about as powerful. It's not in the dreaded "high-pitched buzzy" camp of motors that can leave me itchy rather than aroused. On it's top speed it might very well be entirely too powerful for women with a sensitive clit. It's made by WHK GmbH which means……absolutely nothing. The packaging is a cheap plastic blister pack with a cheesy half-naked girl on the insert card; there's absolutely no brand name visible on the packaging. The package tells you the very basic details: "quiet", "4-speed", "powerful" and "100% waterproof".
This bullet has an odd feature – the bullet can unplug from the top of the remote pack. I suppose this could come in handy if it were a name-brand bullet and you could purchase a replacement bullet-only (since that's where all the wires that can come loose, reside) but for the low price of $9.95 for a brand new one?….why would you bother? If I had any other remote bullets with this plug feature I'd test to see if they're interchangeable but alas, I do not. I've only found one useful reason to unplug the bullet from the battery pack – if it's not plugged in, then it can't be accidentally turned on should you find yourself in a situation where you're traveling with it and don't want it accidentally turning on (and you also left the batteries in).
The cord is a mere 20″ long. Most other bullets I've owned have a cord around 30″ in length. 20″ is pretty short, especially when one is using it the way I tend to use bullets – tucked into my panties, the cord coming out my waist-band and the pack shoved into my front pocket. The control pack is elementary. A slider that clicks along 5 positions: off, low, mid, high, super. "Mid", because it's a thrummy-lower-pitched motor, has actually gotten me to orgasm if I'm super-aroused. "High" is perfect when I need a little more oomph. "Super" is a setting I like but I cannot leave it on this setting once I start to orgasm, it's just too much. Yes! I said something is too much! (see: Am I becoming more sensitive?? for more info) The actual bullet is about the same size as most other ones I've tried like the Bnaughty. It's a bit noisy but then again, many bullets are. If you're trying to discreetly use this in a silent bedroom….forget about it. Under the covers though? Nestled under panties and jeans? Doable.
The pack also has a singular red light to let you know it's turned on. Easy to cover up if need be, doesn't make the whole hand pack glow like the Harmony Bullet. It takes the standard 2 AA batteries, fits nicely in the palm of your hand with the slider bar in just the right position.
I can't believe I'm actually saying this but……
I'm recommending a $10 sex toy from a no-name company with terrible packaging.
When you get down to it, though, bullets are one of the very very few sex toys that fall into that range that one can safely recommend. I suggest you buy two, because lord knows how long it'll last. My Doc Johnson Harmony Bullet has actually been my go-to bullet these days so I've not put this one through the ringer. At $10 though it's no hardship to replace once it does crap out.
Thanks to Edenfantasys.com for sending me this (way too long ago) to review!
Read More
All text and images on this site require permission before they can be used anywhere. To obtain permission click here to contact me
Posted by Lilly | 4 Comments
Another sex toy, another quest. This time I continue on my quest to find a bullet vibrator that offers the intensity and vibration frequency that is ideal for me, while being good quality so that it'll last longer than 6 months. This makes my 9th bullet vibe (the kind with the remote handpack) and my 5th in the "higher quality" style.
The higher quality bullet vibes have these features:
Little plastic/rubber nubs where the wire goes into the handpack, the bullet or both. This protects and keeps the wire from being pulled away from the contacts inside
Multi-functions – while I don't give a hang about pulsing functions, some do
An overall better design – lights on the handpack, interesting colors, etc. It's not a plain silver bullet and generic handpack.
Usually I have found that the higher quality bullets lack one of two very important things (for me): Intensity of the power of vibrations, or the proper vibration frequency/pitch. Many women, myself included, will prefer the lower pitch vibrations as opposed to the higher pitch buzzy vibes. The Harmony bullet nails it on the vibration pitch, and with fresh batteries has the power I need. Yes, fresh batteries. The handpack takes 2 AAA batteries and really eats them up quickly.
The Harmony Bullet Vibrator is named as such just as a marketing gimmick. There's nothing special about it.  The box calls it a "Balanced Bullet" but again it just seems to be a marketing term. They offer a black and a white one, the packaging calls them ying and yang but it's not like there's any difference between the two other than color. The control is a push-button style of sorts, as opposed to a slider or a wheel. There's 4 levels of power with the lowest being very mild. No pulsing functions. I don't like the lights, as it tends to light up the entire handpack (at least for the white one, I dont know what the black one is like). I also don't like that it takes AAA batteries, as I don't keep many on hand. It's all one color, smooth/shiny plastic. I'll update in a few months if this holds up better than all the "silver" tone bullets I've owned which tend to have the silver rub/chip off after some months of use.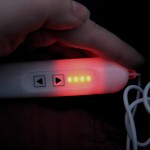 Despite the lights (which I plan to cover with white electrical tape) and the use of AAA batteries, I quite like this one. It is not THE most powerful bullet that I own, but it's got enough oomph to matter to me. Simple and not tacky. Added bonus of the rubber wire-keepers means it'll hopefully last longer.
Thanks to Edenfantasys.com for providing this for me to review!
Read More
All text and images on this site require permission before they can be used anywhere. To obtain permission click here to contact me