Je Joue Bullets Review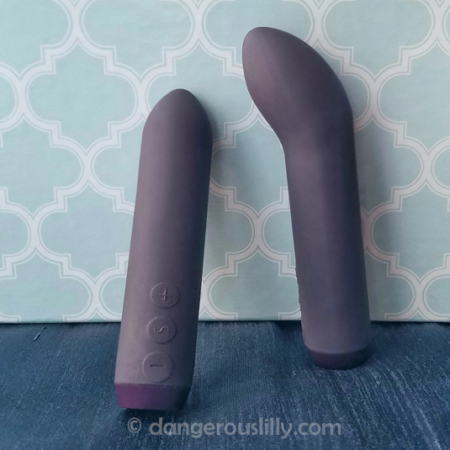 When I first saw the new Je Joue bullets I had two thoughts. First: Oh god, more bullets. Second: Well, it's Je Joue and except for that other extremely unfortunate line, I've really enjoyed every vibrator of theirs that I've tried and tend to recommend them highly. Also: that teaser video they put out for them where they did the water-displacement trick gave me hope – while they didn't fight fair and compare their bullet to something actually comparable like the Tango, I did recognize that particular "style" of water displacement, the cue for "rumble and power". So I reached out to Je Joue and eventually, a very nice rep said he'd send me the whole line which pleased me greatly because you all know how much I love to compare and contrast. After putting 2 of the 3 Je Joue Bullets through their paces I feel ready to recommend them!
A Play in Three Acts – Je Joue Bullets
Did you notice that I said "2 of the 3"? They sent me the whole line but I knew I wouldn't like the Je Joue Rabbit Bullet because I hate "ears" on my clitoral vibrators. Yes, I love pinpoint stimulation – on one side. Whether they are ears or rigid prongs I've just never been a fan. I can tell you why I dislike ears easier than why I dislike prongs but it boils down to this: there's no motor in the ears. They're just fluff. They vibrate as wobbly antennae, protruding away from the motor and are therefore never rumbly or powerful enough for me and they crumble to nothing when smothered by chubby labia. Folks who need a more subtle approach tend to love them, though (if this is you? get the Rabbit bullet).
There was a bit of information noticeably missing from their early promos; info I find crucial: They took the idea behind the Mimi Soft and built that into the bullets. The tips are squishy! Folks who hate hard, rigid powerful bullets will really love these. The Je Joue Classic Bullet has a moderate amount of squishy bits, it's just in the bullet-pointy tip part. The Je Joue G-Spot Bullet has the most – the squish begins the moment that tip angles out. The G-Spot Bullet will be the one you pick if you want power AND the most squish for your buck. The squishiness of the squish bits is the same as the Mimi Soft – so not quite as squishy as the Tenga Iroha vibes. But it feels more practical in use and placement of the squish compared to most Iroha styles1. All that being said: I couldn't exactly feel the squish in use. It's not like the marshmallow tip on the Eroscillator. But it can make it much more comfortable for those who like pressure.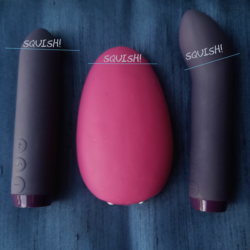 But I'm definitely not on board with the G-Spot Bullet as an actual G-spot vibrator. In fact, the whole premise greatly confuses me and this is coming from a person with a shallow G-spot. Overall the G-spot bullet is just about 4.25″ long. The buttons are located on the shaft of the bullet which means the insertable portion is really short: 2.0″ if I'm being generous, giving you a mere half of an inch below the "high" or "increase" button and really, even then, you're going to have trouble hitting that button. It just isn't practical in my eyes to buy this as a G-Spot internal vibrator. As an external vibrator? It's awesome and I love it.  So while I love this one for it's big, squishy bulby tip, I twitch at it being called the G-Spot Bullet and prescribed as such but then perhaps I'm being short-sighted and there are folx out there who would actually need and use a slender vibrator with a max insertion length of about 2 inches.
What Is Happening With This Motor??
Two months ago this paragraph looked very different; my overall assessment and enjoyment of the motors in the Je Joue Bullets has increased the more I use them.
There are three things to know about me and my vibrator preferences: I usually need pinpoint stimulation, I love truly deep, rumbling vibrations (the more rumble the more better), and I hate patterns. Because these are bullets they've got the first requirement nailed down. I'd expected the same motor found in the Mimi but instead found something that confused me. The first four (of five) intensity levels aren't exactly what I'd call "straight vibrations". It's like a really rapid pulsing that feels like it's mimicking rumbling, thuddy vibrations. But yet it's not really what I'd call a pattern and the funny thing is – I don't hate it. Overall the motor still leans heavily more to the rumbly side of the scale but things feel different from the We-Vibe Tango or the Je Joue Mimi. I'd still call it rumbly, and possibly gently thuddy, while the highest level of intensity brings a tiny bit of buzz back to the party and removes the pulsating thud.
The lowest settings on the Je Joue bullets are nice and effective enough, while the highest setting is probably equal to the middle level of the Tango, or somewhere between mid and high level of the Tango2.  I was on the fence about these vibrations until I clocked more than 10 uses and realized I kept picking them up3. A bullet is basically my hands-free set-it-and-come vibrator that is great when I'm masturbating at my desk or otherwise sitting up and unable to relax, lay back, and spread out for the Womanizer. 
I prefer the Womanizer as my top choice for clitoral stimulation but it's not always practical for my positioning the way a bullet can be. I do still feel like if given the choice, I'd pick the Tango over the Je Joue Bullets because I like the Tango's motor a little better and, even though it has a single button to hate, there are fewer patterns so it's much quicker and easier to cycle back through. The button differences have their pros and cons each so it'll depend on how you use it.
The Cons – Because There's Always a Few Cons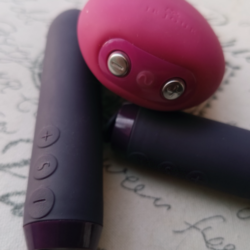 I hate the buttons. I really fucking hate the buttons. I can see why they went this way – 3 buttons are absolutely better than one. Three allows you to traverse the intensities up and down as you please without forcing you to hit up floors 3, 4 and 5 when you're on 2 and just wanna revisit 1 briefly to back off.  But having three buttons on a bullet means the buttons need to go on the "shaft" rather than the end. No matter how I hold it or how many times I've used it I can't get accustomed to these barely-perceptible buttons that are smushed close together, and I'm often4 hitting the wrong damn button. It's often enough that I end up hitting the "pattern" button way too often – often enough that if I were the type to give a star rating in my reviews, the buttons would knock off a full star. In use, if you can't see the buttons you also can barely feel them, much less tell them apart quickly and easily. I hate patterns and wish they didn't exist on these bullets.
I love versatility in a sex toy and these bullets when compared to the Tango, lack that somewhat. The Je Joue Bullets can't be used inside other toys. They are versatile with external use, though, and provide a more pinpoint option than the Mimi.
A Solid "Hey These Are Pretty Darn Good" Rating
The Je Joue bullets are not taking any crowns or awards home for the most rumbly or powerful bullets on the market; they're not the most affordable. They ARE waterproof, though, and have a warranty. But it's a solid 7 for me and for others it may even rank higher. I really enjoy them, despite a few qualms and a hatred of the buttons. I enjoy the squishy-squashy tips, the weird motor and the fact that they charge via mini-USB. I prefer the motor in these over the Jopen $50 mini vibes, so the $10 boost in price feels like a worthwhile upgrade – plus I also hate the Jopen buttons PLUS the Jopen vibes charge via pin-style plug connector. Anything that charges via mini-USB gets a little boost from me since I can charge my phone or mouse with the same cable.The Je Joue bullets, despite being a far less pretty "sad purple" are a lot better in use than any Crave bullet or Crave mini vibrator I've tried.
There are lower-priced rechargeable bullets that are powerful, such as the Screaming O Charged Positive or Vooom but I flat-out refuse to support that company and recommend any of their products. If price is a big factor to you and thuddy rumbles matter less, you'll probably end up picking the Screaming O bullet, much to my chagrin. I'd rather you not, okay? Thankssss. I do encourage you to try out a Je Joue Bullet! They're neat!
These bullets were provided to me by Je Joue in exchange for my honest review and can be purchased at SheVibe for $59.