Crave Bullet Review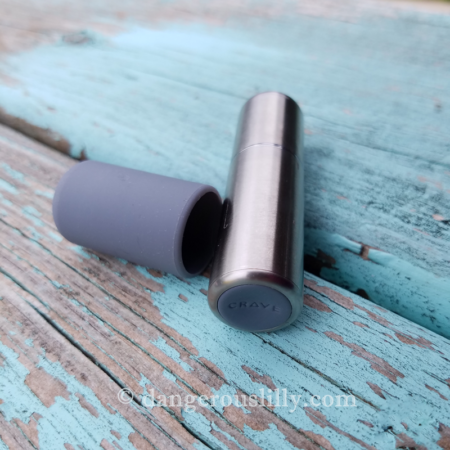 Some sex toys are multi-purpose, and others are good for just one thing – the Crave Bullet is a very decent bullet if you're buying it to replace the short, watch-battery cheap bullets that come with things like cock rings, dildos, etc. But if you're looking for an external, rechargeable vibrator? You can do better.
The Good
Crave is pushing for this bullet like a bad infomercial: why spend money on all these batteries when you can have just one rechargeable Crave Bullet? I imagine the infomercial would feature folks fumbling with stacking and dropping in the button-sized batteries, or spinning the battery racks at the store looking in vain for the type they need.
Is it better than watch-battery bullets? Yep. It is definitely a decent upgrade in both power and rumble. This isn't to say it's a powerhouse, just that it is better than what they're comparing it to.
Not only is the Crave Bullet made from quality steel, but it's waterproof, rechargeable and more rumbly and powerful than the bullets it aims to replace. It's not vastly overpriced if you get the simple silver-tone vs the strange duo-tone or gold-plated version. I can get behind this for a bullet replacement when it's priced at $59, but not at $99. It is really well-made, though. I'm impressed.
The inset button means that this Bullet won't get accidentally turned on whether it's floating in your bag or you're trying to push the bullet inside the cavity of a vibrating butt plug. Smart!
The Bad
The motor isn't perfect for me even though it is probably identical to the Vesper motor. What worked about the Vesper, for me, was the slender, super-pinpoint nature and warm heat function. When you put the same motor in the less-pinpoint Bullet it feels a bit "less" to me, and I have to work harder to get off with it.  I'm sure you're wondering:  why is the motor "bad"? Isn't it just bad for me, Lilly, but maybe it's great for you, dear reader? Very good question, I'm so glad you asked!
While the Crave Bullet is a really decent upgrade in strength from the cheap watch-battery bullets it still doesn't have the oomph to travel through a lot of silicone. I put it inside a Tantus vibrating dildo and was instantly underwhelmed with the vibrations traveling through the silicone dildo. If you're using this is in something much smaller like a cock ring or prostate massager / butt plug? It's an upgrade you can feel. I put also put this in the Tantus Prostate Play and, while it's still a lot less powerful and rumbly than some rechargeable, vibrating items on the market, it was an upgrade over the included bullet from Tantus.
You sensed a "but", right? Here's the "but":  Yes it's an upgrade but there's already an upgrade on the market which is loads better – the Tango. Unfortunately, I cannot help comparing all rechargeable bullets to my ultimate love, the We-Vibe Tango. Tango performs really well when replacing a bullet in another sex toy, and should be your choice if the sex toy takes the longer Tantus bullets or the Rocks Off RO-80mm bullet.  Why? Well, you ideally want a bullet that fills the whole cavity in the sex toy, for maximum performance and maximum vibration transference. The Screaming O Vooom, pictured below in pink, I think is also meant to replace these little bullets but it's just a little bit too chunky to fit in the cavity of most sex toys. That said, the Screaming O Vooom is considerably more powerful and rumbly than the Crave Bullet – Still no Tango, but hey.
The Strange
The Crave Bullet comes with a silicone half-sleeve. They recommend donning this sleeve when you use it externally; for the texture improvement, supposedly. Yet a "feature" of the Crave Bullet is that it heats up. A heated vibrator can help wake up a sleepy clitoris, but only if the silicone sleeve is left off. Otherwise, you won't feel the heat much.
You would expect the entire bottom portion, especially the tip, to vibrate evenly, right? I would. But the Crave Bullet has stronger vibrations along the sides than the flat tip. If you look at this design and see yourself applying the flat tip to yourself, you'll want to look elsewhere. If you think you'd like to use the edge of the tip, probably still look elsewhere – unless of course you don't need a ton of power. If you prefer mild-to-moderate vibrators, this motor will be just fine for you.
Which Sex Toys are Compatible?
I wanted to find out at least a partial list of sex toys that take a similarly sized bullet. According to customer support at Crave:
"The Crave bullet is designed to fit products that accept a standard size plastic bullet which is generally less than 65mm in length. We do not have a specific product list of items that fit Crave bullet since the plastic bullet is a common size. If a product will accept a standard plastic bullet it will fit the Crave bullet."
After speaking with SheVibe and Tantus, though, I have a better idea with specific suggestions. Vamp Silicone dildos do occasionally come as a vibrating dildo, and they use the smaller bullets. SheVibe currently doesn't have any in stock, but may in the future. Vixen Creations is the same; one current example is the Leo or Mistress. Fuze seems to be compatible as well. You'll also run into this bullet size in vibrating cock rings, but for this kind of money you'd be better off just upgrading to a rechargeable cock ring.
Thanks to SheVibe for sending me the Crave Bullet in exchange for my honest, if picky, review.
Save
Save
Save