We-Vibe Sync Review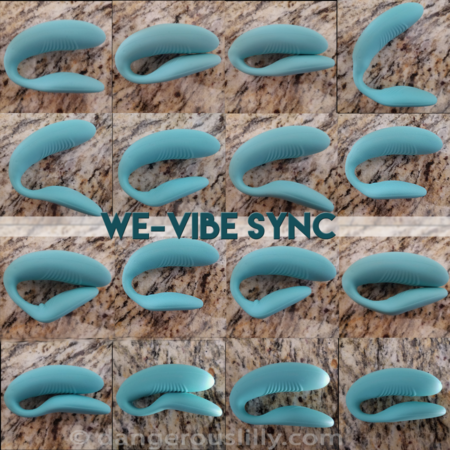 I've been reviewing the We-Vibe, Standard Innovations flagship sex toy, since it first came out in 2008. I've owned every major design except for We-Vibe 2. I've watched the changes they've slowly made, brought on by customer (and reviewer) feedback. Yet every time I've been disappointed by one prominent thing: The motor. As much as I have wanted to like it, the We-Vibe has never impressed me, not like the Tango. So when Standard Innovations approached me with the Sync I said yes because how can I not? When they promise a powerful motor, finally, I have to try it out. So many folks want the We-Vibe but I've never been able to fully recommend it – until I got my hands on the We-Vibe Sync. And the motor isn't the only reason….those hinges? Damn ingenious. Now, the Sync isn't perfect so hang on, we've got some things to cover.
Finally! More Power!
Now, to be fair, the We-Vibe Sync still isn't the powerhouse I personally would like it to be – I'd like more power in the g-spot arm. I've heard some folks say it has the motor of the Tango, but I'm not convinced. On the lower settings? Sure. The clitoral arm is a lot more powerful than previous models, definitely, and pretty rumbly – except when you get to the upper level then the buzzy starts to take over more. The G-spot arm, though, is still buzzy and weak like it's always been. It's an irritating buzz and grating sort of barely-there vibration. In order to even notice it I have to turn the clitoral arm completely off. The sensation makes me want to never do it again. A pap-smear would be just as uncomfortable for me. How weak and buzzy is it? If a single, gentle, non-stinging bee were trapped in my vagina1, that's about what it might feel like. I can understand the reasoning there – anything too powerful could just be overwhelming and distracting for the penis. Because, let's not forget, the We-Vibe is a sex toy made specifically for PIV sex. It could be adapted for different types of sex, so long as there's a vagina involved and it can be used as a solo sex toy for remote-controlled fun. But at its core it remains a… "couples" sex toy. I hate "couples" sex toys and the term so much that it's painful for me to type it, or say it, without grimacing. Regardless, the "dual motors" thing feels like "well…..sort of" because that g-spot motor is just so barely-there. 
If a Sex Toy and PlayDoh Made a Baby
There's something else though about the We-Vibe Sync that has me excited – unlike previous models the Sync can be shaped by you. The moveable joints remind me of the Je Joue G-ki, in a way – it requires effort, but it won't change shapes while in use. These two moveable joints mean that one vibrator is going to fit a larger percentage of vulvas – previously there was only the loose fit (Classic) or the snug fit (such as the 4 Plus). Neither did well for me – the loose shape was too loose, the snug fit of the We-Vibe 4 was so snug and clampy that getting it in place was nearly as tough as getting a pair of Spanx on – but unlike the Spanx, the We-Vibe 4 Plus didn't want to stay put. But now the configurations are seemingly endless. You can essentially make the "hinge" section very thin and snug, opened up more to resemble the "Classic" fit, opened up even more than that if you want while also angling the hinge in the middle of the g-spot arm to point it more in either direction. In fact the hinges can open up so much that it almost makes it ridiculous.  You may find that you're worried about breaking the Sync until you master how to make the hinges work. I find that I have to put pressure on and push at the hinge vs just opening it up like a book, and sort of push the hinge back. It's very difficult to explain in text so hopefully this video will help.  It takes effort and hand strength and dexterity so if you lack these because of any reason – arthritis, disability, etc – this may not be ideal for you.
Other Improvements
Over time We-Vibe products have seen evolutions of charging methods. Their Nova was the first to have a much better magnetic charging spot, and the We-Vibe Sync sports the same – for two reasons. The first is that Lelo, being the assholes they are, bought out somebody's unused patent for induction charging – which is how We-Vibe Couples vibes have charged ever since they started coming with a cover. You plug the cradle in and set the form inside. No magnets, no plugs. It was a bit finicky and you had to get it just-so. Now that they need to use the magnetic charging, the base is awesome. I don't have to guess at how the We-Vibe is supposed to set in the cradle, it's obvious. And that magnet is really strong. I can pick up the We-Vibe Sync while it's charging and it won't disconnect!
Connectivity Still Sucks
I've had so much trouble using the We-Connect app, no matter what We-Vibe toy I'm using it with but the We-Vibe Sync and 4 Plus are nightmares. The Bluetooth connection drops if I shut my legs; if I'm wearing clothing; if I'm not spread-eagle with the phone near my crotch. Not ideal.  This isn't good for a public-play toy until this is fixed and it's not the best for sex, but not terrible.
A lot of other folks have reported trouble with the app crashing, but mine hasn't been crashing (I'm using Android). 
Will It Fit Your Body? Can I Recommend the We-Vibe Sync?
There's the rub. Yeah, the hinges means it'll fit more vulvas. And with a little, or maybe a lot of, trial-and-error you can find that perfect bending of the hinges which means the We-Vibe Sync will stay in place during sex for you. But maybe not. And that's still going to be the biggest problem I have with a sex toy like this – I cannot predict if it'll stay in place during PIV sex for you. I can tell you that if the penis you're having sex with feels borderline-too-big or "just exactly perfect", the Sync may make it so that your vagina is like an overstuffed suitcase – it'll be painful and the Sync will move more with your movements because the penis will rub against it even more. I personally cannot wear this during PIV sex, there's no spare room for it.
So yeah, there are major improvements. I still have some reservations and I don't love it with all my heart like I do the Tango, Touch, Rave and Nova. I want the clitoral arm vibrations to stay rumbly at their highest power. I want the g-spot arm to be rumbly and not worthless. I want the damn Bluetooth to work on larger bodies and through clothing. BUT! The We-Vibe Sync is definitely more powerful than the Lelo Tiani 3, and will fit a larger range of vulvas. I feel like I can finally tell you to purchase a We-Vibe if you're dead-set on a "couples sex toy" meant for PIV sex; sadly all this innovation comes with a high price tag, because of course, so it's $199 at SheVibe.com.
I was provided this item in exchange for my honest review by We-Vibe.