Lelo Doesn't Care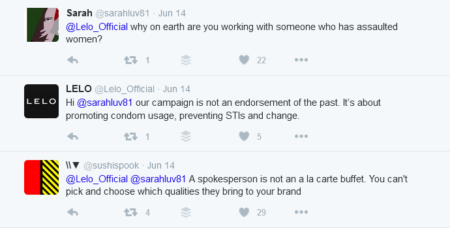 How many new sex toys has Lelo put out in the last 3 years that have made reviewers wonder "Did they even test this on a human first?". But hey, prototyping, that would be the smart way to go. It also costs money, so Lelo is going to avoid that. Instead, they're going to continue to make products that are often more miss than hit; they're going to hype them up and add gimmicks like scent or music-responsive capabilities. They're going to angle for that celeb market that Jimmyjane tried to corner years ago with their Little Platinum and Little Gold vibrators – they've started offering 24K gold plated versions of their half-assed sex toys. They've made offensive ad campaigns but nothing has angered the sex-positive, feminist community (and, arguably, well beyond) like their Lelo Hex condom.
FYI: The links to other articles are worth full reads. I couldn't make umpteen quotes from them all so trust me on this one: You want to read these.
Why? Because they chose to use a celebrity who has been charged with domestic abuse on partners time and time again. Sarah chronicles this well, starting off with this gem:
If you only know Charlie Sheen as a man of negligible talent whose body composition is probably 13% cocaine, you might not be familiar with the night he spent in jail after assaulting his then-wife, Brooke Mueller. This was in 2009. He was charged with felony menacing, third-degree assault, and "mischief". He was released on $8,000 bond. He pleaded guilty to misdemeanor assault as part of a plea bargain and never set foot in jail for this crime again.
The comments have been furious and plenty on social media. I gathered up just a very small fraction of the best tweets about the Lelo Hex debacle; it should give you a pretty good idea of the flaws people are finding with their decision to partner with Charlie Sheen AND their condom design which makes it pretty imperceptible that there's a hole/break. Just what we all want, right?
Lelo's response has been to basically not give any fucks about the haters and just continue on sticking their heads in the sand. As written in the New York Times: 
Steve Thomson, LELO's chief marketing officer, said in an email that Mr. Sheen was "the perfect choice for LELO, a tragic reflection of the current situation in sexual health of today, but more importantly, a symbol of change with the strength and the courage to confront key issues head on."
And that is really the heart of the problem, and my primary reason for putting them on my Blacklist. They give NO fucks about their retailers, the sex educators, the bloggers, and their customers. Don't believe me? This comment on my post that details all of my grievances with Lelo over the years is from someone in the industry who needs to remain anonymous:
I am not supporting the Lelo Hex. As Bryan Menegus at Gizmodo aptly put it: "Safe sex is important, and everyone should wear a condom. It just doesn't have to be this one." I am not supporting Lelo. I've spent 2 years actively trying to recommend other brands to people instead of Lelo, but some items are just (unfortunately) better than the competition. Not many, but a few. However, every single review I have published for them will link to this post. Every extraordinarily reluctant and infrequent recommendation will come with this post as a warning. I am done reviewing their products; if you are a reader and want to know MY opinion on their new items….sorry. I can't do it. I won't do it.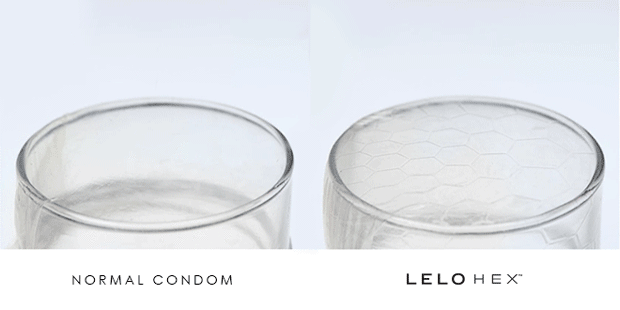 One more choice quote that I have to pull; from Menegus' article at Gizmodo, linked above: [the Lelo demonstrator/employee?] also insisted on showing me that, once fully unrolled, the HEX has the word "respect" printed in some sort of latex bas relief at its base. "Respect, what?" I asked, genuinely unsure of the message's implications. "Respect the man who wears it," was his impromptu answer. 
Further reading: 
Molly's Daily Kiss – Is it just a big Con dom?
Ninja Sexology- Hex no, Lelo
The CSPH – Video: Why The CSPH Store No longer stocks Lelo
A small sampling of the many people on Twitter who proclaimed outrage and/or boycotting promises when the announcement came out.
The comments to my Tumblr post show even more people boycotting Lelo – this goes beyond educators and bloggers
The Smitten Kitten: Writing about why they won't be stocking Lelo products
Educator Jill McDevitt with her thoughts about Lelo, and her boycott
Cara Sutra: When a Condom Fails
UK shop Sh! writes about their feelings on the launch party and the choice of Charlie Sheen as the rep
Horny Geek Girl, another blogger boycotting Lelo
The Daily Beast: Charlie Sheen's Lelo Condom gets the shaft from sex bloggers
Because this whole thing needs a theme song: