Ask Lilly: How Can I Remove Butt Odors From My Silicone Sex Toys?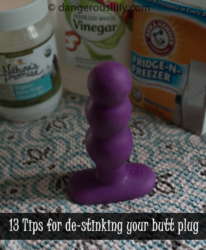 Many people like to wear a butt plug overnight or during the day, and we're all told that silicone is a fabulous sex toy material – truly body-safe, essentially non-porous1, able to be sanitized, etc. Yet for all day wear like this it's a secondary material to glass or stainless steel. Some people are not able to afford a good glass or steel butt plug or may have found that the material doesn't feel as comfortable to them for all day wear2, so they stick with silicone only to find that sometimes when the plug is removed it basically smells like a fart. When you're dealing with butt play, shit happens3.
I've talked to people who have even experienced some staining if they wore it for long enough and their rectum wasn't completely free of fecal matter4; this can happen after one use or slowly over time. They all wonder how this can happen with silicone, it's non-porous! It's safe! Yes, but this isn't uncommon. I've had it happen with silicone kitchen stuff – never let tomato sauce stick around on those more expensive, softer silicone spatulas, let me tell you. Also, never use a silicone ice cube tray for making ice cubes from anything smelly5. Softer silicone is more apt to staining. If the staining issue would be a concern to you, then purchase black or very dark-colored silicone plugs.
From what I've read the odors on your silicone sex toy tend to happen because the bond between the oil-soluble odors and the silicone is strong. One of the better tips I've seen therefore involves oil – smearing the silicone plug with coconut oil for a little while and then washing it well with a very mild soap and hot tap water. I've also heard that if you use a plant-based oil as your lube (and thoroughly coat the silicone toy with it) it can prevent the odors from clinging to the silicone.  Many people have reported that boiling their sex toy does nothing – while some have reported that a long (30 minutes) boil has helped.
Keep in mind that you should consider checking with the manufacturer of your plug before trying these. Tantus specifically has recommending baking but will this work for cheap $20 silicone butt plugs? I don't know. I'd assume so, but I'm obviously not an expert on every brand.
13 Tips for removing odors from your butt plug:
DO NOT shove the stinking plug into a plastic bag or other container and shut it. This will only trap the odors and make it worse.
Try to simply air it out for a day or three. Even better if you can get it exposed to sunlight for awhile.
Boil it! Add a little vinegar to the water, but don't boil straight vinegar. This only works if the toy is 100% silicone, no other materials. (this option has worked less often)
Bake it! Yep. Start out at 250 degrees for 20 minutes6. This only works if the toy is 100% silicone, no other materials.
Some menstrual-cup companies recommend a brief soak in hydrogen peroxide, but I've also read that this could degrade silicone. Try it as a last resort.
Try soaking it in room-temperature vinegar. A 15-30 minute soak should do the trick. Please be sure to wash it well as soon as you remove it from the soak, soap and water, and then let it air dry for awhile.
Try soaking it in a 10% bleach solution. Please be sure to wash it well as soon as you remove it from the soak, soap and water. (this option has worked less often)
Try soaking it in a liquid solution of Oxyclean for 15-20 minutes. Follow with a good wash in warm tap water and a mild soap.
Create a solution of baking soda water – maybe a cup of baking soda in 4 cups of water, doesn't need to be scientific. Soak for an hour to a few hours. Rinse well, air dry.
DO NOT ever boil a bleach solution!
Smear it first with coconut oil, let it sit like this for an hour or two and then wash well with mild soap and warm water.
Don't be afraid to try a few of these tips if one of them doesn't dispatch the smell/stain 100%
Try a bit of preventative measure: Pick up unlubed condoms (because most use a cheap silicone lube) and cover the plug with the condom; to be extra safe I'd recommend bringing the condom down over the base and tying it off like a balloon.
None of these options will work though if your sex toy isn't actually silicone. Make sure that it's not PVC, rubber, TPR, etc. If it is, then simply throw out the stink bomb and buy something in a better material.
If you have additional tips or can report one of these working well/not at all for you, please comment below and let us know!