Hot Octopuss : Pulse Vibrator for Men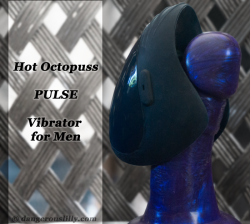 Skeptic: Converted. I'll admit, I was skeptical of the Pulse when it first came out – and a small part of that is the company's name: Hot Octopuss. It doesn't do it for me. And then somewhere along the line, it got dubbed the "Guybrator" and my eyes rolled out of my head. But I read a few positive reviews, started to rethink things and asked Lovehoney if we could review the Pulse. My cis male husband has enjoyed vibrating objects placed on and around his cock in the past, so I thought that he would at least find it decent for foreplay. What we didn't expect, however, was for it to work so well. I mean, look at it!  But, don't knock it til you try it. So far, it's been used under conditions where one would think that an orgasm would be nearly impossible for him: in a lot of pain from dental work, stressed out, exhausted, even on low sex drive days. He was able to get the release he needed to feel better – and not just a boring release, either. The Pulse vibrator has consistently been able to provide a very powerful and intense orgasm.
The Pulse as a Couples Vibrator
The Pulse performs really well as a solo male masturbatory aid.  But Hot Octopuss felt the need to market it to couples, too.  I can understand that there are perhaps some applications with disability / ED where this could be a good idea, but in practice it doesn't work for some body types. It does vibrate through the hard plastic material at the back, but not a lot. It's possible for it to work if both people are of a somewhat thin build, and the clitoris is easily accessed. You're not supposed to apply a lot of pressure to that vibrating/oscillating pad, so the couples' uses confuse me; it seems like quite a bit of pressure is going to be applied naturally. But really, since the backside is made of hard plastic and the Pulse isn't exactly small, trying to use it as a couples' toy just does not seem….comfortable. The only "couple's time" the Pulse is seeing for us is the husband using his Pulse and me using my Tango – mutual masturbation.  The Pulse does one thing really well, so let's just let it shine there, okay?
The Noise Issue
It's a bit loud. The company is working on fixing that, though. If you live alone or have plenty of totally-alone time to use it, you're fine but otherwise this isn't something you can sneak into the bathroom to use unless your house has some ambient noise. For my husband, the noise wasn't distracting during use. It's certainly nothing like Hitachi Magic Wand; it doesn't have the typical high-pitched whine of many sex toys. It's a very low-pitched rumble. We have A/C units running in our house so when I shut the bedroom room it couldn't be heard; a TV turned on in a hotel room at a normal volume should be enough to cover up the noise. I've heard reports from other users that theirs seems to be louder than the unit we have, but it's hard to compare sound based on heresay.
Will it Fit?
My husband is girthier than the average and so the silicone wings are a bit spread out on him. The Pulse also slows down the farther the wings are spread. If you spread the wings too far, the motor stops altogether. If you possess a pretty thick cock, bigger than 2″ diameter, you'd do better starting off with the flaccid penis in the Pulse and getting hard that way, rather than trying to open and wrap the Pulse around an already-erect cock. My husband's cock is not perfectly "round" like most of my dildos, it's more elliptical shaped, and is about 1.75″ at the widest part of the shaft. He's also circumcised. The silicone is very "draggy" and there's ridges on the inside; in short it would require quite a bit of lube to glide smoothly for most if used as a stroking toy. 
Shown below, the Pulse is attached to a Vixen dildo (the Realistic Medium Bent) which is 5.25″ long and 1.6″ wide; in the second photo it's attached to the Vixen Vixskin Buck which is 6″ long and nearly 2″ wide. In the final photo it's shown on the Sportsheets Flare dildo which is about 5.75″ long and 1.2″ wide.  I don't think that the Pulse would work well for a penis less than 4″ long; the overall body of the Pulse is rigid plastic and the entire thing, tip to base, is 4.25″ long with about 3.25″ from the vibrating pad to the bottom edge.
The Pulse in Use

The Pulse vibrator can be used solo in two ways – with lube as a stroking toy or without lube as a vibrating toy. Without lube is really how this toy shines, in his opinion. As far as he's concerned, if you want a stroking toy, get a Tenga or a Fleshlight. But the Pulse brings something entirely different to the party. It's intense and it's nothing like sex. There's no pretending; it's not trying to feel like vaginal or anal or oral sex. It just feels different. Where you position the oscillating pad is really up to you. The instructions tell you to place it right at the frenulum but when my husband was playing around with it he moved it up and down the shaft of his cock to test out various spots and found that a spot about an inch below his frenulum was where it felt best for him, and the most intense. He also enjoyed being able to masturbate without lube – easier clean-up! 
Personally, I need constant vibration on my clitoris to get off – I hate patterns. But every vibrating sex toy my husband tries, he wishes it had patterns and the Pulse is no exception. For as good as it feels now, he thinks it would feel even better if there were a few patterns….pulses? Make it actually live up to its name?  For him, this would make it even more intense. He already rates the Pulse pretty high but feels that adding a few pulsating patterns would be a significant improvement.  The oscillating pad delivers a deep, penetrating intensity that reminds me of my favorite vibrator, the We-Vibe Tango. If Hot Octopuss were to add in some pulse settings to the Pulse….this might be the penis' version of the Tango.
To keep it where you want it, a hand is sort of required. Resourceful folks could probably come up with a way to make this hands-free during use for whatever reason. He needed a helping hand to keep the oscillating pad at maximum just-right contact on his cock, pressing lightly from the open side. Those with a cock that is curved toward the belly will need this helping hand more. Some sort of fabric sleeve that snugly can encase the Pulse and penis would work best, I think, to create a hands-free situation.
Cleaning and Water
The Pulse isn't even splash-proof, which is a big downfall. It not only makes clean-up a little more difficult, but it removes the possibility of using this in the shower. To clean the Pulse you can only use a wet cloth. The charging port is covered by a silicone plug but it doesn't stay "plugged", so I can see why it's not classified as splashproof. It is made of safe materials – silicone and ABS plastic – but the seam between the plastic and the silicone can trap fluids and dirt, so pay attention to that area. On our Pulse, there is a spot where the silicone has pulled away from the plastic farther than it seems it should have, which the company is aware of and would replace if that happens to you.  The units are glued together by hand, which means there will naturally be a bit of human error but they're quick to respond to customer service issues.
Should You Buy It?
We think Hot Octopuss's PULSE is pretty fantastic. I can't recommend the couples' toy aspect of it, but I don't feel that that should ever have been a marketing focus to begin with. The Pulse has, so far,  performed consistently and delivered very powerful orgasms in less time than it would normally take him via manual stimulation. It charges via USB, is smaller to store than a Fleshlight or Tenga Flip Hole, and in short just feels great. If you require a quiet vibrator, then keep an eye out for their redesign. For my UK friends, you can get it here.
Thanks to Lovehoney for hooking us up with the Pulse, a great sex toy for men! Lovehoney has a 100 day return policy so if you don't love it, send it back.
A special note about purchasing from my links in this review: Most of these links will take you to Lovehoney.com, their US Site, but Lovehoney is still based in the UK. It needs to be noted that when a US customer orders from Lovehoney.com, the package will be sent from the UK – and this means customs forms. I wanted to point this out because of the discretion issue – there will be wording visible that might bother some – it will say "Novelty items" and for some people, that's enough to raise an eyebrow if others receive your package for you.Or maybe not! It's not enough for me personally to have any issues, but I did have two readers contact me who were just feeling a little extra shifty about it, given their living situation. If you want any more information on this or have any concerns please email me or contact me on Reddit.