Review – Double Slapper
.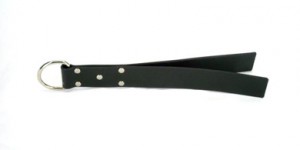 I wanted something to deliver a smack, a slap, that was travel-size. Many paddles that I've seen so far on sextoy.com were bigger than my current toy storage bag could handle (hopefully this will be changing soon – the bag). I liked the idea of the two pieces of leather for an "extra audible sound"
I can't say really that it's all that much louder than a single piece of leather….but I can't tell for sure. It's not bad, it serves its purpose – but I wasn't feeling like the leather was that great of quality. Now you wouldn't want such a device to be all buttery-soft leather…it wouldn't deliver the pain. But the edges are very stiff and rough. They say it's made from a high quality Latigo leather. That meant nothing to me. A web search shows that a lot of things made with Latigo leather praise it for being high quality. But then I read on wikipedia what it actually is – treated suede. Glue is mixed with it, it's pressed, it looks like full-grain leather but it's not. This would explain the rough feel of the edges. Whenever I see something in the future that boasts Latigo leather, I'll likely think twice about it.
This sucker HURTS. He could take a good 5-10 minutes of the flogger but only a few smacks with the slapper. Me? Yeah….I can't tolerate it. OW. However, that's a big positive selling point ;) Honestly I would recommend this is you're lookin to bring the pain at an affordable price and small portable size.
.
.