Bnaughty Review
A bullet vibe is pretty straightforward. But yet some are made better than others. And some just suck.
The Bnaughty is made better. Do you know why my past bullet vibes have died? The cord/wires get ruined where they go into the bullet or handpack. When my last bullet died, I took apart the handpack and saw WHY I was having problems – the coated wire went into a hole in the handpack, which then was naked wires inside just wrapped around the contacts. So if the wire at the handpack got pulled or pushed in, it was going to affect the wire at the handpack. This bullet solves that problem. At both wire points, the wire is engulfed in a bit of plastic, I think, to stabilize it where it should be – it can't pull out, it can't be pushed in, and water won't get in either.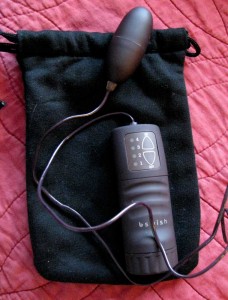 I'll compare this one to the Silver Bullet. First, the Bnaughty is about twice the price. What are you getting? Well, it looks nicer. Comes in a few colors (you know I like black!). The egg is coated in a velvety smooth hard plastic (the Silver Bullet isn't metal, its just a metallic plastic coating. Since mine is always in my work bag, that coating is taking a beating.) and feels a little nicer than the Silver Bullet. The Bnaughty also comes with a little microfleece drawstring pouch.
The Bnaughty is just a smidge weaker than the Silver Bullet. It's enough to matter to me, but for many other women it won't matter. The thing that I personally prefer about the Silver Bullet, and aside from the intensity this is the only plus for me, is that the handpack control is a slider bar. The slider bar of the SB is much easier to control without looking at it (again, for stealth use at work) – the Bnaughty has up-down buttons, 4 levels, but also has a little red light to show it's on. For travel use, the Bnaughty would be a lot less likely to accidentally turn on in your handbag – the slider bar on the SB can get nudged way too easily if it is in your bag and the batteries are in.
I know that the cost is twice that of the SB but….it will also last you at least twice as long because of how it's made. I really wish this could be THE bullet vibe for me, the be-all end-all, but the intensity is what is keeping me on the fence, and the buttons.