Review: The New Leaf Fresh+ Vibrator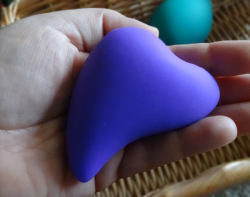 When the first Leaf line came out, there were lots of happy people when they saw an entire line of sex toys in GREEN. We don't get green very often. And I tried one of the line, but was a bit underwhelmed1. I never ended up trying anything else from that line; not for lack of trying, really but I also wasn't going out of my way to insist on getting one.  When I was informed of the new Leaf+ line, I was intrigued. The press release I received2 actually states that they are using a different, more powerful Power Bullet motor in the Leaf+ line. I really wanted to like a vibrator for once this year, so I went straight to the source and asked Leaf which + model would be the strongest. They told me that they felt that the Leaf Fresh+ was the strongest.  Why? Well, I had to ask.  Sean Marshall of BMS Enterprises, the parent company behind PowerBullet and therefore all vibrators using it, answered my questions: 
The Leaf Fresh+ (and the original Fresh) were the perfect size and dimension to allow us to get the right power we were looking for. With the newest motors, the Fresh+ is even more powerful and still the most powerful in the collection. The other 3 current designs still feel amazing. Life+ would probably be the second most powerful. Vitality+ and Bloom+ feature 2 vibrations each, with each motor offering a slightly different sensation. One is a deep vibration (strong and pulsating), while the other is a little quicker for a more intense vibration.
The Leaf+ line does have one minor downfall in my eyes – it's purple. I don't hate purple! I don't even hate pink. But it's nice when we're given a color that doesn't feel standard. It's nice to step outside the box. But of course, you can't have two versions of the same shape in the same color:
We wanted to create something new but something that still had the essence of what Leaf was. Since our plan was (and currently is) to keep Leaf going, we didn't want to confuse stores and customers by keeping everything the same colour. We chose the purple since we still feel it had an earthy tone to it. We originally began an eggplant purple, which evolved into this colour. It may just seem like another purple, but we had a many meetings and went through a lot of colour options to arrive on something that we all liked and based on feedback, our customers would appreciate as well. It needed an identity of its own and I believe we accomplished that quite well. And hey, leaves change colour, so why not a vibe as well?
But, the Leaf+ line does have improvements! Mainly the improvement lies in the better motor. The button now glows. Is that an improvement? I guess so. It glows and blinks every time you change the mode. There are 2 added pulsating modes….good if you like your vibrator to tease, not great if you want to get off. Each pulse mode has a half-second too long delay where there are no vibrations, and kinda kills the mood for me. The travel lock feature is now easier to use, too, apparently. The old style involved a series of well-timed taps. With the Leaf+, you just have to press and hold for like 5 or 6 seconds. It's a long hold time compared to other travel locks, but since there is only the one button and you have the option of press and hold to turn it off, there you have it.
Clarification:  To turn it on, and cycle through the settings, you click. Original Leaf line uses the click and hold method to ramp up the vibration intensities. Since the vibe has only one button plus travel lock, they had to change that style. To turn it off you can either press and hold for 3 seconds, or click through the settings (5 settings in total – 3 power levels, 2 patterns).
Quirks
When it comes to most vibrators that have only one control button, in order to turn this off you must press and hold the button OR cycle through all of the settings. In theory, just like the We-Vibe Tango, if you press and hold the button to turn it off when you turn it back on it will be at the same setting you left off at. Unlike the We-Vibe Tango, the Leaf Fresh+ gets a little trigger-happy and quickly jumps to the next setting or two whilst you're busy holding the button down for it to rapidly turn off. Usually, when I go to turn it back on, it will actually turn on in the mode I intended for it to turn on at, the last one I was using. Usually. It's not always the case, though.
There are two pattern settings, neither of which I like. Granted, I don't like 99% of the patterns I encounter in vibrators. I want straight vibration, give it to me. The first pattern quickly escalates through the three intensity levels in a fluid change, and then just as quickly goes back down where it spends a full second (or so it seems) doing nothing. There's too much time spent in intensity levels other than the highest. The second pattern is a rapid pulsating burst of 4 or 5 pulses which are maybe low or maybe medium, I can't quite tell which….and then a low hum of nearly nothing for the same amount of time (a full second?). If you like teasing from your vibrator, you might enjoy these.
The Good Stuff
Okay, back to the good points. It's covered in matte silicone, the kind that does have some drag but resists most dust/fur/lint. Some people might prefer to use lube.  It might pick up some dust and lint but I've not had any problems yet (unlike the We-Vibe Touch).  It's waterproof, easy to clean.  It is relatively quiet; it is noticeably more quiet than the We-Vibe Tango but louder than the Minna Limon. It will arrive in the same Leaf signature box, which is cute and sturdy and the same drawstring burlap-look pouch as before.
I really like the vibrations in this. A lot. Is it strong? Yes. As strong as the We-Vibe Tango? Eh, no, not quite. It is more rumbly than the Lelo Mia 2, and a bit more powerful as well.  I like the vibrations better than the Je Joue Mimi, way better than the original Leaf Spirit3, it's stronger than the Tenga Iroha and the vibrations are a tiny bit stronger than the Minna Limon. It doesn't seem to suffer from the dampened vibrations during use nearly as much as the We-Vibe Touch, so in use it ends up bring stronger.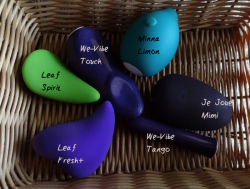 I don't feel that the shape and size is as versatile for me as the We-Vibe Tango4, and I prefer the hard plastic of the Tango, but I like the shape of the Fresh. It works well with my vulva and clitoris, and there is a place to hold it where holding it won't dampen the motor. It's comfortable. Dare I say, ergonomic, even?  And since it has travel lock, I'd be a bit more inclined to travel with this over the We-Vibe Tango. The charger is also better to me than the magnetic style. It's a long, thin jack and you can only screw it up if you don't push it all the way in. But there will not be the issues of the charger falling off the vibrator, like you have with the magnetic style charger like the We-Vibe Touch/Tango, Je Joue Mimi,. etc.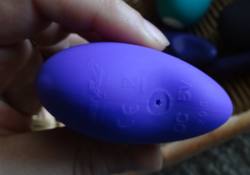 Despite the fact that the Fresh+ doesn't exceed the We-Vibe Tango for me, I still like it. Would I feel safe in recommending this to others? Sure I would. Will I actually continue to use this? Yes. And it's safely under $100, so it's not ridiculously priced. There is no obscenely long warning section in a big user manual. It's fairly easy for anybody to use and figure out. In short, I approve of the Leaf+ Fresh+ . Plus plus. We're unsure where the pluses go in the name. 
Shevibe.com provided me with the Leaf Fresh+ to review in exchange for my honest opinion. I really think you'll like this little vibe, and since Shevibe is my favorite store, I highly recommend that you buy it there, right now!!