Posted by Lilly in real life | 11 Comments
Branded
{note: This is not for HNT and there will not be any HNT this week}
He had me mark myself for him. Branded, I suppose. "This hole is for Master to cum in" was written on my thigh for him to see. "R's Whore" written in another spot.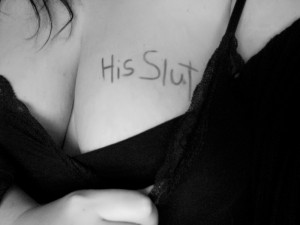 When I see him, I know he'll write on me. He has said he'll do it in black permanent marker. A "tramp stamp" across the small of my back. Filthy words for him to see as he's fucking me. What will he write?
For His use only
Cum Slut
If found, return to R ok maybe not…heh

When I return home that night to my partner, I will whisper to him the slutty filthy things I did, that were done to me; he'll see the words and take his own turn claiming my cunt.
I will wear the words in secret for days until they disappear on their own. I don't know how long it will take for permanent marker to wash off, but I suspect it's at least a few days.
I don't know what else he might write. Any ideas? What would you write, be it on me or on your own slut?