Investigating Vamp Silicone and Tulip Toy Gallery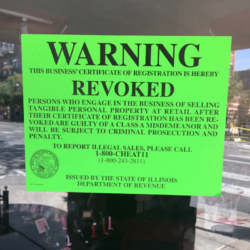 Last July it appeared that Tulip Toy Gallery and sister company Vamp Silicone were gone for good – various people reported that a few Tulip Toy locations were shuttered, and the Tulip and Vamp websites were down. The phones were down. Customer emails weren't being answered, either; a fact that by itself wouldn't lead us to think the company had closed completely; we've been reading about problematic Vamp Silicone orders for a while now on Tumblr and elsewhere – since 2014, at least. On Tumblr there were reports of some customers were getting their orders completed; some completed, but incorrect, and some never completed. I'd made the decision to recommend that my readers not purchase from Vamp directly and only purchase Vamp premade items from reputable retailers.
Not too long after we discussed this apparent closure on Twitter, Camila Klinger (owner of both Tulip and Vamp) sent out an email to retailers:
Vamp Silicone has a deep passion for, and commitment to, hand-making creative silicone adult novelties. As a small LGBTQIA owned and operated business making functional and high quality toys, we take great pride in serving our community.

Recently our company has gone through a hardship. During this difficult time it has also been an opportunity to regroup and meticulously plan an exciting future for our products and we are happy to announce that our production will resume next week, starting August 1st, 2017.
They never did resume production and emails were still left unanswered. So, what happened?
Negative Online Reviews
There are negative reviews on Facebook but not a ton – of course, that doesn't mean there aren't a lot more disgruntled customers out there who lost money. There are a few Better Business Bureau negative reviews. The Vamp Silicone Facebook page is gone, but both Twitter accounts still exist (but with no recent activity). The Vamp Instagram account is still up, with no activity for almost a year. There are a lot of negative Google reviews for Tulip Toy Gallery's physical locations – citing they didn't receive product or refund – and all locations are listed as "permanently closed" on Google and Yelp. There are some tweets about unfilled/non-refunded orders, too.
The reviews have a lot to say1 – this is just a sample of the ones I've found for Tulip and Vamp:
"It was an item that for some reason they don't actively carry in stock, so the woman working told me I'd have it in 4-10 days by mail. 2 weeks pass and nothing. I tried calling the store over and over again and the line was not in service. I finally make it back to the store and the person working that day says that the first person spoke in error, that it's not 4-10 days, bur 4-10 weeks, and that if I want I can email the manager for a refund. I give them the benefit of the doubt and wait the 4-10 weeks. 11 weeks after ordering and still nothing. I emailed the manager and have had no response after waiting a few weeks. I just went into the store the other day, only managers can issue returns, but they only work from like 3-5. The woman working took all my information and told me that the manager would call me the next day (after apologizing profusely) since I work and can't make it in when the manager is in. No phone call. I have had it. This place has essentially stolen over $100 from me and I plan on reporting them to the Better Business Bureau. This is absolutely ridiculous." (Tulip) (see follow-up report number 1 below)


"This place is an absolute effing JOKE. I placed an online order back in May. MAY!!! I've called numerous times and sent several emails to find out the status of my so called "processing" order. Their phone is disconnected and no one has responded to my emails. Absolutely AMAZING business etiquette. NOT!!" (Tulip) (see follow-up report number 2 listed below)


"I recently ordered an item and waited a week, finally I emailed inquiring about the item and why I have not received it and requested a refund.. received an email two days later stating that it was out of stock and were waiting to receive it to send to me.. and that a refund can take up to 30 days.. I emailed asking if I'm going to receive a confirmation about the refund being processed … haven't received a response back. If I do not receive my refund within the time specified will be reporting to better business bureau." (Tulip)


and a follow up to that review was: "I received a call that they processed the refund two weeks ago and the funds have not made it to my account.. I have called and emailed the phone number is now temporarily disconnected!!!! So upset at this point. Going to file a claim at this point." (Tulip)


"Still unable to get in contact, I have emailed and Facebook messaged as phone is dissconected they have read my Facebook message but have failed to reply my order of $180 worth of stuff has still not arrived it has been 8 weeks!! Give me an explanation and deliver the product I have paid for or give my money back!" (Tulip)


"Placed an order towards the beginning of July, understood it would take a bit of time since these are oftentimes handmade items, but it is now nearing the end of September and my order is still marked "processing." I contacted them September 18th requesting the status of my order, and told them if it still wasn't ready, I wanted a full refund because at this point I was out $80 for nothing. Still no response, emailed them again tonight (09/20/2017) and threatened to file a complaint this time if no one tells me what the heck is going on. At this point I don't even want my items, I just want all of my money back, but I read someone else's review and it seems they never got a refund… Fingers crossed. " (Vamp)

" I placed an order on August 7th and my credit card was charged for the purchase. I have emailed several times to check on my order that I still have not received as of September 14th and have not had any response from this company. I am concerned that this company has taken my money and I will not receive product or refund. " (Vamp)
But as early as last summer a fellow sex toy review blogger visited their main location and had nothing but good things to say.
Behind the Scenes of Tulip Toy Gallery and Vamp Silicone
Because of my tweets last year asking about the companies an anonymous source reached out to me recently to shed a little light on the mystery of Vamp Silicone and Tulip Toy Gallery2. Back in October 2017 an official sign was placed on the door to let people know that Tulip Toy Gallery (the main location and, by that time, the only location still open) was legally shut down and not allowed to sell anything. That was the last time any employee went to work.
The customer complaints paint some of the picture, but then it gets worse. I was told they kept their doors open – both brick and online – with a severe lack of stock at Tulip and a lack of silicone at Vamp. The source says that they "ran out of silicone" for production of Vamp dildos back in May of 2017, but had unfulfilled orders reportedly going back as far as 2016. When customers would reach out for their refund they would be told that it had to be approved by the owner who I'm told never (or rarely) approved the refunds.
With regards to Tulip Toy Gallery unfulfilled orders, I was told that employees were reportedly instructed to lie to customers and say that there was a delay with the distributor and their order would be in soon. Soon never came. After the employees were told to lie to customers, I was told that Camila would eventually reach out to the customer (most times) and tell them the refund was in process but could take up to 30 days to go through – but reportedly most people never received a refund. 
I was also told that towards the end of being in business, Tulip Toy Gallery barely had any actual stock to sell in their store and there were reportedly as many as 75 customer orders as of October 2017 that needed a refund from Tulip Toy Gallery or Vamp Silicone.
All of this information has been verified and deemed accurate by a second anonymous source.
I've looked up business licenses and cannot find any that match the address of Tulip/Vamp, the name, or other reportedly connected names such as Three Red Peaches. If a business license is suspended or revoked for something like unpaid taxes it could be reinstated when the taxes are paid. I am unsure how a website could be owned and operated without a business license, as I do not understand law to that degree.
Reaching Out to Upset Customers
I was able to reach a few of the people who've left reviews; I wanted to see if they received a refund or the items they ordered.
The first person responded: "No. And the bank couldn't give me back my money because by the time I knew there was an issue, it was beyond the limit of time they allow to contest a change." This person had gone back to the store repeatedly, and ended up waiting a total of 4 months because of the delays the employee kept giving them – first the 4-10 days by mail delay, then the 4-10 weeks they claimed to have originally told them to wait. I asked if they reported it to the BBB, and they said "I did. The BBB didn't/couldn't do anything. They eventually closed the case."
One person said that they did not receive a refund or product; they "even contacted Vamp and told them what had happened.. suggested to them that the same thing has happened to others as evident in the comments. Never received an email for phone call from Vamp either."
One person did get their money back – it seems that complaining to the Better Business Bureau helped: "One of the workers reached out to me personally on her own private fb page so she fixed it up for me. the company itself kept ignoring my messages on there Facebook page and emails as there phone was disconnected. I only heard back from the lady when I lodged a complaint from some organisation in America and they actually contacted tulips on my behalf. I sent about 10 Facebook messages and 4 emails all up and every message on Facebook I could see that they had seen it and ignored.
Great! I told her I was glad she had gotten a refund, that two people I'd spoken to thus far had not. She continued: "Yes well I only had mine refund by a worker who said she was horrified hearing someone else that worked there telling her about my complaints so she personally got in touch with me and refunded me." I was also privately wondering how an employee could have issued a refund when anonymous sources confirmed that only Camila could authorize and put through refunds. Because the messages were exchanged via Facebook, I asked her if she had their name and would pass it along. Her response? "Camila Klinger". When I told her that Camila was not an employee, she is an owner, she said: "That's weird she said she was one of the workers and she had not been there for that long and was not aware."
I also was able to reach Autumn, who had sent out a warning last summer via Twitter as linked above and who had, by November, still not received product or refund. She confirmed that no refund has been issued yet. Autumn tried to contact Vamp by email, Instagram, and by calling Tulip Toy Gallery to no response.
Response from the Owner, Camila Klinger
Camila has been responding to my emails over the last week, and this is what I'm allowed to share3:
"Thank you for bringing possible pending refunds to my attention. We were operating with limited resources during a very challenging time and it's possible some customers were not properly refunded for their orders. As I previously expressed, I've been working to regain access to restricted accounts, working to retrieve dispute activity and will work with the companies to release funds if needed. To help remedy the situation and take care of customers I have posted the following notice.

As for the other allegations, I believe there are some misunderstandings. Since my current focus is on past customers, I will keep this brief and to the point:

I have never instructed employees to lie to customers and I have never myself lied to any customers.

If Vamp took orders, it's because we were equipped to do so or had inventory to offer in the meantime during silicone shortages. Many times we didn't expect silicone shortages to delay as long as they did. While things weren't all handled well, we would not have acted recklessly in the way that your sources have characterized.

I believe honestly and in good faith that these are misunderstandings and I would like to work hard to clarify them.

Needless to say, Vamp and Tulip are tiny, independently owned businesses. We operate in a highly competitive market place and in an economic landscape that offers virtually no incentives for small businesses such as ours. Loans and other funding options for adult type businesses add to the challenges. We do the best we can. There were a lot of financial hardships that led to the closing of the company, there were problems that weren't handled well at the time, all I can say is that we will work hard to, and I hope we will, do better in the future once Vamp is again fully operational.

As for Tulip, I am working on a statement as well. I have a part-time job working nights and so I am doing the best that I can with my limited time and resources. But this will be addressed ASAP, I can guarantee that to you."
Camila also included in her email to me a list of positive customer feedback quotes. I don't doubt that over the years there have been many satisfied customers. There are plenty of positive reviews on the web, visible at the locations I've linked already.
I do want to note that Camila seemed to take it very seriously when I informed her that there appeared to be outstanding Vamp Silicone orders that are due a refund. At this time I don't have any information on outstanding nonrefunded Tulip Toy Gallery orders, but will do my best to press more for answers on that. There is more evidence of outstanding Tulip Toy Gallery orders than Vamp Silicone orders but it should be noted the Vamp Silicone Facebook page has been gone for some time, and we cannot know about reviews that may be been on that page.
While my initial email to Camila focused a bit more on Vamp than Tulip, I am still trying to get more answers about Tulip. I have asked many specific questions and not received the specific answers I would like to see. Camila is citing a lack of time and a preference to focus on cleaning up issues with Vamp and Tulip that I have brought up (in regards to orders). I have asked, specifically, about points the anonymous sources made such as the number of outstanding orders, the fact that Vamp ran out of silicone in May, the issues with refunds and the reportedly purposeful delays of refunds.
My interpretation of the most recent email leads me to believe that Camila may attempt to revive Vamp Silicone in the future.
~   ~    ~    ~    ~    ~    ~    ~
My aim for writing this post is to ensure that customers are well-informed. I hope that this post finds anybody who has still not received a refund; if that is you, then please contact me or respond in comment to this post. I would hope that Camila will ensure you get your overdue refund, and I will pass on all information of overdue refunds. 
During my investigation and contact with Camila she began working on ways to refund the outstanding Vamp Silicone orders I discussed. There is currently a page up at Vamp telling customers how to get their overdue refunds. Email all of your order info to vamprefunds@gmail.com. When writing, please include your order information and any other relevant details.
It should be noted that if you are a customer having problems with an order, do not let it go longer than 28 days4 before you contact your bank to reverse the charges.
I hope that anyone who has shopped at mytulip.com or vampsilicone.com will find this post if they are overdue on a refund. I would also hope that anyone deciding on whether or not to shop with them finds this post, to better make their own informed decision about shopping there. I don't know the future of these two businesses, but mytulip.com is currently operating and taking orders.

I have withheld my personal opinions and speculations from this post for legal reasons, but have left the comments open for others to express their own opinions, share experiences and ask questions. I hope that any questions others may post here will also be answered by Camila.
I will update this post if I get new information.