Which Crave Vibrator is Right for You?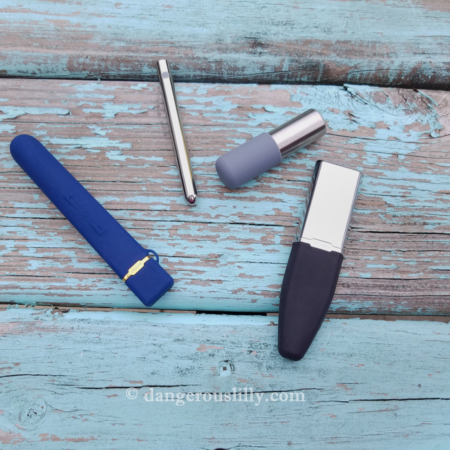 As I was working on my review of the Crave Bullet and contemplating the reviews of the Crave Solo and Crave Flex I realized I was going to spend a lot of time comparing them to each other in addition to comparing them to other compact vibrators – so why not just do a big comparison post? Before I continue, I want to get one thing settled – Crave isn't a "first vibrator" brand. While I don't think that everybody's first vibrator should be mildly intense and extremely cheap, I also think that you need the experience of other vibrators to understand vibration type and intensity before spending money on something like a Crave vibrator. You have to know what your clitoris needs, and a good number of folks haven't figured that out before trying a few vibrators.
ETA: After I published this review I was informed by SheVibe that they will stop carrying Crave products when their current stock is depleted, due to irreconciliable differences with the company. After hearing more, I'm much less likely to recommend Crave products now over other things. The way this company is doing business is shitty, frankly, and for most of their products there exists an equal or better version made by someone else.
Crave Vibrator Basics
There are a few things that should ring true for you to determine if a Crave vibrator is right for you:
You like pinpoint clitoral stimulation
You know you don't need a powerhouse, rumbling motor like the We-Vibe Tango
You probably can orgasm from a finger or tongue – eventually, or fairly easily. The more sensitive you are, the more powerful these will seem, of course.
You like the "classic" fashion glam of their designs and don't mind spending a little more – Crave vibrators range from $59 to $149.
Crave Vesper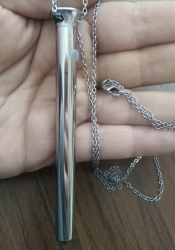 The Crave Vesper has gained fame for being an actually decent piece of jewelry-meets-sex-toy kitsch that is even worn and raved about by celebs. I fell in love with the Vesper because it's so very pinpoint and the vibrations were pretty decent. The Vesper taught me something about my clitoris – the more pinpoint, the better, and the less vibration I'll need. Because while my first love will always be the rumbling and intense We-Vibe Tango, the Vesper is about half as intense yet still works – my orgasms won't be as intense as they are from the Tango or the Womanizer, but they're satisfying. It's not weak, it's not really buzzy and many who are more sensitive than I will call it "powerful". 
I also love that it heats up – I swear that added heat really does make a difference for me. It brings in a little more blood flow and may be why the Crave Flex just isn't quite my jam.
The added bonus of the Vesper being really pretty jewelry helps justify the price, in my eyes.  It ranges from $69 to $149 depending on the metal – if you like silver jewelry you're in luck with the $69 version but if you're stictly in love with gold you'll be spending $149.
Crave Flex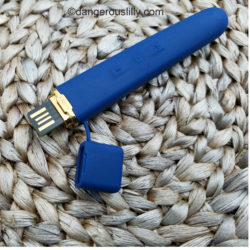 So the motor in the Crave Flex is the same as – or pretty damn close to – the Vesper but the silicone vs metal makes it feel a bit different in use. It took a lot of concentrating to see that it's really similar, but I feel pretty safe saying it is. And I feel pretty safe comparing these motors to the Crave Bullet, as well. The difference all comes down to material, shape and execution.
The Crave Flex appealed to me aethestically – the navy blue and gold, the slender design – it's pretty classy. In some ways it felt a little better than the Vesper because the silicone makes it feel just a slight hair more rumbly. But the Vesper's heated siren song calls to my clit, too. In the end both the Flex and Vesper are about equally good at getting me off – not a super powerful orgasm but it does the job. For folks wanting to get into pinpoint vibrators that are not the intensity of the Tango, I'd definitely recommend this. I don't have a lot to say about the Flex because there's not much to find fault with. Sure, the charging cap is a little bothersome – I worry about getting fluids on the plug when the cap comes off because of the way I've held it. 
To prefer the Flex you'd have to know that you don't want a rigid vibrator material (hated hard plastic bullets? You wouldn't like the Vesper) and that you don't need powerhouse intensity. It's not squishy like Tenga Iroha vibes but the 1/2″ or so on the tip doesn't have rigid plastic underneath and can flex. Flex. Accurately named, at least! Fear not, it comes in more colors like Black and Bright Pink.
Crave Bullet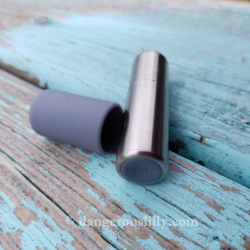 As a clitoral vibe I'm unhappy with the Crave Bullet – this one is the worst execution of the motor that lives in the Flex and Vesper. The Bullet is really meant for folks who need to upgrade their watch-battery mini bullet that lives inside certain sex toys in situations where the superior We-Vibe Tango is too long. The vibrations of the Bullet are enough to give a significant power boost to small sex toys but it still disappoints in full-size or larger dildos. 
Despite the Bullet not being wearable, Crave decided to give it the same treatment as the Vesper – increased prices for different metals. $59 for the standard steel isn't terrible but $99 for the gold-plated is too much to pay (for most). I'd recommend the Vesper or Flex over the bullet if you just need a pinpoint clitoral vibrator that isn't intense. If you want to know which toys the Crave Bullet fits into or want a more in-depth review about the issues I had with it, check out the full review.
Crave Solo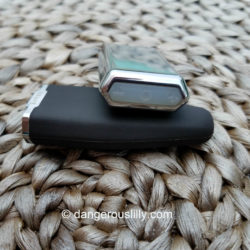 The Crave Solo is more powerful than the Bullet, Flex or Vesper but it's also more buzzy – and noisier. Crave's marketing says:
"Nothing ruins a sexy moment like a loud buzz. The Solo is significantly more quiet than any other vibrator, enabling a wider range of possibilities for when and where you'll use it."
I definitely disagree. So many rechargeable clitoral vibrators on the market are really quiet and a good number are more quiet than the Crave Solo in use. If I hold mine in a certain direction something starts to rattle, contributing to it being the most noisy Crave vibrator I own. Will yours sound that way? Is mine a victim of poor quality control? Who knows.
The Crave Solo is significantly more expensive than the others, also – but it comes with it's own leather case! Yay! Eh, not so fast. The case offers no function but is a case so it's better than a cheap bag so why am I wasting words on it? Because it irks me, to be honest. Here we have a luxury vibrator that talks about a leather case, brags about it almost, so when I actually wrinkle my nose at the cheapness of the "leather case" I can't not mention it. It's made from either the finest shaving of true leather or bonded leather. The inside is lined with a very crinkly vinyl-like water-resistant material and because this still isn't thick enough to be substantial, there's cardboard in between the two materials so that the pouch holds a shape. The sides are open at the top and bottom, and the zipper is cheap. Given the overall price it just feels….insulting. I think I'm probably the only reviewer to complain about the case, ha. What can I say? When the price tag is $140, I'm going to be picky about everything.
Crave Solo isn't the buzziest thing I've had the displeasure to review but it is just buzzy enough that I can't get off with it. If we're on a scale of 1 to 10 where 2 is the Dame Eva and 10 is the Tango, I'd say it's about a 4? 3.5? Whereas the Flex and Vesper I'd put at like… 5.5ish. Maybe the Vesper is 5 and Flex is 5.5. Anyway, my point being: I just can't come with the Crave Solo. It may have more power than the Flex but the lack of any discernible rumble is just killing me. It's not pleasant to use and I'd recommend this Crave vibrator the least out of the models I own. 
And while I understand the need for the controls being where they are (the butt of the metal portion) the buttons leave a lot to be desired. It's a clear silicone with a tiny circle and plus and minus that are incredibly difficult to see. The Crave Solo is definitely more substantial and larger than the Flex, Bullet and Vesper, by far. I was surprised at the size of it, actually.  The feel of it in hand, because of all the metal, is impressive and weighty without being "too". The silicone-covered portion is as rigid as the metal handle.  It's a pretty penny, $139 at Shevibe, and I really feel like there are better options on the market for most people. I'd rather recommend the We-Vibe Tango, We-Vibe Touch, Je Joue Mimi or even the Jopen Lust L2.5 to have something with more power and rumble.
Also: RTFM. I thought my Crave Solo was defective because it wasn't charging when I plugged it into my USB hub. I gently disassembled the packaging and read the directions. After you plug it in you have to press the power button to begin charging the Crave Solo. This does not apply to any other Crave vibrator except the Crave Duet.
Crave Duet and Wink
The Crave Duet is the original Crave; there's also a smaller all-silicone Crave Duet Flex. While I enjoy pinpoint vibrations I don't enjoy that rabbit-ear clit-hugging style – plus I read too much about the Crave Duet having a lot of vibration dissonance (the motors doing a "wobbling" thing that mimics a pattern but in a bad way).  I think you'd have to really enjoy the rabbit ears on a stereotypical rabbit vibe to like the Duet.  The Duet is pretty pricey at $149 from Shevibe and is the more powerful of the two. The Duet Flex is less expensive, smaller and will have the same motor as the Flex. Check out Lunabelle's review of the Duet Flex – I think if you're going to go for one of the Duets, aim for the Flex. More affordable and easier to use.
The Wink is petite and pinpoint but reports say it's fairly buzzy and mild so it immediately got nixed from my list. Sarah complained about the fact that it doesn't even have a button – you have to twist the base like a cheap pocket rocket – and the fact that it's powered by a single AAA battery. It's $69 for a battery-powered single-speed vibrator which is just not worth anybody's time.
~   ~   ~   ~   ~   ~   ~  ~   ~   ~   ~   ~   ~  
My personal tastes aside I will tell you that every Crave vibrator I own is really well made (except for that stupid leather case and the weird rattle in my Solo). There are no seams that stick out; the metal is body-safe and trustworthy. The silicone is silky and not a dust magnet. Their packaging is minimalist, creating as little waste as possible and is probably recyclable. There is a warranty on everything. Again, I may not like everything about all of their vibes but I have a lot of respect for how their products are made. I'd love to petition them for a motor that is closer to the Tango but beyond that? Kudos to Crave.
Most of these Crave vibrators were provided to me by SheVibe in exchange for my honest review; I purchased the Flex on my own. Check out the whole Crave line at SheVibe!
Save