The Amazon Sex Toy Cleanup Project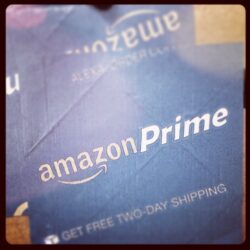 Recently I posted an article calling out Tracy's Dog for being a shady, shady brand. This isn't the first time I've purposely purchased a sex toy from Amazon suspecting bad results (see also: Glass safety post, Silica Gel post) but it's the first time I took a leap of faith and committed to filing a report with Amazon. I was happy enough with the results of my chat, and saw a glimmer of hope for cleaning up Amazon. If more folks would file reports, and go beyond just leaving a 1-star customer review, we might be able to slowly whittle away at all of the counterfeit products and the incorrect material claims1. The most effective options are ones for those who have purchased the offending item from Amazon, but even non-customers can do a few things. Here are all the various ways we can start to clean up Amazon:
File an A-to-Z Protection Claim
There's talk of this "A-to-Z" guarantee protection, and so I looked into it. I quickly hit a snag when I followed these directions:
To file an A-to-z Guarantee Claim on an eligible order:
Go to Your Orders.
Locate your order in the list and click Get help with order.
Select a reason code to describe your issue.
Select Request refund through A-to-z Guarantee.
Enter the required information and select Submit
Well, I didn't see the "Get help with order" button on the order I needed to report. I saw it on a couple of other, more recent orders. My order definitely fit in the 90-days timeframe. You might see it if you try to contact the seller, though (but I never have on any order, so I'm not sure why a few showed the link and most don't) – and you should, to see if you can get your money back. I found no way to contact the seller on my order – perhaps because it was outside of the Amazon 30-day returns? I don't know. But the A-to-Z thing didn't pan out. So…Now what?
Live Chat
I went to "Contact Us". You start by choosing the order you want to report. Then in section 2 you select an issue. I selected "Problem with the order" and then "Wrong item or not as expected". When Chat opened, I explained the situation at hand: The seller's ad copy in their listing says silicone, the box says silicone, but it's not silicone. They didn't ask me to prove it; they didn't ask me how I knew. I chose to tell them about my blog and a little about the flame test method. I could have also linked to the post where we talk about the flashlight test on clear TPR and silicone, but I didn't need to.  They confirmed they were filing a report for me, and told me that if more customers give similar feedback, they'll investigate the seller. 
I've always received good help from Amazon's live chat, but sometimes it's been clear that there's been a bit of a language barrier. In the case of reporting the Tracy's Dog vibrator, I could tell that the person I was speaking with understood the situation perfectly (and in fact asked me more about everything; she was a med student, too) and I didn't need to further explain my links, my materials testing, etc. She appreciated the links I gave her though, and thanked me for doing research before contacting them. If others out there ever want to report this particular brand, feel free to link to my Tracy's Dog vibrator post to give Amazon background information on the problems with the brand.
The bottom line here is this bit from my Live Chat conversation with Amazon – I was told by the Live Chat associate:
"I have submitted your claim. You may also leave feedback on the products review page for others to see. Hopefully we will get more claims and that will speed up the priority of the investigation."
And when I asked about others reporting:
"Those that have bought it from Amazon should definitely contact us as well because it brings the problem to our attention sooner than the reviews. The reviews are more for customers to have an idea as to what others think."
Write a Customer Review
While the customer review won't alert Amazon, it could help in deterring others from purchasing the item. Ultimately, this is what we want: we don't want customers purchasing shady products from shady brands. You can write a customer review even if you haven't purchased the sex toy from Amazon (but you should own the item, at least). Reviews from folks who've purchased though may hold more weight and will show as "Verified Review".
Leave Seller Feedback
This is again only something that customers who purchased from Amazon can do. In your Orders history next to every item is a "Leave Seller Feedback" button.  I gave the seller 1 star, confirmed that it arrived on time, said that it wasn't as advertised, and again discussed material discrepancy in the comments section. This will be seen by both Amazon and the seller. Too many bad seller feedback reports will also cause an investigation.

Report Incorrect Information
There's a link that you will only see if you're logged in to your Amazon account, where you can report incorrect information. You don't need to have purchased the product, but you should be certain that the information in the listing is incorrect. The link can be hard to spot; it floats around based on the size of the product picture.  If the picture is small, the link is right up under photo or bulleted list of product highlights. If the picture is large the link may float farther over to the right. Below are two examples.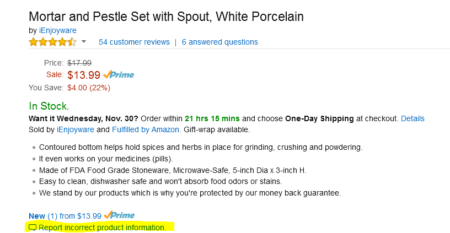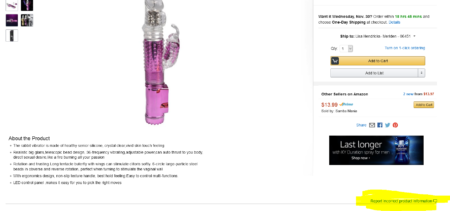 When I clicked on the link, because the incorrect information was everywhere and not just the bulleted points, I chose "Other product details" first, and then after some thought I went back and reported again to point out the bulleted list. The next drop down wants to know what the issue is. I put "incorrect information", but "product quality issue" may also be valid. On listings like the items I purchased for the Silica Gel post, I would choose "conflicting information" because those items said silicone in some parts of the listing, silica gel in others, and so on. Does it help to report over and over again on the product for every issue? I don't know. Because we could say that the Tracy's Dog rabbit vibrator also had "conflicting information" – while all of the ad copy from the seller, Tracy's Dog, said silicone the Product Description (which I assume Amazon writes?) said TPR. But it only ever said TPR in that one little section, and that is easy to overlook when they say "silicone" 15 other places.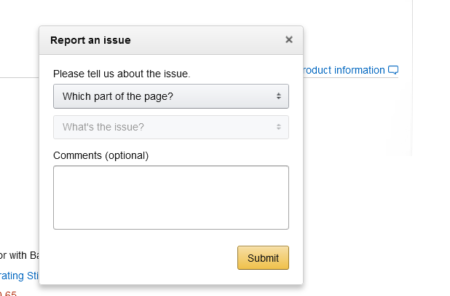 It would take a massive effort worldwide, really, and I feel that this reporting needs to be done across the board – not just sex toys, but all items on Amazon that you receive which seem in poor shape. Counterfeit products are rampant on Amazon, products of all kinds, and these counterfeits are killing small businesses. Maybe a change can happen; maybe Amazon will just stop selling sex toys. Until this massive change happens, though, please think twice before you buy that sex toy from Amazon.  You'll get much better customer care and support by shopping with amazing folks like Shevibe, Early to Bed, Come as You Are, Smitten Kitten and many other small, feminist shops both online and in-store  – for more information on where to shop, go to the last portion of this article.
allow me this one moment of sheer optimism ↩